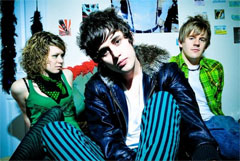 Are a genre-spanning, energetic young guitar/bass/drums/vox 3-piece hailing from Shetland Isles and County Durham and now a popular fixture on the Edinburgh circuit, blowing crowds away with impressive tunes and even more impressive performances. Combining edgy and eclectic musical styles with pop sensibility and boundless energy, there's something here for any fan of alternative/independent rock music. Refusing to compromise their gritty sound, they bring truck-loads of enthusiasm with accomplished technical ability to the stage. Their shows have been described by fans as, among other things, 'musically arousing.'



The songs are just screaming out to be heard by a wider audience.... they could become one of the biggest bands in Scotland.' (Jim Gellatly, XFM Scotland)



Little Green Machine play music that grabs and never lets go. They are in the queue for great things! Check them out.' (Music News Scotland)


myspace.com/littlegreenmachine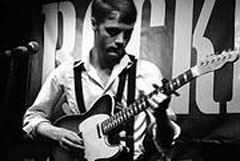 Wake The President are the latest in a very long tradition of Glaswegian indie-pop outfits, the heritage of which can be traced back to early Eighties bands such as Teenage Fanclub, The Pastels and Orange Juice, through late Nineties demi-deities Belle & Sebastian and on to contemporary acts such as Bricolage. Jangly guitars? Check! Prosaic lyrics? Check! Two band-members from Finland?! Err.... there's something new afoot in the jingly jangly indie camp of weej and we're definitely looking forward to seeing it performed on the Limbo stage.

myspace.com/wakethepresdent

Check out our forthcoming bands here

The Penny Blacks brought us a dose of that garage rock sound beloved of and revived by acts such as The Libertines, The Strokes et al, rolling deep, playing tight and warming up the room for one of our favourite - and, it must be said, one of the most exciting - Scottish outfits right now, Action Group.

It's no easy task to pin down what Action Group do that makes them so vital. This is a band simply buzzing with fresh ideas. Ok, they write great songs. Like Clot, for example, which is currently jostling for pole position on their myspace in all its beautiful simplicity. They know how to play their instruments. They use unusual instruments creatively and make unusual sounds with them. They don't care if they make mistakes. In fact, they seem to revel in these seat-of-pants, roller-coaster moments. They exhibit more imagination in the space of four minutes than many bands can muster in forty. And they are equally happy stripping it all back for an acoustic jam, rocking out like Nirvana or exploring the edgier sonic reaches afforded by experimentation with electronics. At one point during this evening's show, singer Pete is letting rip stage left, bashing out a basic rhythm on a snare and giving the mic his eye-popping all - and, oh yeah, that's another thing, you can tell these guys really mean it when they play - new drummer Adam is getting busy on the electronic kit they've brought in for the occasion, Dylan's put down his guitar and is rocking a shaker, and Mark suddenly pulls out this tiny little instrument (he tells me later that it's called a stylophone - oh yeah...) and brings it up to the mic to unleash a wicked little synthetic ditty. Well, naturally, following the simplicity of the acoustic bit and then the heavy, intense moments, this really is sufficient to encourage the collective jaw to hit the floor and/or the collective head to be scratched in confusion, depending on your point of view/taste/preference. Like Prometheus stealing off with the heat, Action Group really could take everyone's breath away if they really set their minds to it. But then it's all over and everyone wants more. But the band aren't doing any more. So we're left to marvel at the gritty, shambolic and downright crazy charm of it all.


---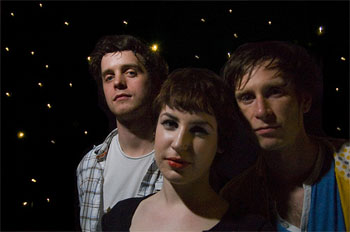 Come On Gang! are destined for great things. A guitarist (Mikey) from Galashiels, a bassist (Trev) from Dublin and a singer/drummer (Sarah) from Brighton, this trio only got together last April but have already played gigs all over the capital. Recently returning to play The Art College Revel, where they made their live debut just a year ago, Come On Gang! were the highlight of the live stage, getting everyone jumping to their high-octane, punky, indie-pop. They also just got through the T Break heats, so this gig will serve as a warm-up for the weekend as well as a launch party for the debut single, Wheels, which is released 7th July and available in all the usual online stores and local record shops too (Avalanche, FOPP, HMV) through Euphonios (euphonios.com) with B-side 'Both Ends Burning'.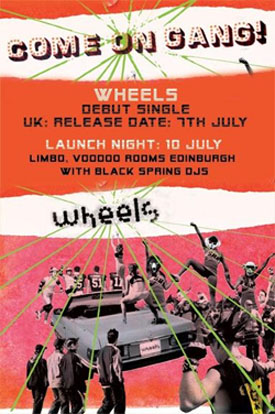 If you want to hear them in all their sonic glory, you know Limbo's the place to do it, though! A little bit Belle And Sebastian, a little bit Yeah Yeah Yeahs and a little bit of something else that's quite simply their own thing, if you're not feeling these tunes, you've either had your soul possessed or you need to see a shrink. Melodic, heartfelt and firing on all cylinders, Come On Gang! are a proverbial rocket-ship shooting for the moon.



When the drums and the angular guitar hooks of Coming Home ignites the audience, they hold their own. Singer/drummer Sarah Tanat-Jones has a voice like an angel. The oft-used 'ones to watch' seems entirely apt here.' The Skinny (8th February , 2008)



Come on Gang! were worth waiting for. Their dynamic shouldn't really work alongside the raw, noisy garage-punk fire of 'Wheels' and'Bang', but a performance where such dissonant elements fell together nicely snared the attention without mercy. We say: like Beth Orton fronting Television.' The List **** (13th March 2008)



The Rolling Stones, The Beatles, Roxy Music and Franz Ferdinand...to that list, add Come On Gang!' Edinburgh Evening News (26th October, 2007)

myspace.com/comeongangmusic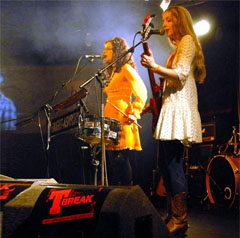 Also warming up for a weekend in Balado are Haight Ashbury, who captivated the crowd at T Break with their mesmeric take on classic West Coast American sounds, as you might imagine for a group who take their name from the San Francisco district which formed the original hub of the psychedelic revolution in the late Sixties. Think Crosby, Still Nash & Young, the Mamas And Papas, the soundtrack to cult classic movie Easy Rider etc. It sounds unlikely but they really do capture some of that spirit while injecting a certain charm of their own.

With MGMT's hippy/psychedelic indie-dance-pop currently taking the western world by storm, we wouldn't be at all surprised if some major labels start waving cheque books at Haight Ashbury in the not-too-distant. So, yes, it's another chance to catch the next big thing at Limbo before anyone else has even cottoned on to the fact that it is, in fact, the next big thing. We may be well ahead of the curve but the rewards really are great if you join us and next year you can tell all your mates that you saw Come On Gang! and Haight Ashbury when they were both unknown quantities.



...one of the city's most promising and original up-and-coming bands.. use their Sixties' influences to create something new' (Daily Record ****)



...anything which espouses a little extra peace, love and understanding on the fighty old streets of Glasgow can only be welcomed.' (The List)



Evoking the summer of love with excellent close harmonies, they retained nevertheless a darker edge, highlighted perfectly in the epic Don't Let Your Music Die.' (The Herald)



It takes guts for a Scots band to call themselves after America's hippy mecca but boy do this trio deliver. Freelove is the anthem the 60s never had. Fantastic sixties/psychedelic guitar playing. This is poptastic Americana with a twist.' (Daily Record)

myspace.com/haightashburyuk
MAILING LIST
BORN TO BE WIDE
3rd July: go to the talks then head upstairs to Limbo for the bands. A social night for musicians, promoters, journalists and anyone who likes a surprise selection of tunes.

From 7.30pm: Unveiling The Mind Of A Music Journalist Seminar
ALSO COMING UP
Also coming up at Limbo: Punch & The Apostles, Grace Emilys, Come On Gang, Reformation, Sarah & The Snakes, Black Diamond Express, The King Hats, Night Noise Team, Haight Ashbury plus loads of other buzzing brand new acts.

Check out all our forthcoming bands here
CHEAP DRINKS!

Don't forget you can take advantage of £2 bottles from any of the Voodoo Rooms' three bars by showing your Limbo wrist-band to the bartender.
REHEARSAL SPACE?

The Black Spring Rooms: competitive prices, friendly service, easy access and no fuss for as little as £7 / hour; free parking on site + six bus routes to service it in Leith. More info here
VENUE INFO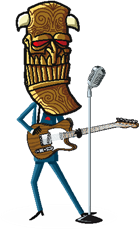 Limbo takes place at The Voodoo Rooms, West Register Street, Edinburgh.

Times: 8pm - 1am *
First band 9.15, second band 10.00

Entrance: £5/£4 *

Ph: 0131 556 7060 (venue) / 0131 477 6916 (promoter)

* except where otherwise advertised
Sponsored Links