Seasoned Scottish new new wavers XVECTORS prepare for release of debut album (Mute/Blast First) with a rare show in their home town, wholly exclusive to Limbo and taking place (for one night only) in the limited capacity Speakeasy space to make room for the Mark Stewart And The Mafia gig in the ballroom.





XVECTORS are four Scots guys renown for their incendiary live shows. They played at one of Franz Ferdinand's legendary Chateau happenings back in the day and last year they supported the Klaxons on their European tour, played a massive festival in Berlin alongside Peaches and the inaugural Connect Festival.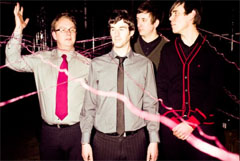 Debut single Movies is an undisputed killer, while their cover of Jamie Principle & Frankie Knuckles' Chicago house classic Your Love (also a UK chart smash in the late Eighties for The Source featuring Candi Staton) was a cult hit - re-released in late 2006 via the Now Is The Winter Of Our Discotheque EP on Twitch and Wilkes equally cult Optimo label, OSCARR, and both The Guardian's record of the week and one of Mixmag's Top 100 Releases Of The Year. About to release debut album with the legendary Blast First (petite) label (a sub-division of the even more legendary Mute Records), the band join the awe-inspiring ranks of Sonic Youth, Depeche Mode, Moby, Goldfrapp, Nick Cave, Yazoo, Dinosaur Jnr, Plastikman/Richie Hawtin, Buzzcocks, Cabaret Voltaire, Maps, Suicide, The Slits, Liars and Pan Sonic, among many others.

If you've not seen XVECTORS before then you need to see them right now, because they're nothing short of superb and about to become international mega-stars. If you have seen them before, then you will fully appreciate the value of this exclusive show. The Speakeasy's capacity is limited to a hundred. Arrive early to avoid disappointment!



A bitchin n moanin belter helping set club-land's new agenda" (The Guardian Guide, Pick Of The Week)


| | | |
| --- | --- | --- |
| Buy XVECTORS tickets through Ticketweb here: | | |
myspace.com/xvectors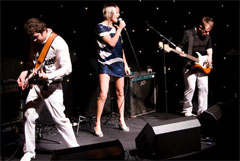 West coast new new wavers take us dancing at the Russian disco. Expect to hear brand new material from their second album.

They look stylish, sound explosive and have an incredibly striking blonde Russian front-woman called Tatyana Bugayev intoning thick eastern European vowels all over their guitar, synth and drum machine productions. Imagine early Goldfrapp, Ladytron or Neon Neon with a distinctive, eastern twist.

Released debut album I Am The Drug (UDiscs) at the end of 2006, had a Friday-night club residency at Electroball (Karbon) in Glasgow throughout 2007, were picked as one of the bands to watch in 2007 by the All Saints fashion brand, remixed Transvision Vamp's I Want Your Love, released the Picture Of You single in January and completed their second album in March. Have previously appeared live in the SLAM tent at T In The Park, headlined gigs around the country, appeared on the BBC TV 'Music Show', recorded a Radio Scotland session for Vic Galloway, received Radio One airplay and 4 weeks of radio play listing on XFM and Beat 106 among others.



Think Goldfrapp reconfigured as the house band for an Estonian strip-club." (News Of The World)



Quirky, very catchy electro pop with a very welcome dark edge. Tatyana Bugayeva's eastern-accented, sub-zero vocal delivery just adds to the atmosphere." Top 20 Album Of The Year (M8 Magazine)



Updating the Human League for a new generation" (4Kiks Magazine)

myspace.com/salonborisuk

Check out our forthcoming bands here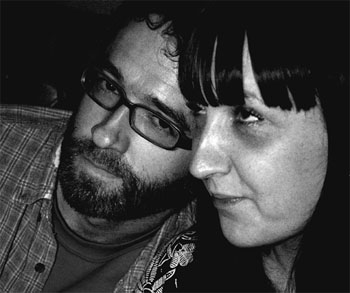 We had another international guest at Limbo last week, when French electro-punk explosion Pravda detonated on the Voodoo Rooms stage to a slack-jawed, wide-eyed crowd.


First act Come In Tokyo light the fuse with their fiery post-punk style, Anna beating seven shades of shit out of her kit and wailing into the mic like a banshee and Alan complimenting with his own passionate approach on guitars, synths and further vox. Both possessed of a furious energy, Come In Tokyo immediately stand out from the mediocre crowd with the quality of their song-writing and stripped-back aesthetic.
myspace.com/c0meint0ky0
Come In Tokyo pictures by Kerri Aniello. See the rest here



| | |
| --- | --- |
| | |
Pravda's dramatic arrival immediately suggests something special, the opening instrumental heralding the start of a genuine spectacle. So few bands these days seem to appreciate the value of putting on a proper show, but Pravda are performers through and through and boast the kind of classic style you would expect from a Parisian rock band touted from the rooftops by the likes of Vogue and Elle magazine - icons from top to toe.

We've started experimenting with video of the Limbo bands and here is the first rough edit of Pravda in action:


Alex is every bit the drummer, all tattooed and ready to rock in black threads and large wayfarers, reminiscent of John Cale or Lou Reed but bringing his own glorious energy, throwing shapes and excited gestures at the crowd from behind his kit. Completing the perfect, triangular dynamic in front are Mac and Sue, Sue (bass/guitar/synth), svelte and towering in high-heeled boots and skin-tight, black trousers, vamping it up with her long black hair and perfect fringe, like Debbie Harry dyed dark, Mac (lead guitar/bass) more Johnny Rotten, all peroxide blonde, black leather and PVC. Everyone wears leather, in fact, and everyone sports matching T-shirts emblazoned with the logo of cult 80s metal outfit Venom, except Sue soon removes hers, to reveal strips of black duck tape across her chest and abdomen. She invokes the spirits of punk, new wave and indie rock all at once with her self-assured playing and simple, devastating lyrics. 'Je suis belle; tu es cruel,' she sings, her languorous accent elongating the vowels, and everyone in the room falls under her spell. This is voodoo pop of the highest order.
| | |
| --- | --- |
| | |
Pravda have great songs, previous double A-side single Body Addict and A L'ouest the obvious stand-outs among them, but they also bring a real sense of humour to the show. During one song, Je Suis French, Mac explains dryly that 'this is a song about being French.' It's pure Spinal Tap and quite brilliant really. But also, when they appropriate rock n roll's most inspiring cliches and then successfully re-work them - in a very honest, unpretentious way with their own, very French, take - you get the impression that they really mean it too. It's a wonderfully disorientating dichotomy and completely original. They're bona fide rock stars who look like cartoon characters and are quite happy to camp it up to the max for theatrical effect. It's an immensely refreshing experience in these hackneyed, cynical times.
myspace.com/pr4vd4

Pravda pictures by Kerri Aniello. See the rest here




BIPHONIC RECORDS NIGHT

| | | |
| --- | --- | --- |
| Buy Swimmer One tickets through Ticketweb here: | | |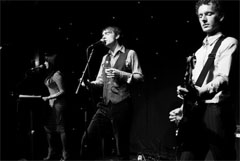 SWIMMER ONE are an ace Edinburgh trio doing heart-warming, thoughtful electro-pop for the twenty-first century. All of the duo's releases have received enthusiastic reviews at home and abroad and they are big with DJs such as Rob Da Bank, Steve Lamacq, Mark Radcliffe and Vic Galloway on Radio 1, Jim Gellatly and John Kennedy on XFM, plus Gideon Coe on 6 Music. Difficult to categorise, and not fitting into any 'scene', the music has been compared to everyone from the Pet Shop Boys and the Associates to the Blue Nile and The Who.



They give intelligence a good name, are more windswept than worthy and very, very good.' (The Guardian)

swimmerone.co.uk
myspace.com/swimmerone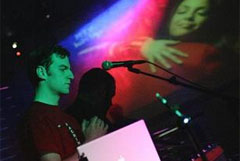 Rocking their own, individual brand of electronic pop, Luxury Car's debut album, Annie's Well, came out July 2006 to excellent reviews. They've done two Radio 1 sessions, played live all over Scotland and had plenty of airplay on Radio 1, Radio Scotland, XFM & Radio Magnetic.



it's a great record, riddled with memorable melodies and pulsating bass lines.... there's more to Luxury Car than the 'Indie/Pop crossover' tag they've attracted.' 5/5 (IS THIS MUSIC? review of debut album)



Sthe spirit of Joy Division lives on in John Robertson's brooding, deadpan vocal delivery and dark rhythmic beats. With elements of country and new wave thrown into the mix, their originality and ability to captivate really impressed me and was particularly well received by the appreciative crowd.' (TBreak judge)

myspace.com/luxurycar
MAILING LIST
ALSO COMING UP
Also coming up at Limbo: Luxury Car,Swimmer One, Action Group, The Penny Blacks, Little Green Machine, Wake The President, Punch & The Apostles, Grace Emilys, Come On Gang, Reformation, Sarah & The Snakes, Black Diamond Express, The King Hats, Night Noise Team, Haight Ashbury plus loads of other buzzing brand new acts.

Check out all our forthcoming bands here
CHEAP DRINKS!

Don't forget you can take advantage of £2 bottles from any of the Voodoo Rooms' three bars by showing your Limbo wrist-band to the bartender.
REHEARSAL SPACE?

The Black Spring Rooms: competitive prices, friendly service, easy access and no fuss for as little as £7 / hour; free parking on site + six bus routes to service it in Leith. More info here
VENUE INFO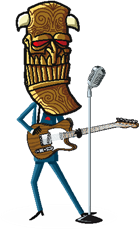 Limbo takes place at The Voodoo Rooms, West Register Street, Edinburgh.

Times: 8pm - 1am *
First band 9.15, second band 10.00

Entrance: £5/£4 *

Ph: 0131 556 7060 (venue) / 0131 477 6916 (promoter)

* except where otherwise advertised
Sponsored Links