France's hottest band of the moment, with a huge native following for their electrifying, no-nonsense mix of electro and punk, PRAVDA have headlined most French indie nights and supported some of the biggest bands out there: The New York Dolls, Placebo (Brian Moloko likes them so much, he personally asked them to tour with his band), The Go! Team, The Kills, The Bravery, CSS, Air, Indochine, Robots In Disguise and Metric among others, touring Germany and Russia last year.

Pravda are also highly acclaimed in the fashion world with top snapper JB Mondino getting them to pose for his book Guitar Eros and designer Jean-Charles de Castelbajac asking them to perform at his show. Having originally started out playing electro covers of punk legends the Buzzcocks, Pravda decided to write their own music to encourage 'head banging'. After a lot of touring, first album A L'Ouest was released in February 2007, with production by Jean Francois Coen and Dimitri Tikovoi (Placebo / Goldfrapp / Kill the young).


These Parisian electro-punks will totally KICK OUT THE JAMS on this, their debut, UK tour. This gig is totally unmissable. Check out the video for Body Addict.



We need PRAVDA now like punks needed Devo in 1977' (Rock'n'Folk)



Remember her face, you'll soon know her voice' (ELLE)



The biggest thing in Paris since the Eiffel Tower' (News of The World)


| | | |
| --- | --- | --- |
| Buy Pravda tickets through Ticketweb here: | | |
myspace.com/pr4vd4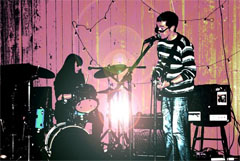 Support comes from Edinburgh's fiery post-punks COME IN TOKYO who are promoting a new release on the glorious, world-renown Fence label (home of King Creosote, James Yorkston, and ex-Beta Band member Lone Pigeon, among others) having swept the critical board supporting The Aliens on tour last year.



Come in Tokyo are a straight-up rock and roll two piece...battering out punky, catchy little roosty, bluesy numbers short on time, big on impact.' BBC Radio Ulster)



Edinburgh's Come in Tokyo made an endearingly sardonic racket when recently touring with…The Aliens. 'Only Valentines' could be a Mark E Smith love note… 'Wake Me Up' merits positive comparison to 1970s solo Iggy, while 'I Won't Want You' is as good as Sons & Daughters on top form.' (Treblezine.com)

myspace.com/c0meint0ky0

Check out our forthcoming bands here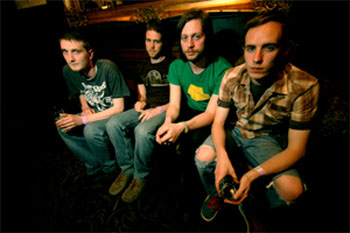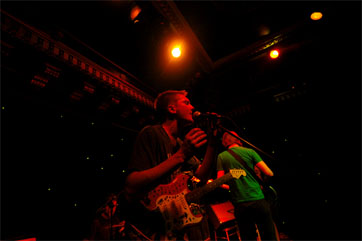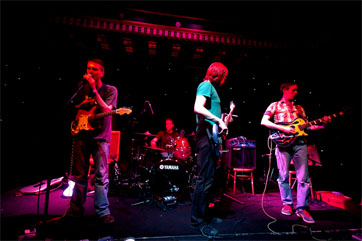 We were dazzled and awed in equal measure when Falkirk's buzzing Y'all Is Fantasy Island launched new album Rescue Weekend, supporting Edinburgh's own heroes-on-the-make, Broken Records.

YIFI have come on in huge leaps and bounds since providing support duties for Frightened Rabbit at Limbo in December and it was a real pleasure to see them again, with lead singer and guitarist Adam Stafford doffing his cap to a certain Kurt Cobain on the new material - and very impressively, too. They rocked hard; they rocked soft, the whole performance executed to a T.

Standing at the back of the room, our jaws busy becoming acquainted with the floor, we agreed it was one of the best performances we've seen yet at Limbo. So it was the perfect warm-up for the band most people had come out to see.

myspace.com/yifimusic

Y'all Is Fantasy Island pictures by David Forcier.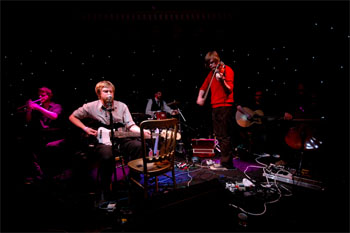 Broken Records are real pros. Extremely well rehearsed, they took the crowd to a different level with their accomplished musicianship and quirky instrumentation, whipping out a flurry of trump cards, like gypsy magi, for this exclusive acoustic set. With so much goodwill, excitement and anticipation currently circling this band, we wish them all the best for navigating the unknown waters and scaling the dizzy heights that may present themselves in the coming months.

| | |
| --- | --- |
| | |
myspace.com/brokenrecordsedinburgh

Broken Records pictures by David Forcier.




East coast new wavers XVECTORS prepare for release of debut album (Mute/Blast First) with a rare show in their home town, while West coast new new wavers SALON BORIS take us dancing at the Russian disco.

| | | |
| --- | --- | --- |
| Buy XVECTORS tickets through Ticketweb here: | | |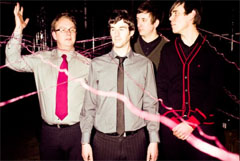 XVECTORS are renown for their incendiary live shows, from playing at Franz Ferdinand's legendary Chateau back in the day to supporting the Klaxons on last year's European tour and Peaches in Berlin. Debut single Movies is an undisputed killer, second release Now Is The Winter Of Our Discotheque was a cult hit for the equally cult Glasgow club Optimo's OSCARR label and, coming out on the legendary Mute/Blast First label, their debut album will place the band in the awe-inspiring ranks of Sonic Youth, Depeche Mode, Moby, Goldfrapp, Nick Cave, Yazoo, Plastikman/Richie Hawtin, Buzzcocks and Suicide.



A bitchin n moanin belter helping set club-land's new agenda" (The Guardian Guide, Pick Of The Week)

myspace.com/xvectors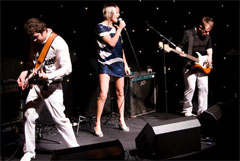 Following their debut album's release at the end of 2006 and a monthly Friday-night residency at Glasgow's Karbon club throughout 2007, SALON BORIS were picked as one of the bands to watch by the All Saints fashion brand. They have since remixed Eighties pop punks Transvision Vamp and completed a second album. They look stylish, sound explosive and have an incredibly striking blonde Russian front-woman called Tatyana Bugayev intoning thick eastern European vowels all over their guitar, synth and drum machine productions. Imagine early Goldfrapp, Ladytron or Neon Neon with a twist.



Think Goldfrapp reconfigured as the house band for an Estonian strip-club." (News Of The World)



Salon Boris deal in quirky, very catchy electro pop with a very welcome dark edge. Tatyana Bugayeva's eastern-accented, sub-zero vocal delivery just adds to the atmosphere." Top 20 Album Of The Year (M8 Magazine)



Art-house grooves and slick irony make this an album you can only enjoy more with each listen. 5/5." (The Skinny)

myspace.com/salonborisuk
MAILING LIST
ALSO COMING UP
Also coming up at Limbo: XVECTORS, Salon Boris, Luxury Car,Swimmer One, Action Group, The Penny Blacks, Little Green Machine, Wake The President, Punch & The Apostles, Grace Emilys, Come On Gang, Reformation, Sarah & The Snakes, Black Diamond Express, The King Hats, Night Noise Team, Haight Ashbury plus loads of other buzzing brand new acts.

Check out all our forthcoming bands here
CHEAP DRINKS!

Don't forget you can take advantage of £2 bottles from any of the Voodoo Rooms' three bars by showing your Limbo wrist-band to the bartender.
REHEARSAL SPACE?

The Black Spring Rooms: competitive prices, friendly service, easy access and no fuss for as little as £7 / hour; free parking on site + six bus routes to service it in Leith. More info here
VENUE INFO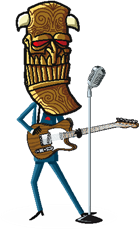 Limbo takes place at The Voodoo Rooms, West Register Street, Edinburgh.

Times: 8pm - 1am *
First band 9.15, second band 10.00

Entrance: £5/£4 *

Ph: 0131 556 7060 (venue) / 0131 477 6916 (promoter)

* except where otherwise advertised
Sponsored Links