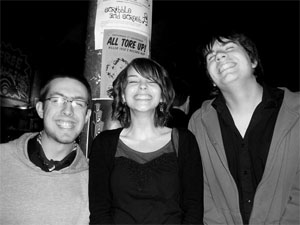 W e're delighted to be welcoming another two excellent bands to the Limbo stage in the shape of Boyfriend/Girlfriend and Down The Tiny Steps.

Boyfriend / Girlfriend Boyfriend / Girlfriend rock out in an alt. American indie-rock way, recalling classic US bands such as Sonic Youth circa their seminal Daydream Nation LP, but with a contemporary twist of their own referencing 'Mogwai, Ben Folds Five, Shellac and Pat Nevin,' as they have it . They describe their style thus: 'an epic pop guitar, bass and drum three-piece that throw in toy beats and boy/girl shouts to keep themselves entertained.'

myspace.com/boyfriendgirlfriend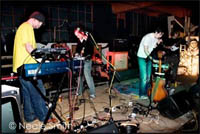 D own The Tiny Steps, on the other hand, mix folk, electronica and pop. Imagine Lemon Jelly's quirky samples and cheery tunes with more accomplished song-writing and some simple, heart-warming melodies. Also a bit like what east coast heroes Found are doing. But different. Down The Tiny Steps

'a kind of glitchy electro/folk/hip-hop cross between Hot Chip and the Beta Band – look like decent prospects too' (The Scotsman)

It's another original spin on the whole gig-at-a-club dynamic, which, augmented by the Black Spring DJs on the decks, before, between and after the live performances, offers the kind of quality line up you won't find anywhere else in the capital. And all for just five squids, or four if you're rocking student ID.

myspace.com/downthetinysteps

Check out our forthcoming bands here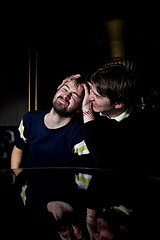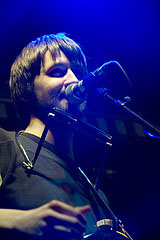 W e all died and went to keyboard heaven last week as we climbed Over The Wall with Gav and Ben to witness once of the most dynamic and entertaining sets we've seen at Limbo so far.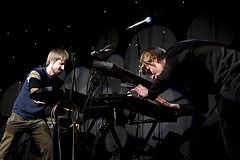 Opposing keyboards centre stage like some early Kraftwerk gig set the scene but no self indulgent bleep fest this, for pretty soon the trumpet, mandolin, stylophone and, yes, cowbell made their appearance. These guys are seriously accomplished musicians and the range of their abilities could not fail to impress. However, what made the most lasting impression was their ability to engage the audience. One of the most cheerful bands you'll ever have the pleasure of witnessing. myspace.com/overthewall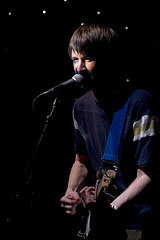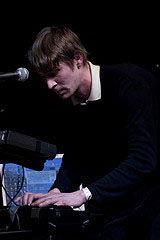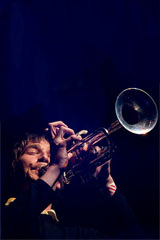 Pictures by Jennifer Baker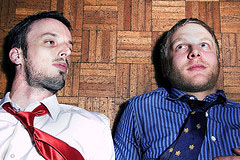 F lying With Penguins impressed us with their fusion of loops and riffs and kept the crowd entertained with their weaving synth lines and powerful vocals. A blend of electronic and traditional instrumentation techniques wrapped up in a memorable performance.

myspace.com/flyingwithpenguins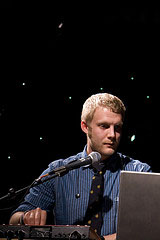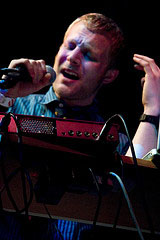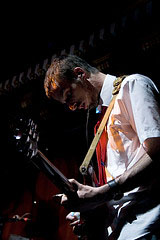 Pictures by Jennifer Baker

Also, many thanks also to Rob Morrison (Ampbox) for his stirling efforts on the decks. Look out for the ace Ampbox night on monthly Fridays at the Wee Red Bar.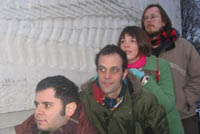 W e welcome The Chap, who return to Edinburgh on the crest of the rather large wave of approval greeting them across Europe right now. The Chap have been on the go for about 6-7 years but have only played Scotland's capital once before. Far be it from us to let such a good thing slip by our home town un-noticed, so we've persuaded them to come and play again, as they tour new album Mega Breakfast (Lo Recordings). The Chap Listening to The Chap on record is a liberating experience for anyone interested in pop, rock, dance and more experimental forms, as everyone from the late, great John Peel to scribes at publications such as the NME, Vice magazine and the Guardian have testified. The Chap trash tradition and reinvent conventional sounds in exciting new ways, and their live show is an effervescent testament to this freedom which we're just buzzing at the prospect of seeing on the Limbo stage. Groups like The Chap don't come round very often and this will probably be the last chance to see them in such an intimate space Seize the day, if you know what's good for you.

'Sufficient to gather up much of what is contemporary cutting edge pop and render it deeply mediocre by comparison.' (Guardian Guide, Single Of The Week)

'The Chap are both gear and fab' (John Peel, RIP)

myspace.com/thechap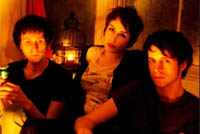 A guitarist from Galashiels, a bassist from Dublin and a singer/drummer from Brighton, this trio only got together last April but have already played gigs all over the capital. Come On Gang! A little bit Belle And Sebastian, a little bit Yeah Yeah Yeahs and a little bit of something else that's quite simply their own thing, if you're not feeling these tunes, you've either had your soul possessed or you need to see a shrink. Melodic, heartfelt and firing on all cylinders, Come On Gang! will provide the perfect pop foil to The Chap.

myspace.com/comeongangmusic
MAILING LIST
PRAVDA AT LIMBO
June 5th sees Pravda visit Limbo all the way from Paris. The Parisian

electro-punks kick out the jams on their debut UK tour. A must see show!

Check out all our forthcoming bands here
ALSO COMING UP
Also coming up at Limbo: The Vivians, Mannequins, Epic 26, Nacional, My Tiny Robots, Baby Bones, Broken Records, Y'all Is Fantasy Island, XVECTORS, Salon Boris, Come In Tokyo, Super Adventure Club,Swimmer One, Action Group and the Penny Blacks plus loads of other buzzing brand new acts.

Check out all our forthcoming bands here
CHEAP DRINKS!

Don't forget you can take advantage of £2 bottles from any of the Voodoo Rooms' three bars by showing your Limbo wrist-band to the bartender.
REHEARSAL SPACE?

The Black Spring Rooms: competitive prices, friendly service, easy access and no fuss for as little as £7 / hour; free parking on site + six bus routes to service it in Leith. More info here
VENUE INFO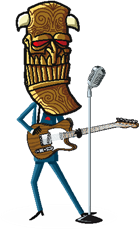 Limbo takes place at The Voodoo Rooms, West Register Street, Edinburgh.

Times: 8pm - 1am *
First band 9.15, second band 10.00

Entrance: £5/£4 *

Ph: 0131 556 7060 (venue) / 0131 477 6916 (promoter)

* except where otherwise advertised
Sponsored Links