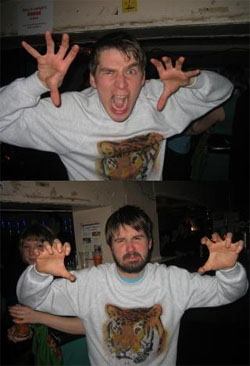 I t's Over The Wall and Flying With Penguins: OTW's Ben Hillman and Gav Prentice make wonky electronic pop that will make you dance but which belies a punk-rock spirit. The duo made the T Break finals at last year's TITP and in a glorious act of defiance took the mickey out of the sponsor's product in a video they then posted on youtube and myspace. Unsurprisingly, said sponsor issued the tiny band with a 'warning' unless the video was removed from the net so - quite hilariously (and magnificently) - they've posted an 'edited' version alongside it, in which they've dubbed over their own speech with a 'more positive' spin in favour of the sponsor's product. Over The Wall With the public now able to view both videos together, side by side, it's comedy gold. We love their sense of humour, we admire their spirit and we think their tunes - a mix of laptop beats, keyboards and, in the finest tradition of the Cure's seminal Close To Me smash, a wee bit of trumpet too, not forgetting both of them on vocal duties - are great, too.

'One of the most likeable live bands you can witness in Scotland at the moment, their touching lo-fi electronic nuances give us all a reason to look to the future with a glint in our eyes.' (The Herald)

myspace.com/overthewall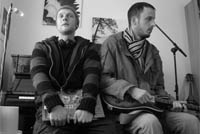 F lying With Penguins perform sugar-coated, synth-led dance songs that take their cues from Bloc Party, Athelete and drum n bass maestro High Contrast and go pop pop POP! Alex Fenton and John Hammond use guitar, clarinet, electribe synth and laptop to augment their voices. Flying With Penguins

A combination of electronic breaks, drum and bass, weaving synth lines, memorable intertwining guitar riffs and powerful vocals for an epic listening experience. The use of laptops to loop material in real-time gives an exciting edge to the live performance - a fusion of electronic influences and traditional instrumentation.

Influences range massively: The Cure and New Order to Mr Scruff, Athlete, Bloc Party, Bonobo and most drum 'n' bass. Tunes you can groove to, cry to, sing along to and move to.

myspace.com/flyingwithpenguins
flyingwithpenguins.co.uk

Check out our forthcoming bands here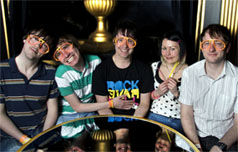 J uno! made their Edinburgh debut, with Manda Rin (Bis) also lending vocal support, and took everybody back to the halcyon days of baggy trousers and old skool indie-dance. Bringing the maraccas to the fore on one song, we were remembering the Happy Mondays but then also savouring a bit of EMF's style and even some Soup Dragons influences in their heady brew.

Ultimately though, Juno! have an energetic sound and style of their own and an enthusiastic stage show which gets everyone smiling and stands apart from just about everything else out there right now - oh yes, they're well ahead of the curve.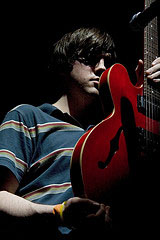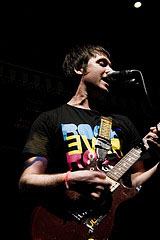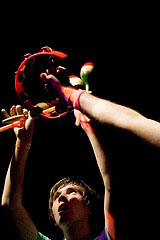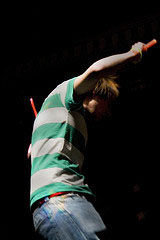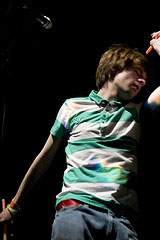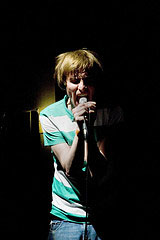 Pictures by Jennifer Baker

myspace.com/junovision
junovision.co.uk

C ancel The Astronauts provided a more than suitable support show, with bittersweet songs about love, death and disco dancing - you know, important things like that - with swoonsome singer Michael Craig drawing plenty of favourable comments, not to mention the band's musical assets.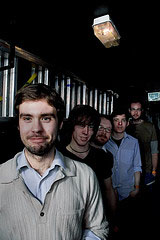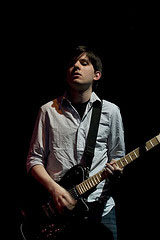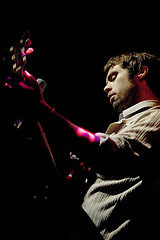 Pictures by Jennifer Baker

We think they've got talent by the bucket-load and their energy was equally infectious, providing the perfect foil to the percussion-wielding headliners. so, if you missed it, fear not, we're sure to have both aces back at Limbo before long.



myspace.com/canceltheastronauts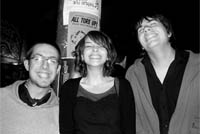 W e're delighted to be welcoming another two excellent bands to the Limbo stage in the shape of Boyfriend/Girlfriend and Down The Tiny Steps. Boyfriend / Girlfriend rock out in an alt. American indie-rock way, recalling classic US bands such as Sonic Youth circa their seminal Daydream Nation LP, but with a contemporary twist of their own. Boyfriend/ Girlfriend They describe their style thus: 'an epic pop guitar, bass and drum three-piece that throw in toy beats and boy/girl shouts to keep themselves entertained.'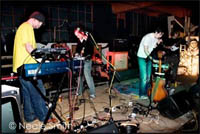 D own The Tiny Steps, on the other hand, mix folk, electronica and pop. Imagine Lemon Jelly's quirky samples and cheery tunes with more accomplished song-writing and some simple, heart-warming melodies. Also a bit like what east coast heroes Found are doing. But different.

It's another original spin on the whole gig-at-a-club dynamic, which, augmented by the Black Spring DJs on the decks, before, between and after the live performances, offers the kind of quality line up you won't find anywhere else in the capital. And all for just five squids, or four if you're rocking student ID.

myspace.com/boyfriendgirlfriend | myspace.com/downthetinysteps
MAILING LIST
CHEAP DRINKS!

Don't forget you can take advantage of £2 bottles from any of the Voodoo Rooms' three bars by showing your Limbo wrist-band to the bartender.
THE CHAP AT LIMBO
May 1st sees international live sensation The Chap headline: a furiously

rocking live show, complete with dance routines and scary faces.

Check out all our forthcoming bands here
REHEARSAL SPACE?

The Black Spring Rooms: competitive prices, friendly service, easy access and no fuss for as little as £7 / hour; free parking on site + six bus routes to service it in Leith. More info here
VENUE INFO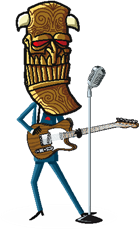 Limbo takes place at The Voodoo Rooms, West Register Street, Edinburgh.

Times: 8pm - 1am *
First band 9.15, second band 10.00

Entrance: £5/£4 *

Ph: 0131 556 7060 (venue) / 0131 477 6916 (promoter)

* except where otherwise advertised
Sponsored Links