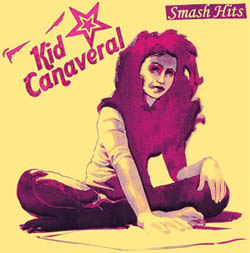 We go all pop pop pop - a very independently-minded pop that is - as we welcome the notorious Kid Canaveral, fresh from the Fence home-game in Anstruther last weekend and bristling with excitement following the recent studio sessions for their upcoming release. Kid Canaveral make indie-pop music you can sing along to. juicy, chewy pop-kids to savour They released their universally adored debut single, Smash Hits, in March 2007. It contained everything you'd ever want in a pop song - two storytelling verses (replete with mild swear-words) a "He said/She said" chorus, a hand-clapping middle-eight and a po-going guitar solo that is so jauntily infectious, you'll break your neck after the third listen. Magic. They are currently preparing for the follow-up.

myspace.com/kidcanaveral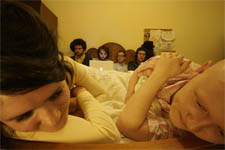 Support comes from The Asthmatic Scene, who describe themselves as the bastard child of of Belle And Sebastian and the B52s and are relative newcomers The Asthmatic Scene but equally adorable and the perfect match for Kid Canaveral, with their simple songs about football, not forgetting your shin-pads and, err, a cat called Brannigan. If you've not fallen for the raw simplicity, disarming honesty and wheezy humour of these two bands by the end of the night, your soul has clearly been possessed by a very dark lord….

myspace.com/theasthmaticscene

Check out our forthcoming bands here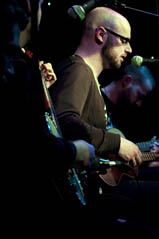 Another last-minute cancellation caused another mild flurry of hyper-activity at Limbo HQ last week. Come On Gang's singer/drummer Sarah came down with a double-whammy of tonsilitis and laryngitis - she's ok now and they will be back supporting The Chap on 1st May.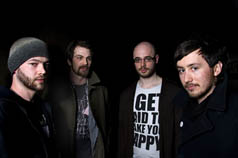 So, previous cancellation Meursault stepped into the breach at 48 hours notice and what a great job they did! Singer Neil Pennycook's voice is something else and he's no mean talent in the lyrics department either.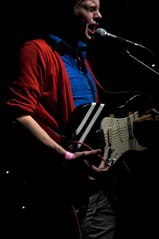 Augmented by his band's unique combination of banjo, accordion and ukulele, Meursault are something to behold even without the added electronics in the mix - it was a last-minute booking and they weren't able to perform the full electro-acoustic combination this time. We've said it before, but be in absolutely no doubt that you will be seeing and hearing a lot more of them this year, not least at future installments of Limbo. As expected, Isosceles were perfect gentlemen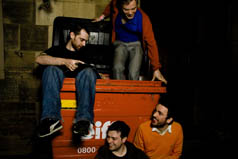 and perfect professionals once again, but you already know they're on a rocket ship bound for the moon; it really is only a matter of time. Expect them to return before long, too. And best of luck, lads, with the new single via Leeds' finest label, Art Goes Pop.

Pictures by Jennifer Baker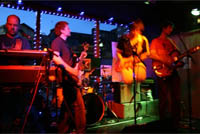 We're gearing up for the Edinburgh debut of Juno! who include among their ranks Manda Rin (famed for her front-woman role in Bis, who were big in Japan, and Data Panik, who were big in Glasgow, for a bit). with added Manda Rin (Bis) Juno! have been doing fantastically well of late, supporting the likes of Operator Please, Glasvegas, Black Affair (ex Beta Band), Robots in Disguise, Kid Carpet (tour support), Matchsticks, Bis, Datapanik and My Latest Novel and getting their debut single produced by Steven from Bis, released by indie legends Shifty Disco records and consequently play-listed on just about every radio station any sane person with any taste in music might want to listen to. Oh yeah, they also ended up on a number of Top Ten Single Of The Year lists in 2007.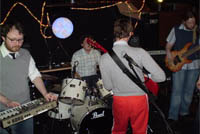 Support from Cancel The Astronauts: Jaunty, honest indie-pop songs utilising no gimmicks and that classic new wave line-up: guitar, synth, bass, drums. There's something immediately arresting and accessible about Cancel The Astronauts. Check out their mini-LP for proof that they've got what it takes to go all the way. Perfect complement to Juno!

myspace.com/junovision | myspace.com/canceltheastronauts
CHEAP DRINKS!

Don't forget you can take advantage of £2 bottles from any of the Voodoo Rooms' three bars by showing your Limbo wrist-band to the bartender.
BARRY ADAMSON
Tuesday 1st April sees legendary bassist from post-punk heroes Magazine

and Nick Cave's Bad Seeds make his Scottish solo debut.

More info here here
BORN TO BE WIDE
BORN TO BE WIDE is back! In the Speakeasy, first Thursday every month (free entry!)

starting this week with talk from Martin Atkins (PiL, Killing Joke, NIN) at 19.45.
THE CHAP AT LIMBO
May 1st sees international live sensation The Chap headline: a furiously

rocking live show, complete with dance routines and scary faces.

Check out all our forthcoming bands here
REHEARSAL SPACE?

The Black Spring Rooms: competitive prices, friendly service, easy access and no fuss for as little as £7 / hour; free parking on site + six bus routes to service it in Leith. More info here
VENUE INFO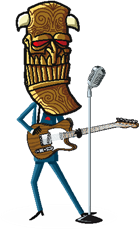 Limbo takes place at The Voodoo Rooms, West Register Street, Edinburgh.

Times: 8pm - 1am *
First band 9.15, second band 10.00

Entrance: £5/£4 *

Ph: 0131 556 7060 (venue) / 0131 477 6916 (promoter)

* except where otherwise advertised