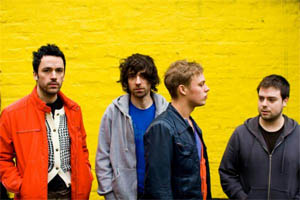 It's the return of those aces, Isosceles, who impressed everyone at the second ever Limbo. We've been dying to have them, their beautiful Hammond organ and all of their fabulous plastic flamingoes back ever since. They're now hotly tipped for the top by industry insiders, recently inking a deal with the highly reputable 13 Artists Management company (alongside mega-stars such as Arctic Monkeys, Maximo Park, The Divine Comedy, Sigur Ros, ...this is British pop at its most energetic and entertaining Bloc Party, Kate Nash, Ian Brown, Radiohead, Portishead and Supergrass, among others). Style-wise, they talk about R & B, soul and rockabilly but we're reminded of classic UK bands such as Madness, if they were fronted by Edwyn Collins and had just been to see Beck. This is British pop at its most energetic and entertaining and if Isosceles haven't made a national dent by the end of the year, we'll eat our pork pie hats.

myspace.com/isoscelestheband

Come on Gang! have unfortunately cancelled due to illness (they'll be back supporting The Chap on May 1st) but we're pleased to say that our previous cancellation Meursault have stepped in at short notice to replace them. Meursault
...are back Meursault have a penchant for a certain character by French existentialist philosopher and author Albert Camus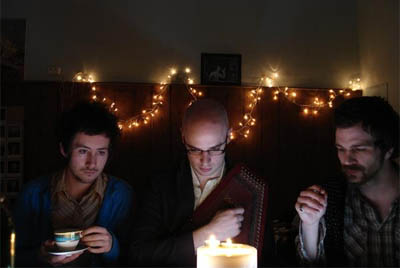 and mix acoustic instruments such as ukulele, banjo, accordion and guitar with electronics and vocals in a way we've not heard much before. You could call it folktronica, although that suggests the likes of Kieren 'Four Tet' Hebden and all his stuff is instrumental but whatever you want to call it, Meursault bring a dose of genuine innovation to Limbo with their original mix of acoustic instruments and electronics - thoroughly inventive songs that sound utterly modern.

myspace.com/meursaulta701

Check out our forthcoming bands here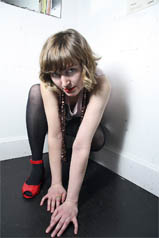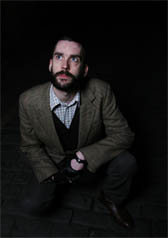 We were a mite bowled over by Wounded Knee and Miss le Bomb, who impressed all with their originality and style.

Looped up to devastating effect with his AKAI Headrush pedal, Wounded Knee's rich baritone, hand-claps, whistles and kazoo had everybody mesmerised, so tight was his execution and simple his songs, modestly and calmly sat in the spotlight without much ado.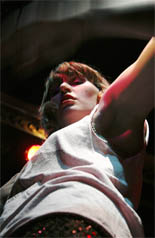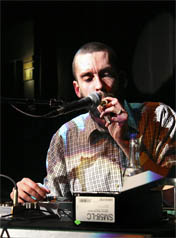 No shrinking violet, Miss le Bomb charmed the crowd with her instant charisma and dynamic performance, with ace outfit, nifty dance moves and quirky songs, using just a laptop and proficient Casio keyboard (a Casio that sounds like a Hammond organ?!), oh yeah, and that cool cover of Come Together, complete with quiet, little grunts into the mic and expansive stage exploration.

Pictures by Jennifer Baker




We roll with the pop theme, welcoming Kid Canaveral and The Asthmatic Scene to Limbo next week. Juicy, chewy pop-kids to savour Kid Canaveral won hearts and minds in indie discos across the UK when they released debut single Smash Hits in late 2006 last year and will be releasing follow-up material imminently. The Asthmatic Scene are relative newcomers, but have had a similar impact with their live shows, not least in response to their ace Brannigan song - all about singer Matthew Quinn's cat and a bit of a winner really.

myspace.com/kidcanaveral | myspace.com/theasthmaticscene
ONE FOR THE DIARY
May 1st sees international live sensation The Chap headline: a furiously

rocking live show, complete with dance routines and scary faces.

Check out all our forthcoming bands here
CHEAP DRINKS!

Don't forget you can take advantage of £2 bottles from any of the Voodoo Rooms' three bars by showing your Limbo wrist-band to the bartender.
REHEARSAL SPACE?

The Black Spring Rooms: competitive prices, friendly service, easy access and no fuss for as little as £7 / hour; free parking on site + six bus routes to service it in Leith. More info here
VENUE INFO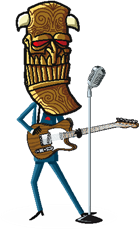 Limbo takes place at The Voodoo Rooms, West Register Street, Edinburgh.

Times: 8pm - 1am *
First band 9.15, second band 10.00

Entrance: £5/£4 *

Ph: 0131 556 7060 (venue) / 0131 477 6916 (promoter)

* except where otherwise advertised