---



Limbo bids wilkommen zu Hause, mein dame, to international star Catriona Shaw, lead singer of Queen Of Japan (electro-pop innovators back in the day), who brings her brand new, solo, Miss le Bomb, show exclusively to Limbo all the way from central Europe's cultural hub, Berlin.

Wounded Knee brings the noise in support, plus some wacky folk songs he's written which he performs in a distinctive and extremely sexy baritone, with effects boxes, handclaps, whistles and a kazoo... This guy's a one-off, we kid you not!

So, this week's Limbo will be unique (again!), and you know you're gonna love it, so don't be shy! There'll be glamour, glitz and glitter, too. Oh yes, we get all sorts at Limbo, but it just isn't the same without YOU.

Check out our forthcoming bands here




Meursault cancelled 24 hours before show-time, prompting a minor frenzy of activity at Limbo HQ. Singer Neil cried off sick with glandular fever, so best wishes to him for a speedy recovery. We will attempt to re-schedule the show for a date as soon as possible. Watch this space.

Goodbye Lenin valiantly stepped into the breach and did very well in the process, making their Limbo debut earlier than anticipated, sugaring the bitter pill dished out by Shellsuit Massacre. Expect to see them at the club again soon.

Shellsuit Massacre baffled and wowed equally (we love a band that splits the crowd - much like uniformity, unanimity can be so dull) with their mix of techno beats, guitar, reverb and confrontational spoken word performances about ASBOs, kids, society etc. We think you'll be seeing and hearing a LOT more of them in the future.

And special guest The Face hadn't slept at all, but managed to remain standing for the entirety of her DJ set and string together some decent records to boot. We'll be sure to invite her back again at some point, if she can just take charge of her bustling social engagements...


| | |
| --- | --- |
| Goodbye Lenin by Jennifer Baker | Goodbye Lenin by Jennifer Baker |
| Shellsuit Massacre by Jennifer Baker | Shellsuit Massacre by Jennifer Baker |

Photos from all the nights can be found here




It's the return of those aces, Isosceles, who impressed everyone at the second ever Limbo. We've been dying to have them, their beautiful Hammond organ and all of their fabulous plastic flamingoes back ever since and we're equally passionate about Come On Gang! who will provide ideal support. Isosceles have been tipped for the top by industry insiders, recently inking a deal with the highly reputable 13 Artists Management company (alongside mega-stars such as Arctic Monkeys, Maximo Park, The Divine Comedy, Sigur Ros, Bloc Party, Kate Nash, Ian Brown, Radiohead, Portishead and Supergrass, among others). Style-wise, they talk about R & B, soul and rockabilly but we're reminded of classic UK bands such as Madness. This is British pop at its most energetic and entertaining and if Isosceles haven't made a national dent by the end of the year, we'll eat our pork pie hats.

myspace.com/isoscelestheband / myspace.com/comeongangmusic


---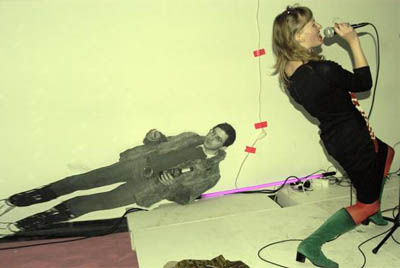 Originally from Scotland and formerly the front woman for renegade electro-popstrels Queen of Japan, whose covers of hits such as Kiss's I Was made For Loving You and Queen's Cool Cat breathed fresh vitality into these songs some eight years ago - the former becoming a cult hit in its own right. Catriona is le Bomb in more ways than one.

Born and bred in Edinburgh, Miss le Bomb's career started on graduation from Edinburgh College Of Art in 1997, since which time she has achieved more than just about every other Edinburgh graduate of her generation. It's far too long to reproduce here but her CV is available to view in full via her website and you can read all about the mighty Queen Of Japan via the other link below.

'Miss Le Bomb: One of those rare and beautiful instances in which wonky pop sensibilities manage to dodge the sand bank of twee and the lake of pretentiousness and land squarely in the hole marked "perfect for my next DJ set". The pretentious decoder says, 'it's enjoyably amateurish female fronted electro pop!' (Ugly Writing blog)

Check Miss le Bomb interview here

misslebomb.net | myspace.com/misslebomb | queenofjapan.net


---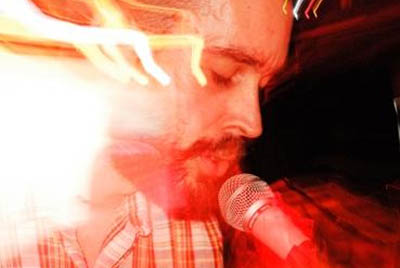 Support comes from Wounded Knee (Benbecula), who brings his idiosyncratic and extraordinary combination of folk songs, found sound, fx, handclaps, whistles a kazoo to the club, employing the AKAI Headrush Loop Pedal (also used quite famously by KT Tunstal).

Wounded Knee asks: What is folk?

"I guess all songs is folk songs. I never heard no horse sing 'em." (Big Bill Broonzy)

The brainchild of Drew Wright, Wounded Knee was born in 2003 and first performed live in 2004, originally more instrumental, experimental electronics, with voice used to varying degrees but over time this has become the core element. WK used to use additional effects pedals but now just a mic, the looping pedal, for building up rhythms and sequencing patterns, and simple percussion or instruments such as kazoo, jew's harp and moothie.

'I have loved repetition and minimalism for years,' says Drew, 'originally in dance music but more recently in African music and the simple cyclical nature of various folk forms. These days I just have parts and layers in my head all of the time, it has become a really natural part of my day to day life. What has really helped is that my set up is so basic now that it is a really intuitive process to come home and put ideas into action. The majority of musical parts I do with my voice and then I build percussion parts with handclaps and rudimentary bits and bobs: a bicycle bell has been the most recent addition. Tin cans are good too.' (knifecrimezine.blogspot.com)

myspace.com/iamwoundedknee | benbecula.com


---



Check out our forthcoming bands here.

One to particularly watch out for and that we're very excited about is The Chap on May 1st. Put it in your diary now!


The Chap
'The Chap, the already-legendary, pan-European, London-based, modern pop group are back with their third album, Mega Breakfast. The Chap have become known and loved for their inimitable pop-improv-disco-rock-with-strings sound, captured in some crunchy, truly 'out-there' home production and a furiously rocking live show, complete with dance routines and scary faces. (New album) Mega Breakfast is the sound of the search for a heart of gold in a world gone cold. It deals with sex change, depression and classic economics. The Chap have expanded their repertoire to include some Justin Timberlake-style R&B, an ode to World Music, and a corporate motivational song. It's all infectious, blistering pop music, but all the while something is deliciously wrong here, making for what is sure to be one of the most intriguing releases of 2008.' (PR for Mega Breakfast)

'The Chap give birth to freakish Dadaist disco babies - you'll love it!' (NME)
'Like Underworld if they'd decided to be a lo-fi rock and roll combo instead of a stadium-selling dance act...it is stunning.' (VICE UK)
'Sufficient to gather up much of what is contemporary cutting edge pop and render it deeply mediocre by comparison.' (Guardian Guide, Single Of The Week)
'The Chap are both great and fab' (John Peel, RIP)

myspace.com/thechap


---


Address: The Voodoo Rooms, West Register Street, Edinburgh (formerly Cafe Royal upstairs, next to backpacker hostel, behind Burger King, east end of Princes Street)
Times: 8pm - 1am *
Entrance: £5 *
Ph: 0131 556 7060 (venue) / 0131 477 6916 (promoter)
Web: thevoodoorooms.com
* except where otherwise advertised.

OTHER GIGS AT THE VOODOO ROOMS THIS WEEK:

The mighty Kieran Hebden, alias Four Tet (Domino), also behind post-rockers Fridge, returns to Edinburgh to perform with Steve Reid's Ensemble this Wednesday.

Steve Reid is a virtuoso drummer of legendary renown, who started out in NYC in 1960, working under the direction of Quincy Jones at the Apollo Theatre and made his first recording when he was just 17, with Martha Reed And The Vandellas (Motown), before going on to work with legends such as Miles Davis, Sun Ra, Ornette Coleman, Fela Kuti, James Brown, Fats Domino, Dionne Warwick, Chaka Khan. The list goes on....

Veteran jazz drummer Steve Reid and Kieran "Four Tet" Hebden bring the ensemble responsible for the deep grooves of recently released Afro-Jazz thriller, Daxaar, to Edinburgh's exotic Voodoo Rooms. Reid is the heart of his Ensemble's African-influenced funky, electro-jazz brew. He leans against the beat, as bass and percussion pull and stride around it. Hebden's multiple samplers brings abstract melodies and riffs to the sound, adding a powerfully experimental edge to the live show. Recorded in Dakar, Senegal, Daxaar reunited the duo with Boris Netsvetaev on keys. Adding a quartet of Senegalese jazz musicians, including Jimi Mbaye from Youssou N'Dour's band on guitar, Reid created an album that Gilles Peterson calls 'a rhythmic feast for those who like their jazz out there.'

See thevoodoorooms.com/events.php for more info.
---