---



Meursault bring a dose of genuine innovation to Limbo with their original mix of acoustic instruments and electronics - thoroughly inventive songs that sound utterly modern and are really quite good. Shellsuit Massacre trash tradition in an equally refreshing way, subverting authority with guitars, electronics, two performance poets and a microphone: confrontational, 21st Century rock n roll in a world of ASBOs. And guest DJ The Face joins residents the Black Spring DJs, bringing the passion and energy of her jumping Ampbox club night to the fray - guaranteed to make our rig go BOOM BOOM as well as POP POP.

Check out our forthcoming bands here

Limbo is a new weekly night from the Black Spring DJs, located in the emerging zone between a straight-up gig and a club night where people go to DANCE. It takes place every Thursday at The Voodoo Rooms, Edinburgh from 8pm.

Each week sees some of the most exciting live acts on the circuit and great music for dancing.




Limbo entered the world of The Paranoid Monkeys and saw everything in a brand new, dark, threatening, light, with stand-out track Vultures the crowning glory of an intense set from them. Look out for their new single at the end of the month. Accomplished pros Isa And The Filthy Tongues raised the spectre of rock motifs past and gave them a typically refined seeing to, with their intoxicating combination of psyche, rockabilly and post-punk styles rounded off by singer Stacy Chavis's own intensity. They're giving a way a free MP3 on their site every month throughout 2008, so go find.


| | |
| --- | --- |
| Isa & The Filthy Tongues by Jennifer Baker | Isa & The Filthy Tongues by Jennifer Baker |
| The Paranoid Monkeys by Jennifer Baker | The Paranoid Monkeys by Jennifer Baker |


Photos from all the nights can be found here




International guest Miss Le Bomb aka Catriona Shaw brings her new solo show all the way from Berlin. Having played on the underground electropop circuit for almost seven years, under various spooky guises - as lead singer of Queen of Japan, founding member of infamous Munich-based punk club Club le Bomb and a visual artist who has collaborated with many different musicians and performers over the years including Electronicat, Gerhard Potuznik, Isabel Reiss, Hans Platzgumer, Kamerakino, Bulent Kullukcu and more, she's da bomb in more ways than one.

Support comes from Wounded Knee (Benbecula), who brings his idiosyncratic and extraordinary combination of folk songs, found sound/strange noises and a kazoo to the club.

myspace.com/misslebomb / myspace.com/iamwoundedknee


---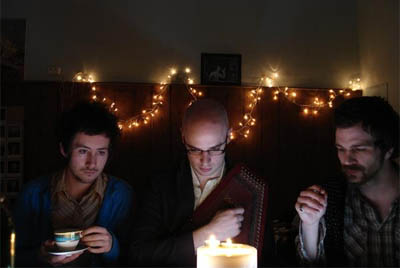 Meursault have a penchant for a certain character by French existentialist philosopher and author Albert Camus and mix acoustic instruments such as ukulele, banjo, accordion and guitar with electronics and vocals in a way we've not heard much before. You could call it folktronica, although that suggests the likes of Kieren 'Four Tet' Hebden and all his stuff is instrumental. You could call it disco folk (Dave probably would) - quite the bastardisation on paper. But, whatever you want to call it, as you can hear from their myspace, Meursault write thoroughly inventive songs that sound utterly modern and are really quite good.

THE FACTS:

Neil Pennycook - voice/ukulele/guitars/banjo/accordian/samples/drumloops/programming | Fraser Calder - guitars/bass/samples/drumloops/programming | Chris Bryant - guitars/ukulele/banjo Calum Macleod - guitars/ukelele/banjo

Label: Struck Dum Records

THE PRESS:

'Singer Neil Pennycook's voice has that same fragile quality that is used to great effect by Win Butler in the songs of Arcade Fire, but please don't think I am goin to go down the tired route of comparing them to the Canadian behemoths as I think there is a great deal more to them than just that.' (Is This Music, Jan 08)

myspace.com/meursaulta701


---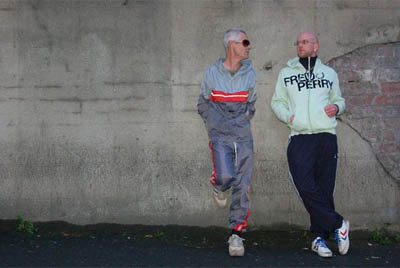 2 x performance poets (Rodney Relax + Nick E Melveille) + guitars + electronic music = 21st Century lyrical rock n roll in a world of ASBOs

THE FACTS:

'ShellSuit Massacre are criminals, stealing from the best of high and low culture. The majority of our lyrics/words/text is found poetry taken from a huge variety of sources: tabloids, broadsheets, election leaflets, David Peace, Reader's Digest book of British Birds, Time For Machetes (book on Rwanda), TS Eliot and so on; we've also sampled Steve Reich referencing the Holocaust. In other words, the text is vast in its scope and referencing, which to my mind gives it a lot of depth. Basically, contemporary experimental poetry put to experimental guitar music.

It's multi media, with subtle and not so subtle details throughout. We use props (bollards, barriers, police tape, a child's buggy), visuals (some poetry text and some images), sometimes performance art (we had Laura play a schemie chav girl one time), clever use of mobile phones, occasional audience interaction...' (Nick E Melville)

Rodney Relax and Nick E Melville first met about ten years ago through local scene-zine underword. An old charmer with a skewed but humourous slant on life, Rodney was running the (legendary) Yellow Cafe poetry/art/music/dancing/drinking events around town and Nicky was a bashful young man with a rapier wit and a deadpan delivery, which he occasionally demonstrated to unanimous approval at underword's events. The two men have been collaborating ever since but this is probably their most ambitious and exciting project yet.

THE PRESS:

'The audience stands well back as Shellsuit Massacre take the stage, whether through fear, respect or a distrust of shellsuits on display. The costumes are complemented by hoods, caps and scarves that give the duo a rogue cowboy appearance. The wine in their glasses doesn't look to be of the tonic variety, but their aggression and spitting fury would suggest so. The beats are grimey, a slow dance of 909 beats, dark basslines and studied synths. It's grime of the world weary variety with baggy influences creeping in, grime for the fathers of the Scottish capital, not the youth of London. Slogans are despatched like Aidan Moffat with the fire of Public Enemy in his ample belly, spoken passages of asbos, boredom and a reluctance to change a lifestyle that is so maligned in our society. The glamourisation of youth culture has been done many times before, but Shellsuit Massacre's commentary of a government's restraint on our youth, serious or not, is put across with pride and vehemence throughout an intense stage show.' (winningspermparty.com)

myspace.com/theshellsuitmassacremusic


---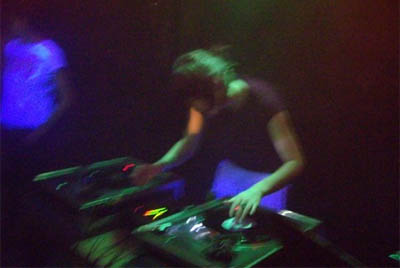 Guest DJ: The Face (Ampbox)
One of the funniest and most animated DJs we've met in quite a while, Grace 'The Face' has also got excellent taste and a pretty immaculate repertoire when it comes to making the floor burn. Her residency at ECA's jumping Ampbox Friday nighter continues to go from strength to strength, as the club packs in a full house of hip kids and up-for-it party people every month, with The Grace recently performing warm-up duties for sizzling newcomers such as Black Affair, Shadow Dancer, Christopher D Ashley, Sleepless Crew and the excellent Boy 8 Bit.

myspace.com/ampboxclub


---




Miss Le Bomb
Miss le bomb aka Catriona Shaw has now gone solo after playing on the underground electropop circuit for almost seven years, under various spooky guises - lead singer of Queen of Japan, founding member of infamous Munich-based punk club Club le Bomb and a visual artist she has collaborated with many different musicians and performers over the years including Electronicat, Gerhard Potuznik, Isabel Reiss, Hans Platzgumer, Kamerakino, Bulent Kullukcu and more.
myspace.com/misslebomb
Wounded Knee (Benbecula)
Wounded Knee is an experimental musician from Edinburgh, Scotland. He is a happy amateur. He doesn't want to kill anybody. We first came across him working behind the counter at the now defunct Fopp Records on Cockburn St, but, oh, that was AGES ago and later put him on at one of our Dfrnt Drum nights down at the Cocteau Lounge (Ego) and he was utterly BONKERS but quite interesting. Now signed to the revered Benbecula label, Wounded Knee has refined his idiosyncratic and extraordinary combination of folk songs, strange noises and a kazoo no end and tours it internationally, not least in Berlin, where Scottish ex-pat Ms Shaw now resides and the two have performed together before. Are you beginning to see a pattern now?
myspace.com/iamwoundedknee




Isosceles (Art Goes Pop)
Played Limbo at only the second night of the club back in November, alongside Retrosexuals, and we've been dying to have them, their beautiful Hammond organ and all of their fabulous plastic flamingoes back ever since. They cite R & B, soul and rockabilly on myspace but when they play live there's a strong mod sensibility and something of a Victorian vaudeville / end-of-the-pier style that's reminiscent of classic UK bands such as Madness. Basically, this is British pop at its most energetic and entertaining and, given that they've recently been picked up by the management company behind mega-stars such as Arctic Monkeys, Maximo Park, The Divine Comedy, Sigur Ros, Bloc Party, Kate Nash, Ian Brown, Radiohead, Portishead and Supergrass, if they haven't made it by the end of the year, we'll eat our pork pie hats.
myspace.com/isoscelestheband
Come On Gang!
A guitarist from Galashiels, a bassist from Dublin and a singer/drummer from Brighton, this trio only got together last April but have aleady played gigs all over the capital. We were tipped off about them by the singer's sister last summer and have been eagerly following their progress and chasing them for a gig ever since. A little bit Belle And Sebastian, a little bit Yeah Yeah Yeahs and a little bit of something else that's quite simply their own thing, if you're not feeling these tunes, you've either had your soul possessed or you need to see a shrink. Melodic, heartfelt and firing on all cylinders, Come On Gang! will provide the perfect pop foil to Isosceles.
myspace.com/comeongangmusic




Kid Canaveral
Make indie-pop music you can sing along to. 'Debut single, Smash Hits (rel. March 2007) contained everything you'd ever want in a pop song - two storytelling verses (replete with mild swear-words) a "He said/She said" chorus, a hand-clapping middle-eight and a po-going guitar solo that is so jauntily infectious, you'll break your neck after the third listen. Magic. Upon hearing the song BBC Scotland saw fit to make a music video for BBC 2's The Music Show - which was broadcast on 19th November 2006. The video plays out the song's story: Boy meets girl, girl likes boy, boy likes girl but not her taste in music, girl gets pissed off ...' (band's myspace)

"Juicy, chewy pop-kids to savour, proving that life still twitches in this indie guitar-pop business." Paul Whitelaw, The Scotsman"Juicy, chewy pop-kids to savour, proving that life still twitches in this indie guitar-pop business." Paul Whitelaw, The Scotsman
myspace.com/kidcanaveral
The Asthmatic Scene
The bastard child of of Belle And Sebastian and the B52s...
myspace.com/theasthmaticscene




Juno!
Including part-time Japanese member Yoshi, who comes over from Tokyo whenever customs allow, and part-time member Manda Rin (famed for her front-woman role in Bis, who were big in Japan, and Data Panik, who were big in Glasgow, for a bit), Juno! have been doing fantastically well of late, supporting the likes of Operator Please, Glasvegas, Black Affair(ex Beta Band), Robots in Disguise, Kid Carpet (tour support), Matchsticks, Bis, Datapanik and My Latest Novel and getting their debut single produced by Steven from Bis, released by indie legends Shifty Disco records and consequently play-listed on just about every radio station any sane person with any taste in music might want to listen to. Oh yeah, they also ended up on a number of Top Ten Single Of The Year lists in 2007. The band also have this to say: 'We have a habit of swapping instruments and every member of the band owns at least 1 tambourine!! We don't take ourselves all that seriously!!!'

"Meaty basslines , robo beats percussion and buzzing electronics" Is This Music.
myspace.com/junovision
Cancel The Astronauts
Jaunty, honest indie-pop songs utilising no gimmicks and that classic new wave line-up: guitar, synth, bass, drums. There's something immediately arresting and accessible about Cancel The Astronauts. Check out their mini-LP for proof that they've got what it takes to go all the way. Perfect complement to Juno!
myspace.com/canceltheastronauts




Over The Wall
Ben Hillman and Gav Prentice make wonky electronic pop that will make you dance but which belies a punk-rock spirit. The duo made the T Break finals at last year's TITP and in a glorious act of defiance took the piss out of the sponsor's product in a video they then posted on youtube and myspace. Unsurprisingly, said sponsor issued the tiny band with a 'warning' unless the video was removed from the net so - quite hilariously (and magnificently) - they've posted an 'edited' version alongside it, in which they've dubbed over their own speech with a 'more positive' spin in favour of the sponsor's product. With the public now able to view both videos together, side by side, it's comedy gold and possibly one of the best examples of sticking it to The Man since Country Joe MacDonald got the Woodstock crowd to shout F-U-C-K before his ode to Uncle Sam in Vietnam, way back in 1970.... Bill Hicks would be proud! We love their sense of humour, we admire their spirit and we think their tunes are great, too.
myspace.com/overthewall
Flying With Penguins
Sugar-coated, synth-led dance songs that take their cues from Bloc Party, Athelete and drum n bass maestro High Contrast and go pop pop POP!
myspace.com/flyingwithpenguins




Boyfriend/Girlfriend
"an epic pop guitar, bass and drum three-piece that throw in toy beats and boy/girl shouts to keep themselves entertained" (they say). Remind us of Sonic Youth c. Daydream Nation, ie classic (US) alt. rock with a small twist of their own.
myspace.com/boyfriendgirlfriend
Down The Tiny Steps
Mix folk, electronica and pop, they say. Imagine Lemon Jelly's quirky samples and cheery tunes with more accomplished song-writing and some simple, heart-warming melodies. Also a bit like what east coast heroes Found are doing. But different.
myspace.com/downthetinysteps




The Chap
'The Chap, the already-legendary, pan-European, London-based, modern pop group are back with their third album, Mega Breakfast. The Chap have become known and loved for their inimitable pop-improv-disco-rock-with-strings sound, captured in some crunchy, truly 'out-there' home production and a furiously rocking live show, complete with dance routines and scary faces. (New album) Mega Breakfast is the sound of the search for a heart of gold in a world gone cold. It deals with sex change, depression and classic economics. The Chap have expanded their repertoire to include some Justin Timberlake-style R&B, an ode to World Music, and a corporate motivational song. It's all infectious, blistering pop music, but all the while something is deliciously wrong here, making for what is sure to be one of the most intriguing releases of 2008.' (PR for Mega Breakfast)

'The Chap give birth to freakish Dadaist disco babies - you'll love it!' (NME) 'Like Underworld if they'd decided to be a lo-fi rock and roll combo instead of a stadium-selling dance act...it is stunning.' (VICE UK)
'Sufficient to gather up much of what is contemporary cutting edge pop and render it deeply mediocre by comparison.' (Guardian Guide, Single Of The Week)
'The Chap are both great and fab' (John Peel, RIP)
myspace.com/thechap
---


Address: The Voodoo Rooms, West Register Street, Edinburgh (formerly Cafe Royal upstairs, next to backpacker hostel, behind Burger King, east end of Princes Street)
Times: 8pm - 1am *
Entrance: £5/£4 concs *
Ph: 0131 556 7060 (venue) / 0131 477 6916 (promoter)
Web: thevoodoorooms.com
* except where otherwise advertised.

Tell your friends about it and come on down to D.A.N.C.E!


---


If you're reading this, are in a band and looking for somewhere decent to practise, the Black Spring Rooms are available for an extremely reasonable price and a hassle-free experience down in Leith (just off the Ferry Road at the Great Junction Steet end).

For more info, check black-spring.com/rooms and/or give us a shout using rooms@black-spring.com and we'll book you in or show you around. Room 2 has a full back-line and costs £9 per hour. If you block book 12 hours, it's £7.50 per hour.

Everyone who has been in rates the experience so do get in touch!
---