---



We're anticipating a somewhat star-studded event this week (see below to find out why), with Isa And The Filthy Tongues primed to explode alongside equally devastating support act the Paranoid Monkeys.

Isa are one of the best bands in Scotland right now, boasting former members of 80s indie stars Goodbye Mr MacKenzie and 90s rockers Angelfish (both of which also included a pre-Garbage Shirley Manson) and poised now to claim what should have been bestowed upon them aeons ago - one of the tightest outfits on the circuit, with one of the sexiest and most seductive sounds.

The Paranoid Monkeys are one of the most exciting and original new bands in Scotland, harnessing all the rage, fear and confusion of the modern age and distilling it into powerfully visceral rock music. The Paranoid Monkeys will fill arenas one day.

Check out our forthcoming bands here

Limbo is a new weekly night from the Black Spring DJs, located in the emerging zone between a straight-up gig and a club night where people go to DANCE. It takes place every Thursday at The Voodoo Rooms, Edinburgh from 8pm.

Each week sees some of the most exciting live acts on the circuit and great music for dancing.




Massive thanks to everyone who turned up to see Sellotape and Correcto at Limbo last week. Correcto made their Edinburgh debut, launching their debut album (Domino) in the process, and it was Sellotape's comeback gig. It was the biggest Limbo thus far and we were all blown away by their great performances, with Vikisellotape and band putting on one of the best shows we've seen at the club before Correcto took it to another level altogether with their taut, lean style - mightily accomplished. As usual, the night ended on a dancing note, courtesy of the Black Spring DJs.
| | |
| --- | --- |
| Correcto by Jennifer Baker | Correcto by Jennifer Baker |
| Sellotape by Jennifer Baker | Sellotape by Jennifer Baker |


Photos from all the nights can be found here




Meursault mix acoustic instruments (ukulele, banjo, accordion, guitar) with electronics and vocals in a way we've not heard much before - thoroughly inventive songs that sound utterly modern and are really quite good. Shellsuit Massacre are two inspiring performance poets (Rodney Relax & Nick E Melveille) + guitars + electronic music: 21st Century lyrical rock n roll 'in a world of ASBOs', as they put it. And guest DJ The Face is resident at ECA's jumping Ampbox night (Wee Red Bar), one of the funniest and most animated DJs we've met in quite a while, with excellent taste and a pretty immaculate repertoire. Triple bill, people! The Easter bunny comes early...

myspace.com/meursaulta701 / myspace.com/theshellsuitmassacremusic / myspace.com/ampboxclub


---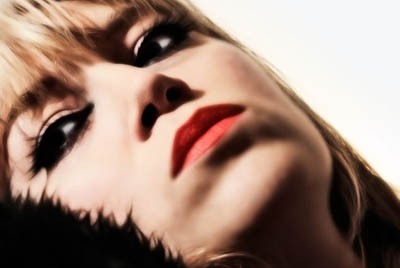 Isa And The Filthy Tongues describe their sound as post punk / surf / psychobilly and remind us of some our all-time favourite bands, citing the Pixies, Echo And The Bunnymen, Link Wray, Nick Cave and The Kinks as influences. Imagine the soundtrack to a David Lynch movie scripted by Quentin Tarantino - dark, moody and very sexy.

THE FACTS:

Stacey Chavis: vox | Derek Kelly: drums | Fin Wilson: bass | Martin Metcalfe: guitar

Debut LP Addiction (Circular) came out last year to rapturous critical acclaim, the impact of which was only doubled by their intense live shows.

Recently commissioned by Richard Jobson (The Skids) to score his forthcoming feature film, New Town Killers, which is currently being filmed here in Edinburgh. They will also be co-writing the theme tune to the film.

The band is offering the public a free download / month for every month this year form their website: www.isaandthefilthytongues.com

Some of these tracks will then end up on the band's new album, which is due for release later this year.

They also make cool pop videos: youtube.com / (also one on their myspace)

GOODBYE MR MACKENZIE:

"The Mackenzies left behind the most complex and fascinating footprint of any Scottish Band. Lead singer Martin Metcalfe looked like the MC of a particularly debauched cabaret, rousing a troupe that included Shirley Manson who went on to front Garbage and Big John Duncan ex-the Exploited and a couple of Nirvana gigs. Metcalfe, Wilson and Kelly have now evolved into country surf punk combo Isa and The Filthy Tongues." (Mypsace)

ANGELFISH:

"Angelfish were born out of the ruins of Goodbye Mr MacKenzie, who found themselves after throwing away 3 Major record company deals, (EMI, Capitol Records and MCA Records) and without any way of continuing to get backing. Shirley had been up for doing some lead vocals on the unreleased Mac's LP. And so logically they thought why not give it a shot. Stepping out of the shadows came a man who managed Blondie, Talking Heads and the Ramones to save their arrogant arses. Gary Kurfurst had formed Radioactive records in the USA and had been doing well with a band callled 'Live' who sounded like a cross between Pearl Jam and REM. Angelfish recorded their debut LP in the Talking Heads living room in winter 1993. And you can still hear the ducks quacking outside as spring pushed through the snows of Connecticuts 'blizzard of '93'. Chris Franz gave the boys some very stong 'erbs. And an LP was almost lost.

ANGELFISH released one album. ANGELFISH only ever played live in the US, Canada, France & Belgium. Shirley Manson went on to sing in Garbage. Martin Metcalfe, Fin Wilson and Derek Kelly went on to play with Isa and the Filthy Tongues" (MYSPACE)

THE PRESS:


Basically, you could say Isa and The Filthy Tongues are Angelfish with a new singer. Musically though, it's a far darker affair, but with enough of a pop edge to cross-over. The Pixies immediately come to mind when you listen the their debut album 'Addiction', but other references might include Dick Dale, Blondie and Nick Cave." (Jim Gellatly, XFM)
"Filthy Tounges have certainly cherry picked their influences wisely on this their debut album; where strong hints of the Pixies and Patti Smith are fused with elements of rockabilly and ramalama punk-blues. Here cumulative experience shines through in this preternaturally assured record" (The Skinny)
a blistering slab of dark, indie rock." (Evening News)
Think poppy PJ Harvey with a couple of Pixies-esque instrumentals and you're not far away. Singer Stacey is also a formidable live presence." (manicpopthrills.wordpress.com)
this baby shimmers achingly all at once bristling, bruised and beautiful, a sweetly stirring soft psyche pop assassin replete with bent out of shape hooks that curve, curl and caress Stacey's alluring matter of fact delivery - a bit like a day-glo Sonic Youth if you really need a fixed radar point. The gem like 'nae tongues' precedes the spectacle, a stratospheric instrumental with rumblin' Wray like signatures buried deep in the mix and saturated with a positive carnival of drip dried effects pedal bliss as though Terry Bickers had taken time out to wire up his guitar collection to create a cosmic rodeo minus the whip cracks, spurs and yee ha's. Joint deputy single of the missive not 'arf." (LosingToday.com, May 06)
(Chavis) transforms the live experience, providing a focus and a contrast to the soberly suited Tongues. Her persona, carrying an edge of disreputability and sordidness, is also a good fit for the music. Metcalfe's guitar-playing is a shimmering delight, redolent of the Deep South and carries the sound to dark places reminiscent, at times, of Depeche Mode or Echo and the Bunnymen. The bluesy and slightly sleazy feel is augmented by great work from giant bassist Fin Wilson and Derek Kelly on drums." (Evening News)
Isa and The Filthy Tongues are the epitome of underrated" (Xavier, fan)
myspace.com/thefilthytongues / www.isaandthefilthytongues.com


---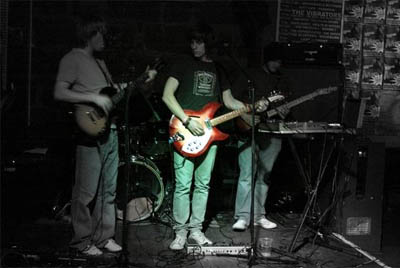 One of the most exciting and original new bands in Scotland, The Paranoid Monkeys harness all the rage, fear and confusion of the modern age and distill it into devastatingly visceral rock music. Remind us all at once of Mogwai, Radiohead and a little bit of early Eighties Pink Floyd, but basically they have their own, distinctive sound. The Paranoid Monkeys will fill arenas one day.

THE FACTS:

Gus Black: Bass | Jamie Hendry: Drums | David McNeill: Guitar | Dave Jackson: Keyboards & Guitar | Robert Davidson: Guitar & vocals

Influences: "The state of the human race and how mankind has the inherent urge to self-destruct."

Sounds Like: "chaos and order and rhythm and melody fluctuating in deep empty space. Politically astute, universally aware and ultimately uplifting psychedelic rock/post prog..."

Releases: The Paranoid Monkeys have already released the Elegies EP. The next release is the 'Sirens' single which comes out on the 28th March and is free to download from theparanoidmonkeys.co.uk

Also compared to David Bowie, Nick Caves, PJ Harvey, The Cult and U2 by critics.

Also cite Jeff Buckley and Elliot Smith as influences.

THE PRESS:

"This group ooze musical inventiveness. Clever, interesting and not as obvious as Kasabian, THe Paranoid Monkeys are Primal Scream's rightful heirs. Another slice of top banana." (Rick Fulton, Daily Record)

"What's Hot, Top 4" (Music News Scotland)

"...sincerely intense, compelling songsmiths of material that makes you think and groove! (Rare as rocking horse shit). Politically astute, universally aware, socially super-conscious and ultimately spell-binding. If all you want is three chords and dumb entertainment then they probably aren't for you, but if you actually love listening to music then they probably are. I've played two of their tracks on Leith FM and, hand on heart, they are the only band people have called in to praise." (Electra Smith, mgck.co.uk)

"If you are the kind of person that would say, 'Come on, lads. Lighten up.' then The Paranoid Monkeys are not for you. If you like music, then they are." (Live Music Direct)

myspace.com/theparanoidmonkeys / theparanoidmonkeys.co.uk


---




Meursault
Meursault have a penchant for a certain character by French existentialist philosopher and author Albert Camus and mix acoustic instruments such as ukulele, banjo, accordion and guitar with electronics and vocals in a way we've not heard much before. You could call it folktronica, although that suggests the likes of Kieren 'Four Tet' Hebden and all his stuff is instrumental. You could call it disco folk (Dave probably would) - quite the bastardisation on paper. But, whatever you want to call it, as you can hear from their myspace, Meursault write thoroughly inventive songs that sound utterly modern and are really quite good.
myspace.com/meursaulta701
The ShellSuit Massacre
2 x performance poets (Rodney Relax + Nick E Melveille) + guitars + electronic music = 21st Century lyrical rock n roll in a world of ASBOs. Rodney Relax and Nick E Melville first met about ten years ago through local scene-zine underword. An old charmer with a skewed but humourous slant on life, Rodney was running the (legendary) Yellow Cafe poetry/art/music/dancing/drinking events around town and Nicky was a bashful young man with a rapier wit and a deadpan delivery, which he occasionally demonstrated to unanimous approval at underword's events. The two men have been collaborating ever since but this is probably their most ambitious and exciting project yet.
myspace.com/theshellsuitmassacremusic
Guest DJ: The Face (Ampbox)
One of the funniest and most animated DJs we've met in quite a while, The Face has also got excellent taste and a pretty immaculate repertoire when it comes to making the floor burn. Her residency at ECA's jumping Ampbox Friday nighter continues to go from strength to strength, as the club packs in a full house of hip kids and up-for-it party people every month, with The Face recently performing warm-up duties for sizzling newcomers such as Black Affair, Shadow Dancer, Christopher D Ashley, Sleepless Crew and the excellent Boy 8 Bit.



Miss Le Bomb
Miss le bomb aka Catriona Shaw has now gone solo after playing on the underground electropop circuit for almost seven years, under various spooky guises - lead singer of Queen of Japan, founding member of infamous Munich-based punk club Club le Bomb and a visual artist she has collaborated with many different musicians and performers over the years including Electronicat, Gerhard Potuznik, Isabel Reiss, Hans Platzgumer, Kamerakino, Bulent Kullukcu and more.
myspace.com/misslebomb
Wounded Knee (Benbecula)
Wounded Knee is an experimental musician from Edinburgh, Scotland. He is a happy amateur. He doesn't want to kill anybody. We first came across him working behind the counter at the now defunct Fopp Records on Cockburn St, but, oh, that was AGES ago and later put him on at one of our Dfrnt Drum nights down at the Cocteau Lounge (Ego) and he was utterly BONKERS but quite interesting. Now signed to the revered Benbecula label, Wounded Knee has refined his idiosyncratic and extraordinary combination of folk songs, strange noises and a kazoo no end and tours it internationally, not least in Berlin, where Scottish ex-pat Ms Shaw now resides and the two have performed together before. Are you beginning to see a pattern now?
myspace.com/iamwoundedknee




Isosceles (Art Goes Pop)
Played Limbo at only the second night of the club back in November, alongside Retrosexuals, and we've been dying to have them, their beautiful Hammond organ and all of their fabulous plastic flamingoes back ever since. They cite R & B, soul and rockabilly on myspace but when they play live there's a strong mod sensibility and something of a Victorian vaudeville / end-of-the-pier style that's reminiscent of classic UK bands such as Madness. Basically, this is British pop at its most energetic and entertaining and, given that they've recently been picked up by the management company behind mega-stars such as Arctic Monkeys, Maximo Park, The Divine Comedy, Sigur Ros, Bloc Party, Kate Nash, Ian Brown, Radiohead, Portishead and Supergrass, if they haven't made it by the end of the year, we'll eat our pork pie hats.
myspace.com/isoscelestheband
Come On Gang!
A guitarist from Galashiels, a bassist from Dublin and a singer/drummer from Brighton, this trio only got together last April but have aleady played gigs all over the capital. We were tipped off about them by the singer's sister last summer and have been eagerly following their progress and chasing them for a gig ever since. A little bit Belle And Sebastian, a little bit Yeah Yeah Yeahs and a little bit of something else that's quite simply their own thing, if you're not feeling these tunes, you've either had your soul possessed or you need to see a shrink. Melodic, heartfelt and firing on all cylinders, Come On Gang! will provide the perfect pop foil to Isosceles.
myspace.com/comeongangmusic




Kid Canaveral
"Juicy, chewy pop-kids to savour, proving that life still twitches in this indie guitar-pop business." Paul Whitelaw, The Scotsman
myspace.com/kidcanaveral
The Asthmatic Scene
The bastard child of of Belle And Sebastian and the B52s...
myspace.com/theasthmaticscene




Juno!
"Meaty basslines , robo beats percussion and buzzing electronics" Is This Music.
myspace.com/junovision
Cancel The Astronauts
Jaunty, honest indie-pop songs utilising no gimmicks and that classic new wave line-up: guitar, synth, bass, drums. There's something immediately arresting and accessible about Cancel The Astronauts. Check out their mini-LP for proof that they've got what it takes to go all the way. Perfect complement to Juno!
myspace.com/canceltheastronauts




Over The Wall
Wonky electronic pop that will make you dance.
myspace.com/overthewall
Flying With Penguins
Sugar-coated, synth-led dance songs that take their cues from Bloc Party, Athelete and drum n bass maestro High Contrast and go pop pop POP!
myspace.com/flyingwithpenguins




Boyfriend/Girlfriend
"an epic pop guitar, bass and drum three-piece that throw in toy beats and boy/girl shouts to keep themselves entertained" (they say). Remind us of Sonic Youth c. Daydream Nation, ie classic (US) alt. rock with a small twist of their own.
myspace.com/boyfriendgirlfriend
Down The Tiny Steps
Mix folk, electronica and pop, they say. Imagine Lemon Jelly's quirky samples and cheery tunes with more accomplished song-writing and some simple, heart-warming melodies. Also a bit like what east coast heroes Found are doing. But different.
myspace.com/downthetinysteps

---


Address: The Voodoo Rooms, West Register Street, Edinburgh (formerly Cafe Royal upstairs, next to backpacker hostel, behind Burger King, east end of Princes Street)
Times: 8pm - 1am *
Entrance: £5/£4 concs *
Ph: 0131 556 7060 (venue) / 0131 477 6916 (promoter)
Web: thevoodoorooms.com
* except where otherwise advertised.

Tell your friends about it and come on down to D.A.N.C.E!


---


If you're reading this, are in a band and looking for somewhere decent to practise, the Black Spring Rooms are available for an extremely reasonable price and a hassle-free experience down in Leith (just off the Ferry Road at the Great Junction Steet end).

For more info, check black-spring.com/rooms and/or give us a shout using rooms@black-spring.com and we'll book you in or show you around. Room 2 has a full back-line and costs £9 per hour. If you block book 12 hours, it's £7.50 per hour.

Everyone who has been in rates the experience so do get in touch!
---