---



The double-whammies keep coming, as Vikisellotape brings her brand new Sellotape outfit to Limbo (including Edinburgh legend Joseph Malik lending vocal support), fresh from a warm-up at the 13th Note last weekend, and super-band Correcto launch their eponymous debut album, due imminently on the ace Domino label (home of Franz Ferdinand, Arctic Monkeys, Tour Tet, The Kills, Sons And Daughters and Bonnie 'Prince' Billy among many other stellar types).

Roll with the punches, people! The hits are raining down thick and fast!!

Check out our forthcoming bands here

Limbo is a new weekly night from the Black Spring DJs, located in the emerging zone between a straight-up gig and a club night where people go to DANCE. It takes place every Thursday at The Voodoo Rooms, Edinburgh from 8pm.

Each week sees some of the most exciting live acts on the circuit and great music for dancing.




Paul Vickers And The Leg demonstrated that the proof was most definitely in the (live) pudding, launching their debut album, Tropical Favourites (SL Records), at Limbo, and showing everybody present how wonderfully deranged and original they are. Then, box-fresh from their recording studio on the west coast, Glaswegian troubadours Bricolage came on, all suitably be-quiffed and check-shirted (actually, not ALL check-shirted but suitably natty no less), to offer us a sneak preview of their new material. Their debut LP is due out via the Memphis Industries label later this year.

Photos from all the nights can be found here




Slight change to the programme, as Sara And The Snakes have had to cancel (boo, hiss!). However, we're very excited to be welcoming Isa And The Filthy Tongues with support from the equally devastating Paranoid Monkeys. Isa describe their sound as post punk / surf / psychobilly and remind us of some our all-time favourite bands and cite the Pixies, Echo And The Bunnymen, Link Wray, Nick Cave and The Kinks as influences - one of the tightest outfits on the circuit, with one of the sexiest and most seductive sounds.

While, one of the most exciting and original new bands in Scotland, The Paranoid Monkeys harness all the rage, fear and confusion of the modern age and distill it into devastatingly visceral rock music, reminding us all at once of Mogwai, Radiohead and a little bit of early Eighties Pink Floyd even, but fundamentally boasting their own, distinctive sound. The Paranoid Monkeys will fill arenas one day. myspace.com/thefilthytongues / myspace.com/theparanoidmonkeys


---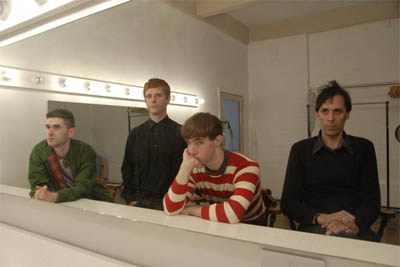 Just signed by gargantuan independent label Domino and launching their eponymous debut album at Limbo, Correcto is a fantastic new band comprising Danny Saunders (vox), Patrick from The Royal We/Sexy Kids (bass), internationally acclaimed artist Richard Wright (guitar) and Franz Ferdinand's own Paul Thomson (drums). Inspired by fact, fiction, surrealism and the mundane; and with sounds reminiscent of the Buzzcocks, Kinks, Fall, Ramones, Domino reckons Correcto is "the best art school punk band that we've come across for some time." Well, quite.

THE FACTS:

Recent killer single Joni was penned by Danny before dashing out the door, his brain "still fizzing with Substitute by the Who, guilt and TV show I'm Celebrity Get Me Out Of here ('I would eat a fish eye, to have you by my side')" and it's an instant classic - a direct, unhampered and infectious tune which will have you singing along in no time. Follow-up single Do It Better has proven an even bigger hit so far, with debut album Correcto also winning wide-spread praise. "Through habit more than anything I have wrote songs for ages, being largely content with playing them live, now and again, here and there. This period of nonchalant activity cumulated in a 7" single on shadazz (Glasgow artist Luke Fowler's bedroom label). Heartened by confused reviews in the local press including The Paisley Gazette, I began to get serious and expanded the outfit to three with local louches Richard Wright on guitar and Will Bradley playing the drums, (Bradley has since bolted but wisps of silver lining came in the form of Paul Thomson pointing out that he is a drummer, and by god he was right). Later the group was crowned by Patrick of The Royal We fame on bass. The demands of nitty gritty bullshit on this planet acting as a source of endless inspiration and yet an obstacle to negotiate in order to get in the same room for five minutes produced some necessarily direct and unhampered songs which the forthcoming album will demonstrate. (Ok, we are talking Kinks, VU, Eno, Ramones, Creation, Dylan, Smiths, Modern Lovers, PIL, etc here, you know – all the good stuff). Correcto is often described as a project, in many ways it is. The other folk in the group have their other main preoccupations/occupations..." See biog in full here: dominorecordco.com/site/index.php?page=artists&artistID=255

THE PRESS:

"This is timeless because it could be of any time. Any time between the advent of punk and today, at least... a song made to be listened to on 7-inch. The punkish guitars, new-wave-esque vocals and frenetic pace would ultimately be improved with a few static crackles, the odd skip and a stuck needle at the end. Just as easily as this has come from the back streets of Glasgow, it could have been found in your Dad's box of old records, nestled somewhere between scratched, dog-eared efforts from PIL and The Skids. The fact that Correcto are what is ultimately deemed a 'supergroup' is an irrelevance here. The single they've put out here is just 'super' on its own." 4 stars (ThisisfakeDIY.com review of Do It Better).

"More herky-jerky art-rock... This time the band are proving they are more than just a few friends messing about in the studio inbetween recording with their main bands (Franz, Royal We). Homing in on a post-punk style, the rhythms are lethal and sharp as a knife, but still leaning towards a pop direction that springs to mind The Young Knives or Buzzcocks. The vocals are are intriguing too, a hybrid of Belle & Sebastian's Stuart Murdoch with a slightly Germanic, Kraftwerk hint. Promising stuff indeed." (AngryApe.com review of new single Do It Better)

"Following their superb debut single, 'Joni', this is more than just Franz Ferdinand drummer Paul Thomson's side-project. This is no angular art-rock - 'Do It Better' is an astounding post-punk beast, with fervour and more hooks than a huge pair of curtains - thoroughly engaging stuff. Dismissing Correcto as a supergroup (they have former Royal We bassist Patrick on board too) would be Incorrecto - they produce timeless, structured music to make you move." 3.5 stars (Clickmusic.com review of Do It Better)

"...burrowing deeper reveals a wealth of gems behind frontman Danny Saunders's Doherty-style mumble, not least his ability to capture the bohemian underbelly of his native Glasgow in a seemingly throwaway lyric. A little patience throws up impressive rewards: from the Velvets sludge of Save Your Sorrow and the Lydon snarl that marks No One Under 30 to the romantic regret of the album's closer, When You Get Away From Me." 3 stars (Metro album review)

"a satisfying blast of witty, traditional indie art-pop vaguely reminiscent of Brighton's similarly sardonic Brakes." 3 Stars (The Times album review)

"More post-pub than post-punk but that's not without its kebab-reeking pleasures." (Drowned In Sound album review)

"a straight-up, scuzz-rock orientated affair in the Buzzcocks/Kinks/Ramones guise – 'all the good stuff' as carrot topped frontman and songwriter Danny Saunders puts it. They're still rough around the edges, but debut single 'Joni' – essentially one big chorus from start to finish – has to be about one of the most gut-punchingly arresting songs of the moment." (The List live review, Nov 07)

myspace.com/correcto


---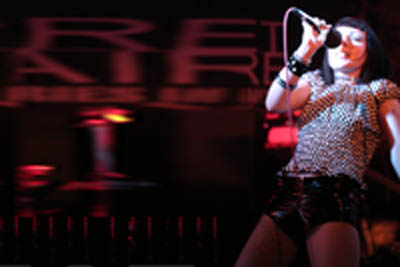 Her first year was peppered by a smattering of killer live shows in dirty dives and the like, but style cat Vikisellotape has just pieced her band back together using, yes, you guessed it, rolls and rolls of sticky-back plastic. This will be their come-back show. It's also Viki's birthday party. Balloons, streamers, party hats and cake all essential.

THE FACTS:

The much-awaited return of s/e/l/l/o/t/a/p/e see the band in yet another, ahem the 8th to be precise, incarnation (obviously taking the mark.e.smith influence a bit too far)...sellotape promise to deliver a delicious mix of post-punk craziness, catchy mellow-billy and darker expressive hate songs. it is uncertain if popcorn will be available at this gig however after the popcorn machine caught fire the last time, but you never know...Edinburgh legend Joe Malik will perform guest vocals on their Select Vagina track.

current line-up: vikisellotape- vocals, cowbell, tambourine, casio PT-30
robblie oliver- guitar
mike III- double bass
diego lopez- drums

Edinburgh legend Joseph Malik lending vocal support on Select Vagina

THE PRESS:

"Sellotape the band do that Rough Trade circa 1978 Ladbroke Grove squat rock shamble. Making their live debut, they go hell for, um, leather with an energetic and unstudied bounce through the DIY post-punk messthetics handbook. Think Kleenex or The Delta Five, with an in-built ramshackleness tempered by a vocal style betraying a smidgen of Siouxsie Sioux." (Neil Cooper, The List, July 07)

"Very Rough Trade" (Stephen Pastel, June 07)

myspace.com/myspace.com/sellotapemusic / myspace.com/myspace.com/vikisellotape


---




Isa & The Filthy Tongues
Featuring members of former indie stars Goodbye Mr Mackenzie, Isa And The Filthy Tongues describe their sound as post punk / surf / psychobilly and remind us of some our all-time favourite bands. Citing the Pixies, Echo And The Bunnymen, Link Wray, Nick Cave and The Kinks as influences while also paying lip service to Angelfish, PJ Harvery, Hole and The Kills, this Scots male trio and American front-woman are one of the tightest outfits currently doing the rounds with one of the sexiest and most seductive sounds we've heard in ages.
myspace.com/thefilthytongues
The Paranoid Monkeys
One of the most exciting and original new bands in Scotland, The Paranoid Monkeys harness all the rage, fear and confusion of the modern age and distill it into devastatingly visceral rock music. Remind us all at once of Mogwai, Radiohead and a little bit of early Eighties Pink Floyd even, but basically they have their own, distinctive sound. The Paranoid Monkeys will fill arenas one day. They cite their influences as 'the state of the human race and how mankind has the inherent urge to self-destruct', claiming they sound like' chaos and order and rhythm and melody fluctuating in deep empty space. Politically astute, universally aware and ultimately uplifting psychedelic rock/post prog...'
myspace.com/theparanoidmonkeys



Meursault
Meursault have a penchant for a certain character by French existentialist philosopher and author Albert Camus and mix acoustic instruments such as ukulele, banjo, accordion and guitar with electronics and vocals in a way we've not heard much before. You could call it folktronica, although that suggests the likes of Kieren 'Four Tet' Hebden and all his stuff is instrumental. You could call it disco folk (Dave probably would) - quite the bastardisation on paper. But, whatever you want to call it, as you can hear from their myspace, Meursault write thoroughly inventive songs that sound utterly modern and are really quite good.
myspace.com/meursaulta701
The ShellSuit Massacre
2 x performance poets (Rodney Relax + Nick E Melveille) + guitars + electronic music = 21st Century lyrical rock n roll in a world of ASBOs. Rodney Relax and Nick E Melville first met about ten years ago through local scene-zine underword. An old charmer with a skewed but humourous slant on life, Rodney was running the (legendary) Yellow Cafe poetry/art/music/dancing/drinking events around town and Nicky was a bashful young man with a rapier wit and a deadpan delivery, which he occasionally demonstrated to unanimous approval at underword's events. The two men have been collaborating ever since but this is probably their most ambitious and exciting project yet.
myspace.com/theshellsuitmassacremusic
Guest DJ: The Face (Ampbox)
One of the funniest and most animated DJs we've met in quite a while, The Face has also got excellent taste and a pretty immaculate repertoire when it comes to making the floor burn. Her residency at ECA's jumping Ampbox Friday nighter continues to go from strength to strength, as the club packs in a full house of hip kids and up-for-it party people every month, with The Face recently performing warm-up duties for sizzling newcomers such as Black Affair, Shadow Dancer, Christopher D Ashley, Sleepless Crew and the excellent Boy 8 Bit.



Miss Le Bomb
Miss le bomb aka Catriona Shaw has now gone solo after playing on the underground electropop circuit for almost seven years, under various spooky guises - lead singer of Queen of Japan, founding member of infamous Munich-based punk club Club le Bomb and a visual artist she has collaborated with many different musicians and performers over the years including Electronicat, Gerhard Potuznik, Isabel Reiss, Hans Platzgumer, Kamerakino, Bulent Kullukcu and more.
myspace.com/misslebomb
Wounded Knee (Benbecula)
Wounded Knee is an experimental musician from Edinburgh, Scotland. He is a happy amateur. He doesn't want to kill anybody. We first came across him working behind the counter at the now defunct Fopp Records on Cockburn St, but, oh, that was AGES ago and later put him on at one of our Dfrnt Drum nights down at the Cocteau Lounge (Ego) and he was utterly BONKERS but quite interesting. Now signed to the revered Benbecula label, Wounded Knee has refined his idiosyncratic and extraordinary combination of folk songs, strange noises and a kazoo no end and tours it internationally, not least in Berlin, where Scottish ex-pat Ms Shaw now resides and the two have performed together before. Are you beginning to see a pattern now?
myspace.com/iamwoundedknee




Isosceles (Art Goes Pop)
Played Limbo at only the second night of the club back in November, alongside Retrosexuals, and we've been dying to have them, their beautiful Hammond organ and all of their fabulous plastic flamingoes back ever since. They cite R & B, soul and rockabilly on myspace but when they play live there's a strong mod sensibility and something of a Victorian vaudeville / end-of-the-pier style that's reminiscent of classic UK bands such as Madness. Basically, this is British pop at its most energetic and entertaining and, given that they've recently been picked up by the management company behind mega-stars such as Arctic Monkeys, Maximo Park, The Divine Comedy, Sigur Ros, Bloc Party, Kate Nash, Ian Brown, Radiohead, Portishead and Supergrass, if they haven't made it by the end of the year, we'll eat our pork pie hats.
myspace.com/isoscelestheband
Come On Gang!
A guitarist from Galashiels, a bassist from Dublin and a singer/drummer from Brighton, this trio only got together last April but have aleady played gigs all over the capital. We were tipped off about them by the singer's sister last summer and have been eagerly following their progress and chasing them for a gig ever since. A little bit Belle And Sebastian, a little bit Yeah Yeah Yeahs and a little bit of something else that's quite simply their own thing, if you're not feeling these tunes, you've either had your soul possessed or you need to see a shrink. Melodic, heartfelt and firing on all cylinders, Come On Gang! will provide the perfect pop foil to Isosceles.
myspace.com/comeongangmusic




Kid Canaveral
"Juicy, chewy pop-kids to savour, proving that life still twitches in this indie guitar-pop business." Paul Whitelaw, The Scotsman
myspace.com/kidcanaveral
The Asthmatic Scene
The bastard child of of Belle And Sebastian and the B52s...
myspace.com/theasthmaticscene




Juno!
"Meaty basslines , robo beats percussion and buzzing electronics" Is This Music.
myspace.com/junovision
Cancel The Astronauts
Jaunty, honest indie-pop songs utilising no gimmicks and that classic new wave line-up: guitar, synth, bass, drums. There's something immediately arresting and accessible about Cancel The Astronauts. Check out their mini-LP for proof that they've got what it takes to go all the way. Perfect complement to Juno!
myspace.com/canceltheastronauts




Over The Wall
Wonky electronic pop that will make you dance.
myspace.com/overthewall
Flying With Penguins
Sugar-coated, synth-led dance songs that take their cues from Bloc Party, Athelete and drum n bass maestro High Contrast and go pop pop POP!
myspace.com/flyingwithpenguins




Boyfriend/Girlfriend
"an epic pop guitar, bass and drum three-piece that throw in toy beats and boy/girl shouts to keep themselves entertained" (they say). Remind us of Sonic Youth c. Daydream Nation, ie classic (US) alt. rock with a small twist of their own.
myspace.com/boyfriendgirlfriend
Down The Tiny Steps
Mix folk, electronica and pop, they say. Imagine Lemon Jelly's quirky samples and cheery tunes with more accomplished song-writing and some simple, heart-warming melodies. Also a bit like what east coast heroes Found are doing. But different.
myspace.com/downthetinysteps

---


Address: The Voodoo Rooms, West Register Street, Edinburgh (formerly Cafe Royal upstairs, next to backpacker hostel, behind Burger King, east end of Princes Street)
Times: 8pm - 1am *
Entrance: £4 *
Ph: 0131 556 7060 (venue) / 0131 477 6916 (promoter)
Web: thevoodoorooms.com
* except where otherwise advertised.

Tell your friends about it and come on down to D.A.N.C.E!


---


If you're reading this, are in a band and looking for somewhere decent to practise, the Black Spring Rooms are available for an extremely reasonable price and a hassle-free experience down in Leith (just off the Ferry Road at the Great Junction Steet end).

For more info, check black-spring.com/rooms and/or give us a shout using rooms@black-spring.com and we'll book you in or show you around. Room 2 has a full back-line and costs £9 per hour. If you block book 12 hours, it's £7.50 per hour.

Everyone who has been in rates the experience so do get in touch!
---