---



Skewed geniuses Paul Vickers And The Leg launch their new album, Tropical Favourites (SL Records), at Limbo, before west coast troubadours Bricolage go pop pop pop with a sneak preview of the material from their upcoming LP for the Go Team's Memphis Industries label.


Limbo is a new weekly night from the Black Spring DJs, located in the emerging zone between a straight-up gig and a club night where people go to DANCE. It takes place every Thursday at The Voodoo Rooms, Edinburgh from 8pm.

Each week sees some of the most exciting live acts on the circuit and great music for dancing.


Big love to everyone who scorned Valentine's Day or dragged their partner to Limbo. The Nanobots put a smile on everyone's face with their quirky mix of space-age style, guitars and electronics, while the amazing Fay Fife had everybody totally rapt with her smouldering new material and a couple of Revillos classics, Where's The Boy For Me - which saw her racing to the back of the stage to perform keyboard duties before running forward again to sing the other part of the song (!) - and Crush, before ending her set with a brilliant cover of the Shangri-Las' classic Remember (Walkin' In The Sand). You can be sure you'll be seeing and hearing a lot more of Fay at Limbo (and elsewhere) in future. Watch this space...


Photos from all the nights can be found here




The double-whammies keep coming, as Vikisellotape brings her brand new Sellotape outfit to Limbo (including Edinburgh legend Joseph Malik lending vocal support), fresh from a warm-up at the 13th Note last weekend, and super-band Correcto launch their eponymous debut album, due imminently on the ace Domino label (home of Franz Ferdinand, Arctic Monkeys, Tour Tet, The Kills, Sons And Daughters and Bonnie 'Prince' Billy among many other stellar types). Roll with the punches, people! The hits are raining down thick and fast!!


---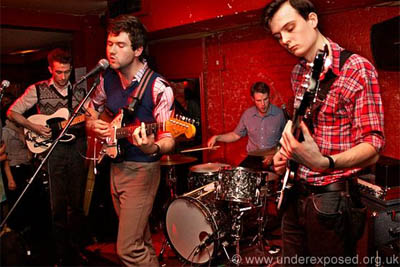 Rumoured to be Franz Ferdinand's favourite band, Bricolage have been known to pack a mighty punch themselves in their delivery of some extremely well coiffed pop, not to mention the most studied, accurate revival of the style of legendary Glasgow indie-popstrels Orange Juice. Now signed to Memphis Industries (the label which introduced the world to the spanking Go Team!) and sporting a slightly new line-up, Bricolage release their own debut later this year and early indicators suggest they've developed a whole new twist on that vintage sound.

THE FACTS:

"Pack a set of four zealous young men off to a secret bunker in the south-side of Glasgow for all Spring and Summer 2007, equip with the time-honoured tools familiar to anyone able to construct a phrase from the words 'combo' and 'beat', and let them boil! Such was the birth of Bricolage, scourge of temp work and forbidden desire, magnets for the tall tales and true characters of their own city and others'. Having spent much of last year regaling the patrons of many of the more esoteric watering-holes and discos old Blighty has to offer, this troupe intend to do it all over again in '08. Only this time, bigger, better and much more of it." (band's biog)

Glasgow's Bricolage are Darren Cameron (guitar, vox), Graham Wann (guitar), Chris __ (bass) and Colin Kearney (drums). The band released their first single "Footsteps" on semi-legendary Scottish label Creeping Bent, in June 2006. Second single "Looting Takes The Wanting Out of Waiting" was released by Fantastic Plastic in Feb 07. Both were released in the traditional manner on limited edition 7" and both sold out immediately. Bricolage are now recording their debut album for Memphis Industries.

THE PRESS:

"This is dancey, angular, funk-inflected indiepop; 'Footsteps' is as good as ever and new song 'Lucinda Said' shows that they can still write quality songs" (Soundsxp.com, Dec 07)
"if there is any justice in the world, Bricolage will be taking their pop masterclass to the masses" (is this Music review of The Waltzers, Sept 07)
"a jaunty indie-pop number... The rippling bass line and twangy guitars that form this single's backbone have the first-time listener immediately bopping about in their chair... Toss in some slightly imperfect (and all the better for it) vocal harmonising and the sort of sing-spit-shout approach perfected in the pop charts by The Futureheads (albeit without the accents) and you have an entirely appealing package. You can dance to it, drive to it, relax to it. It's just about spot-on, really." (Drowned In Sound review of 'Footsteps / Flowers Of Deceit' single, August 2006)
"OrangeJuiceandJosefKandPostcardRecordsandcheckedshirts.... Damn you Bricolage and your cunning appropriation of times past. This should be so wrong, but it sounds too right. A treasure." (Kittenpainting.co.uk review of 'Footsteps / Flowers Of Deceit' single, August 2006)

myspace.com/bricolagetheband / memphis-industries.com


---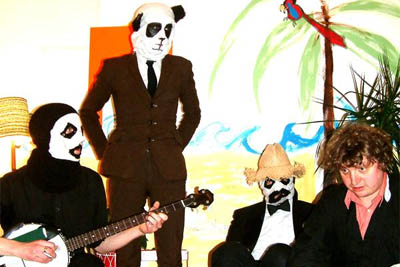 Paul Vickers And The Leg are the front-man from John Peel favourites Dawn Of The Replicants - that's Paul Vickers - and ex-Khaya/Desc firebrand Dan Mutch, aka The Leg, who has worked with Steve Albini (Nirvana, The Pixies, P.J Harvey). One of Edinburgh's more eccentric musical offerings, they launch debut album Tropical Favourites (SL Records) at Limbo.

THE FACTS:

SL Records' latest signing began working together after being asked to record a track to celebrate Edinburgh College of Art's centenary. The tracks received great acclaim and the band worked on their album over the summer of 2007. Their début single "Chime Chime Cherry" was picked up by Huw Stephens and Vic Galloway on Radio One and their Christmas single " I Want A Hippopotamus for Christmas" was well received in Oklahoma. Their live show scares and inspires in equal measure, as seen by their show-stopping performance at the SL Records Xmas party.

Paul Vickers:

- Seasoned veteran as the lead singer of "Dawn of the Replicants", where he occupies the role of central songwriter and frontman, playing his part in creating five albums over a 10 year period.
- Recorded five peel sessions for legendary Radio One DJ John Peel, as well as numerous sessions for everything from Huw Stephens on Radio One, the much missed Greater London Radio, Marc Riley and a live session at Abbey Road Studios. His songs have been playlisted on Xfm and by BBC 6 Music.
- Live credits include Glastonbury, Reading, T In The Park and South by South West in Austin Texas. The Replicants have toured around Britain many times sharing bills with Clinic, Spiritualized and Arab Strap over the years.
- Paul has appeared on T.V. numerous times, on M.T.V's 120 minutes and Alternative Nation and a guest appearance on Mark Lamar's 'Edinburgh Nights'.
- D.O.T.R. notched up three chart hits with the singles "Candlefire" and "Hogwash farm" and the debut album "One head, Two arms, Two legs".
- Replicant's records have been released all over the world including Japan, France and Germany. The Replicants were voted best new band in Britain by the Times newspaper, and they've enjoyed being single of the week twice in N.M.E, In the Melody Maker and on Mark Radcliffe's daytime Radio One show.
- Vickers has a back catalogue of over 400 songs and is a tireless workaholic song factory day and night.

The Leg:

- The Leg is the latest project showcasing the song writing talents of chameleon fire breed Dan Mutch. Previous umbrella organizations for Dan's talents have included 'Khaya' and 'Desc'.
- The accolades of The Leg/Desc/Khaya include being championed by Steve Lamacq, John Peel and Jo Whiley, recordings two sessions for John Peel and playing live on Radio Scotland and BBC TV.
- As Khaya he recorded three highly acclaimed albums, and as Desc worked on an album with Steve Albini the world famous producer behind seminal recordings by Nirvana, The Pixies and P.J Harvey.
- Dan's trusted shipmate and fellow Legite cellist Pete Harvey is the only true survivor, apart from Dan, to feature in all three bands. Pete is a classically trained cellist and at a moment's notice can perform anything from the marriage of Figaro to West Side Story - in fact that's exactly what he does as part of the Rose Street Quartet. He has performed with legendary Damo Suzuki, lyricist with German pioneers Can; worked with Jonathan Mills on a rewrite of his opera The Eternity Man for a film version directed by Julian Temple and played carols at John Peel's Christmas party.
- The third member of The Leg is the hard working percussionist / drummer Alun Thomas, a local character and true one off in every sense of the word. Alun has played with Thomas Truax, ballboy, Desc and Saint Judes Infirmary. Together they are an exotic some would say almost tropical mix.
- They have toured Holland, Germany and America. Their live show involves sparklers, skeleton make up and a shrunken Tina Turner voodoo doll. They received high praise in the press from N.M.E, Q Magazine and the Scotsman to name a few. Much like Paul Vickers they're true veterans that always deliver the goods.

THE PRESS:

"Sweetly whimsical and plain weird, it proves that Vickers' magic powers are still intact" **** (UNCUT)

"Smart, sardonic, literate, mickey-taking pop" (Plan B)

"Vickers sings like MacGowan and Waits . . . The Leg play hard to resist jugband blues" **** (The List)

"Sonic alchemists with pop magic dancing from their fingertips" (N.M.E on The Leg)

What the press say about Paul:

"Much of the magic stems from frontman Paul Vickers, a lovable gonk/da vinci of lyrical invention" (Mojo Magazine).

"Paul Vickers unique vocal hovers delightfully, occupying a self-effacing space somewhere between the sound of Nick Cave and Billy Corgan" (Record Collector).

myspace.com/paulvickersandtheleg / slrecords.net


---




Correcto
Just signed by Domino and launching their eponymous debut album at Limbo, Correcto is a fantastic new band comprising Danny Saunders (vox), Patrick from The Royal We/Sexy Kids (bass), internationally acclaimed artist Richard Wright (guitar) and Franz Ferdinand's own Paul Thomson (drums). Inspired by fact, fiction, surrealism and the mundane; and with sounds reminiscent of the Buzzcocks, Kinks, Fall, Ramones, Domino reckons Correcto is "the best art school punk band that we've come across for some time." Well, quite.
myspace.com/correcto
Sellotape
Her first year was peppered by a smattering of killer live shows in dirty dives and the like, but style cat Vikisellotape has just pieced her band back together using, yes, you guessed it, rolls and rolls of sticky-back plastic. This will be their come-back show. It's also Viki's birthday party. Balloons, streamers, party hats and cake all essential.
myspace.com/sellotapemusic




Isa & The Filthy Tongues
Featuring members of former indie stars Goodbye Mr Mackenzie, Isa And The Filthy Tongues describe their sound as post punk / surf / psychobilly and remind us of some our all-time favourite bands. Citing the Pixies, Echo And The Bunnymen, Link Wray, Nick Cave and The Kinks as influences while also paying lip service to Angelfish, PJ Harvery, Hole and The Kills, this Scots male trio and American front-woman are one of the tightest outfits currently doing the rounds with one of the sexiest and most seductive sounds we've heard in ages.
myspace.com/thefilthytongues
Sara & The Snakes
A blues-rock three-piece who have been electrifying the Edinburgh swamp for some time, with unlikely front-woman Sara Sidewinder unleashing the devil in her (guitar/vox), backed by Andy Anaconda (lead guitar) and Mike Mamba (drums). It's all about their glorious live shows, as any one of their many fans will tell you.
myspace.com/saraandthesnakes



Meursault
Meursault have a penchant for a certain character by French existentialist philosopher and author Albert Camus and mix acoustic instruments such as ukulele, banjo, accordion and guitar with electronics and vocals in a way we've not heard much before. You could call it folktronica, although that suggests the likes of Kieren 'Four Tet' Hebden and all his stuff is instrumental. You could call it disco folk (Dave probably would) - quite the bastardisation on paper. But, whatever you want to call it, as you can hear from their myspace, Meursault write thoroughly inventive songs that sound utterly modern and are really quite good.
myspace.com/meursaulta701
The ShellSuit Massacre
2 x performance poets (Rodney Relax + Nick E Melveille) + guitars + electronic music = 21st Century lyrical rock n roll in a world of ASBOs
myspace.com/theshellsuitmassacremusic
Guest DJ: The Grace (Ampbox)
One of the funniest and most animated DJs we've met in quite a while, The Grace has also got excellent taste and a pretty immaculate repertoire when it comes to making the floor burn. Her residency at ECA's jumping Ampbox Friday nighter continues to go from strength to strength, as the club packs in a full house of hip kids and up-for-it party people every month, with The Grace recently performing warm-up duties for sizzling newcomers such as Black Affair, Shadow Dancer, Christopher D Ashley, Sleepless Crew and the excellent Boy 8 Bit.



Miss Le Bomb
Miss le bomb aka Catriona Shaw has now gone solo after playing on the underground electropop circuit for almost seven years, under various spooky guises - lead singer of Queen of Japan, founding member of infamous Munich-based punk club Club le Bomb and a visual artist she has collaborated with many different musicians and performers over the years including Electronicat, Gerhard Potuznik, Isabel Reiss, Hans Platzgumer, Kamerakino, Bulent Kullukcu and more.
myspace.com/misslebomb
Wounded Knee (Benbecula)
Wounded Knee is an experimental musician from Edinburgh, Scotland. He is a happy amateur. He doesn't want to kill anybody. We first came across him working behind the counter at the now defunct Fopp Records on Cockburn St, but, oh, that was AGES ago and later put him on at one of our Dfrnt Drum nights down at the Cocteau Lounge (Ego) and he was utterly BONKERS but quite interesting. Now signed to the revered Benbecula label, Wounded Knee has refined his idiosyncratic and extraordinary combination of folk songs, strange noises and a kazoo no end and tours it internationally, not least in Berlin, where Scottish ex-pat Ms Shaw now resides and the two have performed together before. Are you beginning to see a pattern now?
myspace.com/iamwoundedknee




Isosceles (Art Goes Pop)
Played Limbo at only the second night of the club back in November, alongside Retrosexuals, and we've been dying to have them, their beautiful Hammond organ and all of their fabulous plastic flamingoes back ever since. They cite R & B, soul and rockabilly on myspace but when they play live there's a strong mod sensibility and something of a Victorian vaudeville / end-of-the-pier style that's reminiscent of classic UK bands such as Madness. Basically, this is British pop at its most energetic and entertaining and, given that they've recently been picked up by the management company behind mega-stars such as Arctic Monkeys, Maximo Park, The Divine Comedy, Sigur Ros, Bloc Party, Kate Nash, Ian Brown, Radiohead, Portishead and Supergrass, if they haven't made it by the end of the year, we'll eat our pork pie hats.
myspace.com/isoscelestheband
Come On Gang!
A guitarist from Galashiels, a bassist from Dublin and a singer/drummer from Brighton, this trio only got together last April but have aleady played gigs all over the capital. We were tipped off about them by the singer's sister last summer and have been eagerly following their progress and chasing them for a gig ever since. A little bit Belle And Sebastian, a little bit Yeah Yeah Yeahs and a little bit of something else that's quite simply their own thing, if you're not feeling these tunes, you've either had your soul possessed or you need to see a shrink. Melodic, heartfelt and firing on all cylinders, Come On Gang! will provide the perfect pop foil to Isosceles.
myspace.com/comeongangmusic




Kid Canaveral
"Juicy, chewy pop-kids to savour, proving that life still twitches in this indie guitar-pop business." Paul Whitelaw, The Scotsman
myspace.com/kidcanaveral
The Asthmatic Scene
The bastard child of of Belle And Sebastian and the B52s...
myspace.com/theasthmaticscene




Juno!
"Meaty basslines , robo beats percussion and buzzing electronics" Is This Music.
myspace.com/junovision
Cancel The Astronauts
Jaunty, honest indie-pop songs utilising no gimmicks and that classic new wave line-up: guitar, synth, bass, drums. There's something immediately arresting and accessible about Cancel The Astronauts. Check out their mini-LP for proof that they've got what it takes to go all the way. Perfect complement to Juno!
myspace.com/canceltheastronauts

---


Address: The Voodoo Rooms, West Register Street, Edinburgh (formerly Cafe Royal upstairs, next to backpacker hostel, behind Burger King, east end of Princes Street)
Times: 8pm - 1am *
Entrance: £4 *
Ph: 0131 556 7060 (venue) / 0131 477 6916 (promoter)
Web: thevoodoorooms.com
* except where otherwise advertised.

Tell your friends about it and come on down to D.A.N.C.E!


---


If you're reading this, are in a band and looking for somewhere decent to practise, the Black Spring Rooms are available for an extremely reasonable price and a hassle-free experience down in Leith (just off the Ferry Road at the Great Junction Steet end).

For more info, check black-spring.com/rooms and/or give us a shout using rooms@black-spring.com and we'll book you in or show you around. Room 2 has a full back-line and costs £9 per hour. If you block book 12 hours, it's £7.50 per hour.

Everyone who has been in rates the experience so do get in touch!
---