---



Feeling the wrong kind of heat from your hotty this Valentine's? Busy hunting a new honey? Whether you're seeking an oasis in the desert of a flawed relationship or hi-octane gas to fire up an entirely new flame, a spell at Limbo will be just the tonic for you this week.

It's a late starter, opening at 9pm instead of 8, with the first band, Nanobots, on at 10.15. However, for those willing to wait, the headline entertainment will be even more exclusive, as we welcome the finest and most formidable front-woman ever to have emerged from Edinburgh, boasting a brand new band and an entirely new set of songs.

And, if you arrive late, the Black Spring DJs will be casting voodoo magic on the dance floor until 1am.


Limbo is a new weekly night from the Black Spring DJs, located in the emerging zone between a straight-up gig and a club night where people go to DANCE. It takes place every Thursday at The Voodoo Rooms, Edinburgh from 8pm.

Each week sees some of the most exciting live acts on the circuit and great music for dancing.


Chutes showed they've got the slick production aesthetics to take them all the way to the top and XVECTORS tore the roof off the sucker and reminded us why they're widely considered one of the best bands in Scotland right now. Watch this space for more news of both later this year. You can be sure it's going to be a busy one.

See pics on our Facebook group here


Photos from all the nights can be found here




Rumoured to be Franz Ferdinand's favourite band, Bricolage have been known to pack a mighty punch in their delivery of the most studied, accurate revival of legendary Glasgow indie-posters Orange Juice. Now signed to the Memphis Industries label (who brought us the spanking Go Team!), they release their debut album later this year and apparently it's sounding altogether new.

Paul Vickers & The Leg are front-man from John Peel favourites Dawn Of The Replicants - that's Paul Vickers - and ex-Khaya/Desc fire-brand Dan Mutch, who has worked with Steve Albini (Nirvana, The Pixies, P.J Harvey). One of Edinburgh's more eccentric musical offerings, they launch debut album Tropical Favourites (SL Records) at Limbo.


---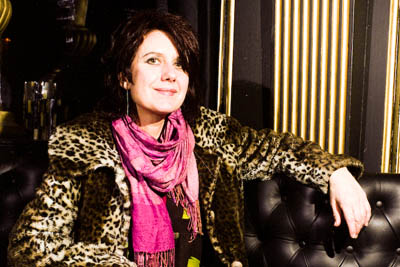 The highlight of the club's lifespan thus far, we present the solo live debut of Fay Fife, front-woman of Edinburgh's most famous original punks, The Rezillos and their 'art-pop' spin-off, The Revillos. A pocket gig by special arrangement, this is a UNIQUE opportunity as Fay brings her own material - too girly for her erstwhile punk outfit - and a new backing band exclusively to Limbo. This is not part of a tour. 'It's a bit of an experiment,' says Fay. But, having already heard some of the material, we guarantee that when Fay Fife Sings Punk Dusty, a lot of people are going to want to hear it.

THE FACTS:

Fay Fife will be well known to anyone who has ever seen a live show by her band, The Rezillos, Edinburgh's most famous punk outfit, or, for that matter, its 'arty -pop' splinter group, The Revillos, both of which she originally fronted from the late Seventies through to the early Eighties.

Over the past 5 years, The Rezillos have gone back on the road (demonstrating that they are still one of the best bands ever to have emerged from Edinburgh). The Rezillos reformed to play a spot on 2002's Hogmanny show and have now built an enduring cult following in areas such as Brazil, USA and Europe. The band and are now working on new material, and have two compilation albums in the offing. Meanwhile, Fay has been working on a new solo project of her own.

Far too girly (or is that womanly!) for her erstwhile punk group, Fay Fife retains a love of garage band racket (Velvet Underground, Link Wray, Jesus and the Mary Chain etc...) while extolling the virtues of: The Shangri-Las, The Chiffons, Glenn Campbell, Jo Meek, The Beach Boys and Dusty Springfield.

Highlights from Fay Fife's Musical History

The Rezillos induced a veritable frenzy across the land when they crashed the UK punk scene in 1977. Debut single Can't Stand My Baby was recorded in a one room attic studio in Edinburgh and released by 'Sensible' in 1977. The album Can't Stand The Rezillos was recorded in New York and released on the Sire label (also behind The Ramones and Talking Heads) in 1978. The Rezillos stand-out tracks/singles include: My Baby Does Good Sculptures, Destination Venus and Flying Saucer Attack. The band also released Top Of The Pops and played it on 'Top of the Pops.' Can't Stand My Baby is still considered one of the best pop singles EVER released and their debut album Can't Stand The Rezillos remains one of the best LPs recorded by a punk band. Not long after that the band imploded; singer/song-writer Jo Callis left and co-wrote Don't You Want Me (Baby) as part of the Human League and Fay formed The Revillos with Eugene Reynolds, recording Motorbike Beat, Scuba Scuba and Where's The Boy For Me?, among others. Fay will perform this latter song as part of her solo set.

Little Known Musical Asides

* The Revillos briefly reformed in the mid 90s mainly to tour in Japan; new recordings were released there including one of Fay's personal favourites: Crush (obsession with your shoe)
* Also during that period, Fay formed a close musical collaboration with the late guitarist/producer Kid Krupa (AKA Jon McLoughlin). Some of the film soundtrack material they recorded will be played at the upcoming 'pocket set' at Limbo (only musical/or Cinema obsessives need to know that the film was the very obscure ''Limits of Thermal Travelling').
* Fay describes her own musical bones as 'Punk Dusty' (in homage to the 60s Diva)
* Fay says of her forthcoming ''Limbo'' gig: ''it'll be a pocket set - about 6 songs, a bit of a musical experiment and perhaps a precursor for something more.....we'll keep it simple this time - next time it'll have to be the string section, the distorted tuba and the strange indiscriminate squeaking thing...."

The 14th of February gig will be the first time Fay has performed her own material live. Backed by a five, six or (?) piece band (and well.... who knows!) - it promises to be the highlight of Limbo's live programme thus far.

THE PRESS:

"When Fay Fife walks into a room, people notice. The veteran Rezillos chanteuse might not be quite so beehived up as thirty years ago, when she smimmied out of Edinburgh college Of art as the queen of the local dayglo cartoon punks to sing a song called Top Of The Pops on the TV show of the same name. But then an eye-catching ensemble of biker boots and faux leopard-skin coat and is hardly standard lunchtime wear at a swanky uptown brasserie. For a hyperactive diva about to play her first solo show, however, such a guilelessly brassy entrance - part Sixties Brit-girl vamp, part totally wired pogo-friendly mentalist - it's perfect. Especially for a show she's christened Fay Fife Sings Punk Dusty, which premieres on Valentine's night in the bijou confines of Edinburgh's Voodoo Rooms." (Neil Cooper, Glasgow Herald)


---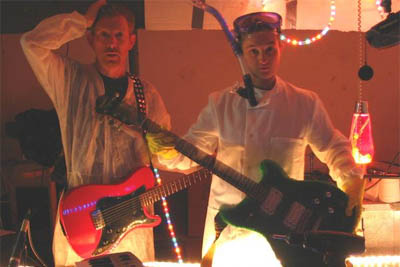 Nanobots are pals of Fay's from Glasgow. They do their own electro-rock thing - quite magnificently, too. It's the perfect complement.

THE FACTS

"Nanobots are Tiny Wee Robots that form an autonomous swarm (of two) to produce high tech Electronic Space rock. We are currently writing and recording our first Album "Let it Bleep!" for release at the end of this summer. Before that we are planning to release a single with on F&J records, an independent Glasgow record label. Guitars and bleeps ARE equally important to us. We shall not attempt to tell you what we sound like, though you may want to tell us. We are posting demonstration structures for you beings to listen too. We want to know what you think. We are also really into creating destructive audio reconstructions, remixes you call them. We have done successful remixes for Ladyfuzz's "Oh Marie", Salon Boris's "Poor Bobik", Retrosexuals' "Blood in Your Eyes" FO Machete's "What's My Signal" and more, which are available on itunes to download or you can hear a 30 second snippit, which doesn't give much away. One day 500 trillion nanobots will replace your blood system." (band's myspace)

myspace.com/nanobots500 / nanobots500.com


---




Bricolage
Rumoured to be Franz Ferdinand's favourite band, Bricolage have been known to pack a mighty punch in their delivery of the most studied, accurate revival of legendary Glasgow indie-posters Orange Juice's style. Now signed to the Memphis Industries label (who brought us the spanking Go Team!), they release their debut album later this year.
myspace.com/bricolagetheband
Paul Vickers and The Leg
Are front-man from John Peel favourites Dawn Of The Replicants - that's Paul Vickers - and ex-Khaya/Desc fire-brand Dan Mutch, who has worked with Steve Albini (Nirvana, The Pixies, P.J Harvey). One of Edinburgh's more eccentric musical offerings, they launch debut album Tropical Favourites (SL Records) at Limbo.
myspace.com/paulvickersandtheleg




Correcto
Just signed by Domino and launching their eponymous debut album at Limbo, Correcto is a fantastic new band comprising Danny Saunders (vox), Patrick from The Royal We/Sexy Kids (bass), internationally acclaimed artist Richard Wright (guitar) and Franz Ferdinand's own Paul Thomson (drums). Inspired by fact, fiction, surrealism and the mundane; and with sounds reminiscent of the Buzzcocks, Kinks, Fall, Ramones, Domino reckons Correcto is "the best art school punk band that we've come across for some time." Well, quite.
myspace.com/correcto
Sellotape
Her first year was peppered by a smattering of killer live shows in dirty dives and the like, but style cat Vikisellotape has just pieced her band back together using, yes, you guessed it, rolls and rolls of sticky-back plastic. This will be their come-back show. It's also Viki's birthday party. Balloons, streamers, party hats and cake all essential.
myspace.com/sellotapemusic




Isa & The Filthy Tongues
Featuring members of former indie stars Goodbye Mr Mackenzie, Isa And The Filthy Tongues describe their sound as post punk / surf / psychobilly and remind us of some our all-time favourite bands. Citing the Pixies, Echo And The Bunnymen, Link Wray, Nick Cave and The Kinks as influences while also paying lip service to Angelfish, PJ Harvery, Hole and The Kills, this Scots male trio and north American front-woman are one of the tightest outfits currently doing the rounds with one of the sexiest and most seductive sounds we've heard in ages.
myspace.com/thefilthytongues
Sara & The Snakes
A blues-rock three-piece who have been electrifying the Edinburgh swamp for some time, with unlikely front-woman Sara Sidewinder unleashing the devil in her (guitar/vox), backed by Andy Anaconda (lead guitar) and Mike Mamba (drums). It's all about their glorious live shows, as any one of their many fans will tell you.
myspace.com/saraandthesnakes



Meursault
Meursault have a penchant for a certain character by French existentialist philosopher and author Albert Camus and mix acoustic instruments such as ukulele, banjo, accordion and guitar with electronics and vocals in a way we've not heard much before. You could call it folktronica, although that suggests the likes of Kieren 'Four Tet' Hebden and all his stuff is instrumental. You could call it disco folk (Dave probably would) - quite the bastardisation on paper. But, whatever you want to call it, as you can hear from their myspace, Meursault write thoroughly inventive songs that sound utterly modern and are really quite good.
myspace.com/meursaulta701



Miss Le Bomb
Miss le bomb aka Catriona Shaw has now gone solo after playing on the underground electropop circuit for almost seven years, under various spooky guises - lead singer of Queen of Japan, founding member of infamous Munich-based punk club Club le Bomb and a visual artist she has collaborated with many different musicians and performers over the years including Electronicat, Gerhard Potuznik, Isabel Reiss, Hans Platzgumer, Kamerakino, Bulent Kullukcu and more.
myspace.com/misslebomb
Wounded Knee (Benbecula)
Wounded Knee is an experimental musician from Edinburgh, Scotland. He is a happy amateur. He doesn't want to kill anybody. We first came across him working behind the counter at the now defunct Fopp Records on Cockburn St, but, oh, that was AGES ago and later put him on at one of our Dfrnt Drum nights down at the Cocteau Lounge (Ego) and he was utterly BONKERS but quite interesting. Now signed to the revered Benbecula label, Wounded Knee has refined his idiosyncratic and extraordinary combination of folk songs, strange noises and a kazoo no end and tours it internationally, not least in Berlin, where Scottish ex-pat Ms Shaw now resides and the two have performed together before. Are you beginning to see a pattern now?
myspace.com/iamwoundedknee




Isosceles (Art Goes Pop)
Played Limbo at only the second night of the club back in November, alongside Retrosexuals, and we've been dying to have them, their beautiful Hammond organ and all of their fabulous plastic flamingoes back ever since. They cite R & B, soul and rockabilly on myspace but when they play live there's a strong mod sensibility and something of a Victorian vaudeville / end-of-the-pier style that's reminiscent of classic UK bands such as Madness. Basically, this is British pop at its most energetic and entertaining and, given that they've recently been picked up by the management company behind mega-stars such as Arctic Monkeys, Maximo Park, The Divine Comedy, Sigur Ros, Bloc Party, Kate Nash, Ian Brown, Radiohead, Portishead and Supergrass, if they haven't made it by the end of the year, we'll eat our pork pie hats.
myspace.com/isoscelestheband
Come On Gang!
A guitarist from Galashiels, a bassist from Dublin and a singer/drummer from Brighton, this trio only got together last April but have aleady played gigs all over the capital. We were tipped off about them by the singer's sister last summer and have been eagerly following their progress and chasing them for a gig ever since. A little bit Belle And Sebastian, a little bit Yeah Yeah Yeahs and a little bit of something else that's quite simply their own thing, if you're not feeling these tunes, you've either had your soul possessed or you need to see a shrink. Melodic, heartfelt and firing on all cylinders, Come On Gang! will provide the perfect pop foil to Isosceles.
myspace.com/comeongangmusic

---


Address: The Voodoo Rooms, West Register Street, Edinburgh (formerly Cafe Royal upstairs, next to backpacker hostel, behind Burger King, east end of Princes Street)
Times: 8pm - 1am *
Entrance: £4 *
Ph: 0131 556 7060 (venue) / 0131 477 6916 (promoter)
Web: thevoodoorooms.com
* except where otherwise advertised.

Tell your friends about it and come on down to D.A.N.C.E!


---


If you're reading this, are in a band and looking for somewhere decent to practise, the Black Spring Rooms are available for an extremely reasonable price and a hassle-free experience down in Leith (just off the Ferry Road at the Great Junction Steet end).

For more info, check black-spring.com/rooms and/or give us a shout using rooms@black-spring.com and we'll book you in or show you around. Room 2 has a full back-line and costs £9 per hour. If you block book 12 hours, it's £7.50 per hour.

Everyone who has been in rates the experience so do get in touch!
---