---



Following the release last month of their second single, Fear Of Assault (XL/Abeano), Damn Shames are looking set to become Edinburgh's biggest pop stars since, err... Idlewild! Actually they'll probably be bigger than that. Fangs are equally exciting. They used to be known as Motorkmark, then they became Fake Fang and now they've dropped the Fake and are just known as Fangs. The NME are all over both bands and it's probably because they both make the kind of electro-punk racket that makes the kidz go WILD. Come see what all the fuss is about before their heads get too big to fit through Limbo's doorway and Kylie wants to work with them.

And don't forget the Limbo bar (back room) has an exclusive discount on selected bottled beers (at £2 a pop), so basically this means you can have a great night out for less than a tenner. Oh yes!


Limbo is a new weekly night from the Black Spring DJs, located in the emerging zone between a straight-up gig and a club night where people go to DANCE. It takes place every Thursday at The Voodoo Rooms, Edinburgh from 8pm.

Each week sees some of the most exciting live acts on the circuit and great music for dancing.


Those of you who made it down despite the elements will agree that Limbo totally rocked last week. Dancing commenced at 8 p.m. (thanks girls!) and a great crowd was on hand to witness the quirky psyche-pop of Found (Fence), who were a bit like an early Pink Floyd with Dave Gilmour on vocal duties, but totally re-imagined for the twenty-first century, and Jesus H Foxx, with their own unusual strand of lyrical-musical genius: a hugely entertaining night all-round.

See pics here


Photos from all the nights can be found here




We've been supporting xvectors since Day 1. Their last single came out on Twitch & Wilkes/Optimo's OSCarr label and swept the critical board but it's really all about their live shows. A recent set at Fast demonstrated all the vim and vigour of their best performances and apparently that was pretty rugged! It's new wave dance-rock and the kind of music that will set your pulse racing and your feet on fire. Newcomers Chutes have got all those attributes too, and then some, with a slightly different sound. 'An Edinburgh five-piece who mix the cold heart of Editors with the warm guitar melody of Idlewild' (The Daily Record). Another killer double bill, then. As if that wasn't enough, the Black Spring DJs will be there to make you DANCE! If you don't believe us, you'd best come and see for yourself. If you already know what we're talking about, then you probably want to make sure all your mates know as well, if you haven't already told them where it's all happening.


---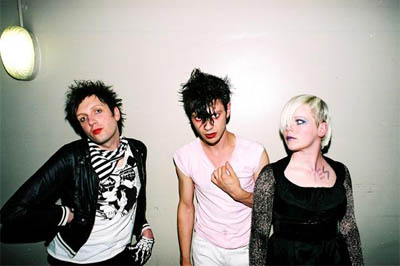 Fresh from playing along side Parisian dance gods JUSTICE and on the MTV2 Gonzo tour, Fangs were recently voted X.F.M. and Levis Jeans 'ONES TO WATCH' for 2008! They're also providing tour support for Sons & Daughters, as witnessed at that sweaty Cabaret Voltaire gig in December. In short, Fangs are currently HOT HOT HOT!

THE FACTS:

From Glasgow, FANGS strut, shout, sing, scream and riff their way through the red lights of PUNK 'N' DISCO.

Formed 2007, when school mates Queen and Nein met Vinny backstage at The Edinburgh Festival and began crafting their sound in a disused dye factory in Glasgow's southside.

Their aim? Simple. To spit no-wave fun, dirty glamour and disdainful nihilism direct to the dancefloor! A rock n roll group for now, NU ROCK N ROLLLL!!

Drawing influence from NY's 70s new wave scene and Londons 80s clubs, FANGS create songs for your head and heart, songs for your feet, for your ipod, songs for THE DANCE-FLOOR.

These partners-in-musical-crime are about to Re-Rock ROCK itself with debut single 'FANGS CITY ROCKERS / PANIC ATTAK' sneaking into I.N.D.I.E. D.I.S.C.O.S v- soon.

STOP PRESS!! FANGS PLAYING LIVE ONSTAGE AT NEW-WAVE 'KILL YR IDOLS' EUROPEAN MOVIE PREMIER, ROME ITALY FEB 14TH!!!

THE PRESS:

"We all crash into the venue to watch FANGS play. They're rocking tonight, and there's already a decent bit of audience in, so they go down well." (Sons & Daughters, NME.com tour-blog, Dec 07)

"The mascara-dripping trio are clearly reaching for some kind of midway point between the New York Dolls and Berlin-era Iggy....their snotty power-chord blitzkrieg is good fun....That said, when you pause to consider that these impudent, vaguely bondage-themed theatrics are in fact fronted by the daughter of The Singing Kettle's Cilla and Artie, they're bloody brilliant. (The List, Dec 07)

myspace.com/fangsfangsfangs


---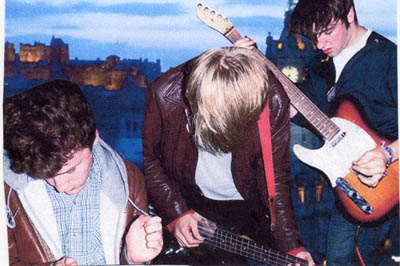 Our spies tell us people are already going nuts for Damn Shames' new single in clubs in New York. Which is nice. We think they're quite good, too.

THE FACTS

Three impeccably degenerate and impossibly well read 19-year olds from Edinburgh.

With their debut single Dancing In The Aisles, released last August by fledgling Edinburgh indie label Golden Eagle, Damn Shames created one of the art-punk singles of 2007 - think The Cribs if they were obsessed with Justice and dripping with early Beastie Boys 'tood. A Steve Lamacq favourite on the back of this single, Damn Shames have been snapped up by Abeano, a tiny sub-division of London indie giants XL (which effectively makes them label-mates with The Prodigy, Basement Jaxx, The White Stripes, MIA, Devendra Banhart, Dizzee Rascal and Jack Penate, factoid fans!). Oh yes, these kids have a very bright future ahead of them.

THE PRESS

"three and a half minutes of real needle with frantic beats and nagging guitar work unpicking the very fabric of the barely containable tune. If you could render a heart-attack a pleasant experience this would be its soundtrack. Ace." (Single Of The Month, The Crack Mag, Dec 07)
"(Damn Shames) maintain a minimal quality reminiscent of the intense blues of The Kills" (Clash Mag, Dec 07)
John Mulvey's Uncut Playlist (Uncut Mag, Nov 07)
"Spiky, slightly chaotic Libertines-inspired guitars overlaid with some beeping and an early New Order beat sounds like a pretty good formula for success to me. The Damn Shames are far from polished. In fact, at times they sound as if Fear of Assault has been recorded on a C90 behind the warehouse bike sheds while an illegal rave is going on inside, but there's a certain charm in this." (MusicOMH.com, Dec 07)
"Who needs a drummer these days anyway? Edinburgh noisniks Damn Shames certainly don't. An ipod provides them with all the rhythm they need to crash their jerky guitar riffs against. With debut single 'Dancing In The Aisles' they've made an excellent first jump to record, running on the energy levels that only youth can produce - a freshness untainted by the 20-something years of lager and ageing cynicism. Yet their sound is rooted in the post-punk of a quarter of a century ago. They cite Scars as an influence, but their live wire, trebly racket is more akin to the early and classic Postcard era." (Rough Trade)
Air-play from: Zane Lowe, Steve Lamacq, Vic Galloway (also a live session) and Huw Stephens (Radio 1), Jon Kennedy (XFM), George Lamb and Marc Riley (6Music).

myspace.com/damnshames


---




xvectors
We've been supporting xvectors since Day 1. Their last single came out on Twitch & Wilkes/Optimo's OSCarr label and swept the critical board but it's really all about their live shows. A recent set at Fast demonstrated all the vim and vigour of their best performances and apparently that was pretty rugged! It's new wave dance-rock and the kind of music that will set your pulse racing and your feet on fire.
myspace.com/xvectors
Chutes
Chutes are one of the tightest and most promising young outfits to have emerged from Edinburgh in eons. Great song writing skills, excellent tunes; instantly accessible new wave pop. These guys have an incredibly bright future.
myspace.com/chutesmusic




Fay Fife (The Rezillos) Solo Live Debut
It doesn't really get any more special than this. The highlight of the club's lifespan thus far, we present the solo live debut of Fay Fife, front-woman of Edinburgh's most famous original punks, The Rezillos and their 'art-pop' spin-off, The Revillos. A pocket gig, by special arrangement, this really is a UNIQUE opportunity as Fay brings her own material and a new backing band exclusively to Limbo. This is not part of a tour. 'It's a bit of an experiment,' says Fay. But, having already heard some of the material, we can guarantee that when Fay Fife Sings Punk Dusty, a lot of people are going to want to know about it.

Nanobots
Nanobots are friends of Fay's and do their own electro-rock thing - quite magnificently, too. "Nanobots are Tiny Wee Robots that form an autonomous swarm (of two) to produce high tech Electronic Space rock. We are currently writing and recording our first Album "Let it Bleep!" for release at the end of this summer. One day 500 trillion nanobots will replace your blood system." (Nanonbots)
myspace.com/nanobots500




Bricolage
Rumoured to be Franz Ferdinand's favourite band, Bricolage have been known to pack a mighty punch in their delivery of the most studied, accurate revival of legendary Glasgow indie-posters Orange Juice's style. Now signed to the Memphis Industries label (who brought us the spanking Go Team!), they release their debut album later this year.
myspace.com/bricolagetheband
Paul Vickers and The Leg
Are front-man from John Peel favourites Dawn Of The Replicants - that's Paul Vickers - and ex-Khaya/Desc fire-brand Dan Mutch, who has worked with Steve Albini (Nirvana, The Pixies, P.J Harvey). One of Edinburgh's more eccentric musical offerings, they launch debut album Tropical Favourites (SL Records) at Limbo.
myspace.com/paulvickersandtheleg




Correcto
Just signed by Domino and launching their eponymous debut album at Limbo, Correcto is a fantastic new band comprising Danny Saunders (vox), Patrick from The Royal We/Sexy Kids (bass), internationally acclaimed artist Richard Wright (guitar) and Franz Ferdinand's own Paul Thomson (drums). Inspired by fact, fiction, surrealism and the mundane; and with sounds reminiscent of the Buzzcocks, Kinks, Fall, Ramones, Domino reckons Correcto is "the best art school punk band that we've come across for some time." Well, quite.
myspace.com/correcto
Sellotape
Her first year was peppered by a smattering of killer live shows in dirty dives and the like, but style cat Vikisellotape has just pieced her band back together using, yes, you guessed it, rolls and rolls of sticky-back plastic. This will be their come-back show. It's also Viki's birthday party. Balloons, streamers, party hats and cake all essential.
myspace.com/sellotapemusic

---

Address: The Voodoo Rooms, West Register Street, Edinburgh (formerly Cafe Royal upstairs, next to backpacker hostel, behind Burger King, east end of Princes Street)
Times: 8pm - 1am *
Entrance: £4 *
Ph: 0131 556 7060 (venue) / 0131 477 6916 (promoter)
Web: thevoodoorooms.com
* except where otherwise advertised.

Tell your friends about it and come on down to D.A.N.C.E!


---


If you're reading this, are in a band and looking for somewhere decent to practise, the Black Spring Rooms are available for an extremely reasonable price and a hassle-free experience down in Leith (just off the Ferry Road at the Great Junction Steet end).

For more info, check black-spring.com/rooms and/or give us a shout using rooms@black-spring.com and we'll book you in or show you around. Room 2 has a full back-line and costs £9 per hour. If you block book 12 hours, it's £7.50 per hour.

Everyone who has been in rates the experience so do get in touch!
---