---



Found (Fence) come and show why they're making waves across the UK following the release of their second LP via the label of Fife's ace Fence Collective and Jesus H Foxx bring their own unusual strand of lyrical-musical genius.

Triple bills will be a rare entity at Limbo (see last week) but with two live acts every week AND the Black Spring DJs for only four quid every week, that still represents fantastic value for money.

And don't forget the Limbo bar has an exlusive discount on selected bottled beers (at £2 a pop), so basically this means you can have a great night out for less than a tenner. Oh yes!


Limbo is a new weekly night from the Black Spring DJs, located in the emerging zone between a straight-up gig and a club night where people go to DANCE. It takes place every Thursday at The Voodoo Rooms, Edinburgh from 8pm.

Each week sees some of the most exciting live acts on the circuit and great music for dancing.

Otherworldly electro-popstrel Dollskabeat made her live debut, impressing everybody in the building with her super-cool style and ace tunes, Black International took everyone to another place with their brand of moody new wave (and what a drummer!) and then Foxface engaged with the new folk revolution in their weird, wild menagerie of poetic rock n roll.

See pics here


Photos from all the nights can be found here




Fangs and Damn Shames go head to head in a mighty battle of sexy electro-punk fizzing with the kind of visceral energy that makes all the girls go wild and all the boys green with envy.


---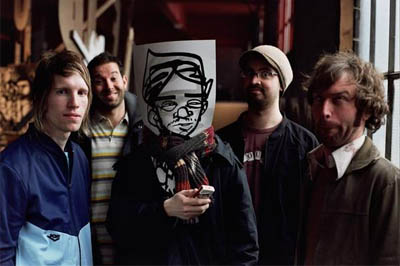 Making waves nationally and internationally, following the release of their second album, This Mess We Keep Reshaping, on the inspiring Fence label (King Creosote et al), Found are fast becoming a force to be reckoned with and bring as much of a show with their visuals as with their music when they perform live.

THE FACTS:

IN THE BEGINNING
FOUND first came into existence in 2001 when Ziggy Campbell, Tommy Perman and Kev Sim received funding to release an experimental vinyl record entitled the 'Random Audio Therapy Unit'.

A MORE MUSICAL DIRECTION
At the beginning of 2005, Ziggy (vox/gtr), Kev (sampler, melodica) and Tommy (bass, synth) started a live band with Gavin Sutherland (keys) and started touring throughout the UK. In February 2006, they added Alan Stockdale (drums), percussion and live visual projections.

Supported electronica luminary Luke Vibert (Warp, Ninja Tune, Lo, Planet Mu) at Triptych05, played on the British Council's Selector radio show in London, appeared on BBC Scotland's 'Radio Cafe' arts show, played an exclusive live session for Radio Magnetic and had a video special produced for The Music Show (BBC Scotland).

PRSFoundation awarded FOUND the prestigious 'Live Connections Award' to stage a one off multi-media event at the Lemon Tree, Aberdeen. The event was a sell-out success with many people turned away at the door.

THE PRESS:

"Brilliant ... fantastic circuit-bleepy-bloppy" Huw Stephens, Radio One
"Unpredictable, noisy, melodic, daft, electronic-art-pop." The Skinny
"This could be the album that opens them up to a wider audience." The List
"This is modern psychedelia that owes little to the music of the 60s and everything to the present and future . . . This Mess is full of the kind of cut and paste, lo-fi treats you would associate with the likes of Super Furry Animals.... reflects both the bleak winters of Scotland and the uplifting warmth in the hearts of the people." Is This Music
"the sound of a band fulfilling their potential" The Skinny
"An enormously promising group of talents just landed. 4/5" The List
"Scotland's strangest new band" The Scotsman
"their sound is so progressive, so completely unique, it's demeaning to tie it to the stale confines of a label. Instead, we should be celebrating the euphoria created by their extraordinary kaleidoscopic soundscapes. 9/10" Drowned in Sound

myspace.com/foundtheband


---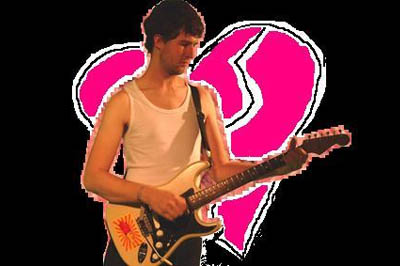 Jesus H Foxx boast myriad influences all distilled in a gloriously lyrical way with some unusual instruments in the mix, all of which will perfectly complement Found's own idiosyncratic take on rock 'n' roll.

THE FACTS

"rich plays the bass, richie the guitar, neil the drums and michael also plays the guitar. they all play stuff like shakers and glockenspiels and also sing, though michael does most of the singing. i guess you'd call him the singer. at various points in the songs i guess we sound a little like talking heads, pavement, deerhoof, paul simon, yo la tengo, a few ideas from dfa, wilco, silver jews, there's this one bit that's supposed to sound like animal collective and, that reminds me, the harmonies on one song are sort of ripped off from panda bear (only nowhere near as good of course), jim o'rourke, richard thompson, there's a couple of bits that are really influenced by athur russell, but you probably wouldn't say it sounds like athur russell. i mean, we all like the beach boys, neil young and stuff too and you can probably hear that. maybe a bit of pixies, certainly some early r.e.m., you know, the usual. i'm pretty into jens lekman again, like last summer." (Jesus H Foxx)

myspace.com/jesushfoxx


---




Fangs
Fresh from playing along side Parisian dance gods JUSTICE, AND MTV2 Gonzo tour and just voted X.F.M. and Levi Jeans 'Ones To Watch' for 2008, Glasgow's FANGS strut, shout, sing, scream and riff their way through the red lights of PUNK 'N' DISCO. Drawing influence from NY's 70s new wave scene and Londons 80s clubs, they create songs for your head and heart, songs for your feet, for your ipod, songs for THE DANCEFLOOR.
myspace.com/fangsfangsfangs
Damn Shames
Following the release last month of their second single, Fear Of Assault (XL/Abeano), Damn Shames have picked up airplay from the likes of Zane Lowe and Steve Lamacq and this polite young trio of pop punks are looking set to become Edinburgh's biggest stars since, err... Idlewild! Actually they'll probably be bigger than that. Word on the street is people are already going nuts for Damn Shames in New York and the NME is obviously all over them as well. Which is nice. We think they're quite good, too. Come see what all the fuss is about before their heads get too big to fit through Limbo's doorway.
myspace.com/damnshames




xvectors
We've been supporting xvectors since Day 1. Their last single came out on Twitch & Wilkes/Optimo's OSCarr label and swept the critical board but it's really all about their live shows. A recent set at Fast demonstrated all the vim and vigour of their best performances and apparently that was pretty rugged! It's new wave dance-rock and the kind of music that will set your pulse racing and your feet on fire.
myspace.com/xvectors
Chutes
Chutes are one of the tightest and most promising young outfits to have emerged from Edinburgh in eons. Great song writing skills, excellent tunes; instantly accessible new wave pop. These guys have an incredibly bright future.
myspace.com/chutesmusic




Fay Fife (The Rezillos) Solo Live Debut
It doesn't really get any more special than this. The highlight of the club's lifespan thus far, we present the solo live debut of Fay Fife, front-woman of Edinburgh's most famous original punks, The Rezillos and their 'art-pop' spin-off, The Revillos. A pocket gig, by special arrangement, this really is a UNIQUE opportunity as Fay brings her own material and a new backing band exclusively to Limbo. This is not part of a tour. 'It's a bit of an experiment,' says Fay. But, having already heard some of the material, we can guarantee that when Fay Fife Sings Punk Dusty, a lot of people are going to want to know about it.

Nanobots
Nanobots are friends of Fay's and do their own electro-rock thing - quite magnificently, too. "Nanobots are Tiny Wee Robots that form an autonomous swarm (of two) to produce high tech Electronic Space rock. We are currently writing and recording our first Album "Let it Bleep!" for release at the end of this summer. One day 500 trillion nanobots will replace your blood system." (Nanonbots)
myspace.com/nanobots500




Bricolage
Rumoured to be Franz Ferdinand's favourite band, Bricolage have been known to pack a mighty punch in their delivery of the most studied, accurate revival of legendary Glasgow indie-posters Orange Juice's style. Now signed to the Memphis Industries label (who brought us the spanking Go Team!), they release their debut album later this year.
myspace.com/bricolagetheband
Paul Vickers and The Leg
Are front-man from John Peel favourites Dawn Of The Replicants - that's Paul Vickers - and ex-Khaya/Desc fire-brand Dan Mutch, who has worked with Steve Albini (Nirvana, The Pixies, P.J Harvey). One of Edinburgh's more eccentric musical offerings, they launch debut album Tropical Favourites (SL Records) at Limbo.
myspace.com/paulvickersandtheleg




Correcto
Just signed by Domino and launching their eponymous debut album at Limbo, Correcto is a fantastic new band comprising Danny Saunders (vox), Patrick from The Royal We/Sexy Kids (bass), internationally acclaimed artist Richard Wright (guitar) and Franz Ferdinand's own Paul Thomson (drums). Inspired by fact, fiction, surrealism and the mundane; and with sounds reminiscent of the Buzzcocks, Kinks, Fall, Ramones, Domino reckons Correcto is "the best art school punk band that we've come across for some time." Well, quite.
myspace.com/correcto
Sellotape
Her first year was peppered by a smattering of killer live shows in dirty dives and the like, but style cat Vikisellotape has just pieced her band back together using, yes, you guessed it, rolls and rolls of sticky-back plastic. This will be their come-back show. It's also Viki's birthday party. Balloons, streamers, party hats and cake all essential.
myspace.com/sellotapemusic

---

Address: The Voodoo Rooms, West Register Street, Edinburgh (formerly Cafe Royal upstairs, next to backpacker hostel, behind Burger King, east end of Princes Street)
Times: 8pm - 1am *
Entrance: £4 *
Ph: 0131 556 7060 (venue) / 0131 477 6916 (promoter)
Web: thevoodoorooms.com
* except where otherwise advertised.

Tell your friends about it and come on down to D.A.N.C.E!


---


If you're reading this, are in a band and looking for somewhere decent to practise, the Black Spring Rooms are available for an extremely reasonable price and a hassle-free experience down in Leith (just off the Ferry Road at the Great Junction Steet end).

For more info, check black-spring.com/rooms and/or give us a shout using rooms@black-spring.com and we'll book you in or show you around. Room 2 has a full back-line and costs £9 per hour. If you block book 12 hours, it's £7.50 per hour.

Everyone who has been in rates the experience so do get in touch!
---