---



Poetic rock n roll meets the new folk revolution in Foxface's weird, wild menagerie, Black International bring their brand of moody new wave and it's the rescheduled live debut of otherworldly electro-popstrel Dollskabeat in an extremely rare Limbo triple bill. And all still for less than a fiver! Oh yes!!

Tell your friends about it and come on down to D.A.N.C.E!

Venue information:

Address: The Voodoo Rooms, West Register Street, Edinburgh (formerly Cafe Royal upstairs, next to backpacker hostel, behind Burger King, east end of Princes Street)
Times: 8pm - 1am *
Entrance: £4 *
Ph: 0131 556 7060 (venue) / 0131 477 6916 (promoter)
Web: thevoodoorooms.com
* except where otherwise advertised.


Limbo is a new weekly night from the Black Spring DJs, located in the emerging zone between a straight-up gig and a club night where people go to DANCE. It takes place every Thursday at The Voodoo Rooms, Edinburgh from 8pm.

Each week sees some of the most exciting live acts on the circuit and great music for dancing.

Action Group wowed the assembly with a rare acoustic set, stripped down, intimate and showing just how great their songs really are, and newcomers The Fusiliers showed why they're fast becoming the talk of the town with their power-pop/indie-rock sound.

See pics here


Photos from all the nights can be found here




Found (Fence) come and show why they're making waves across the UK following the release of their second LP via the label of Fife's ace Fence Collective and Jesus H Foxx bring their own unusual strand of lyrical-musical genius.


---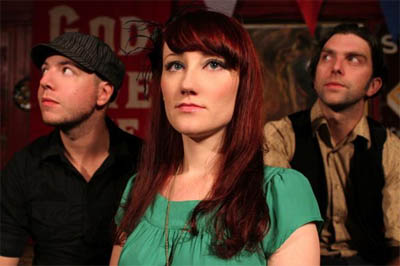 "Their live performances have become legendary in Scotland, a menagerie of eclectic instrumentation and eccentric costume giving them an air of the otherworldly, one where folk heritage blends with modern rock and roll." (Band's myspace)

THE FACTS:

Foxface are a three-piece band based in Glasgow, Scotland. They released a self-funded debut 7" Monster Seas/Across To Texa in April 2006, contributed a track to Chemikal Underground Records' critically applauded 'Ballads Of The Book' compilation earlier this year, and have now recorded their eagerly anticipated debut album 'This Is What Makes Us' for Gargleblast Records. Recently the band has embarked on a tour supporting Idlewild's Roddy Woomble, as well as appearing at the Isle of Skye, Greenman, Indian Summer and Belladrum Festivals. Their live performances have become legendary in Scotland, a menagerie of eclectic instrumentation and eccentric costume giving them an air of the otherworldly, one where folk heritage blends with modern rock and roll.

Foxface are: Michael Angus (Guitar/Vocals), Jenny Bell (Bass/Vocals) & John Ferguson (Drums/ Accordian/Banjo/Mandolin)

"'This Is What Makes Us' is Foxface's 2007 debut album which, capturing this magical mix of personal narrative and folkish storytelling, is utterly captivating in it's iridescent originality. Recorded at Lanarkshire's appraised Chem 19 Recordings by producer Andy Miller (Mogwai, Sons & Daughters, Delgados, Arab Strap…), the album renders beautifully the world in which Foxface exist; one where visceral nature meets quiet recollection, and where an ancient magic envelops the everyday. This album marries memory with a strong sense of place and history, giving it an unmistakable and essentially Scottish identity, but still retaining the international pop sensibility of a truly important band. We love Foxface, and hope that you will too…" (Shaun & Martin - Gargleblast Records)

THE PRESS:

"Sons & Daughters devotees will go weak at the knees for Foxface, and rightly so. Utterly divine." (The List)
"FOXFACE is a folk band (in a wide sense of the term, they are Scottish and the identity of their music is essentially Scottish, though their folk is not restrictive), but a first piece like "Monster Seas" lets clear that they are eclectic, and in the case of Foxface eclecticism means besides folk, also independent music, rock and not few portions of odd or eccentric atmospheres and parts (at times even slightly funny). So multiple are the possibilities for a folk group that offers much more than simply that; folk heritage and modern sounds, Scottish essence and 'international pop sensibility'." (inannanaked.com)
"Foxface are a Glasgow three-piece with an ear for melodies that contrast shadows and light, and an eye for the fancifully surreal (their gigs are often riots of colour, with models and props adorning the stage, not to mention a drummer sporting a vulpine mask). The band have skirted the margins between genres for a few years and their sound is, by turns, spooked and stirring. An eldritch weirdness gives this album a sinister, nervous purpose, and makes it hard to avoid falling under it's spell." (Sunday Herald)

myspace.com/foxfacemusic


---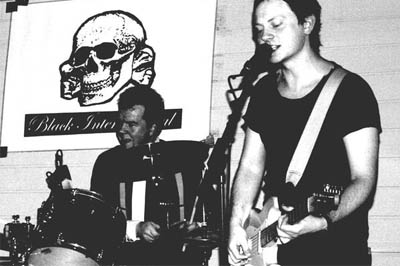 "An attempt to combine intelligent, passionate lyrics with primitive, rhythmic music, Black International conjure a vision of Radiohead driving through Seattle in 1991, on their way to a Fall gig, listening to Joy Division on the car stereo." (Band's biog)

THE FACTS

August 2006. One says to the other "I've got some songs". The other says "I can play the drums". Each had come to the conclusion that ripping up old magazines and scribbling on them was a bit old hat, and maybe it was time for something new.

They find a third one in a room lined with analogue synthesisers and vintage tracksuits. A few dice are rolled, a few choices made and before long they've set off into the world together.

An attempt to combine intelligent, passionate lyrics with primitive, rhythmic music, Black International conjure a vision of Radiohead driving through Seattle in 1991, on their way to a Fall gig, listening to Joy Division on the car stereo.

Jim Gellatly plays the band on XFM Scotland on the strength of a home demo, their second gig is at the prestigious east coast nightspot Cabaret Voltaire and the Daily Record sees fit to write about their first Glasgow date, only their third live performance. Recently they find themselves playing a headline slot at King Tut's and a lot of people want to see what all the fuss is about...

A bit of noise here, some bleeding fingers there, a trail of muddy footprints behind them and Black International are on their way.

THE PRESS

"This trio from Edinburgh are difficult. But sometimes difficult turns out interesting and exciting. Rather like The Fall, they are a band who don't sound like they are playing the game." -Rick Fulton, the Daily Record, 14/12/07

myspace.com/blackinternational


---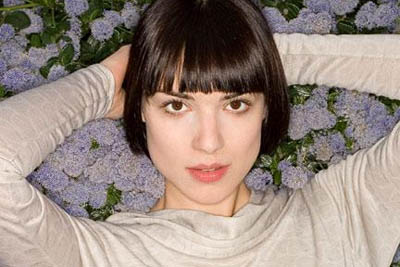 Electro-pop she-being, comprising vox, synths, live drums and backing singers/dancers + visuals by multi award winning visual artist Max Hattler, Dollskabeat has already sparked the interest of a certain highly influential A&R at one of the majors not to mention pricking up a few people's ears at Radio 1.

THE FACTS

Conceived from a formation of well designed cells which contained special genes - equal parts Belarusian, Scottish, melody and beats. The hybrid of cells united and formed a unique she-being who was named at birth by the Belarusian Gypsies as DOLLSKABEAT.

Soon after her birth, armed only with the Dollska-suit on her back, DOLLSKABEAT began trawling the earth in search of magical melodies, rhythms and beats. She gathered elements of all the most pleasing sounds from alternative pop, electronic, r 'n' b, disco and classical music (discarding any unpleasant sounds) and soon had the ingredients for Dollska's beats.

THE PRESS

'My Dancer', Top 5 Tracks Of The Week, 'Introducing', BBC Radio 1 & BBC 6music.
Live session & interview scheduled. BBC Radio 1 (Vic Galloway), 31st Jan.
'I think this is the start of something very special' (Uche Uchendu, producer BBC Radio 1Xtra)
'I can't believe no-one has picked up on this yet'! (Muslim Alim, producer BBC Radio 1)

Max Hattler is a multi-award-winning international, German artist, film-maker and music video director based in London. www.maxhattler.com

myspace.com/dollskabeat


---




Found
Making waves nationally and internationally, following the release of their second album on the inspiring Fence label, Found are fast becoming a force to be reckoned with and bring as much of a show with their visuals as with their music when they perform live.
myspace.com/foundtheband
Jesus H. Foxx
Jesus H Foxx boast myriad influences all distilled in a gloriously lyrical way with some unusual instruments in the mix, all of which will perfectly complement Found's own idiosyncratic take on rock 'n' roll.
myspace.com/jesushfoxx




Fangs
Fresh from playing along side Parisian dance gods JUSTICE, AND MTV2 Gonzo tour and just voted X.F.M. and Levi Jeans 'Ones To Watch' for 2008, Glasgow's FANGS strut, shout, sing, scream and riff their way through the red lights of PUNK 'N' DISCO. Drawing influence from NY's 70s new wave scene and Londons 80s clubs, they create songs for your head and heart, songs for your feet, for your ipod, songs for THE DANCEFLOOR.
myspace.com/fangsfangsfangs
Damn Shames
Following the release last month of their second single, Fear Of Assault (XL/Abeano), Damn Shames have picked up airplay from the likes of Zane Lowe and Steve Lamacq and this polite young trio of pop punks are looking set to become Edinburgh's biggest stars since, err... Idlewild! Actually they'll probably be bigger than that. Word on the street is people are already going nuts for Damn Shames in New York and the NME is obviously all over them as well. Which is nice. We think they're quite good, too. Come see what all the fuss is about before their heads get too big to fit through Limbo's doorway. Fangs are possibly even more exciting and make the kind of racket that makes girls go WILD, which - obviously - we think is just GREAT.
myspace.com/damnshames




xvectors
We've been supporting xvectors since Day 1. They used to be called The Vectors. They were great then. They've been xvectors for a while now. And they're even better. A recent show at Fast demonstrated all the vim and vigour of their best performances and apparently that was pretty rugged! It's new wave and it's the kind of music that will set your pulse racing and your feet on fire. Newcomers Chutes have got all those attributes too, and then some, with a slightly different sound. Another killer double bill, then.
myspace.com/xvectors
Chutes
An Edinburgh five-piece who mix the cold heart of Editors with the warm guitar melody of Idlewild
myspace.com/chutesmusic

---