---



Currently performing as a trio, Action Group play a rare acoustic set and newcomers The Fusiliers show why they're fast becoming the talk of the town with their power-pop/indie-rock sound.

Tell your friends about it and come on down to D.A.N.C.E!

Venue information:

Address: The Voodoo Rooms, West Register Street, Edinburgh (formerly Cafe Royal upstairs, next to backpacker hostel, behind Burger King, east end of Princes Street)
Times: 8pm - 1am *
Entrance: £4 *
Ph: 0131 556 7060 (venue) / 0131 477 6916 (promoter)
Web: thevoodoorooms.com
* except where otherwise advertised.


Limbo is a new weekly night from the Black Spring DJs, located in the emerging zone between a straight-up gig and a club night where people go to DANCE. It takes place every Thursday at The Voodoo Rooms, Edinburgh from 8pm.

Each week sees some of the most exciting live acts on the circuit and great music for dancing.

Dunfermline newcomers Dirty Summer tore the arse right out of it with the original take on no wave they call 'car crash pop' and then Futuristic Retro Champions sweetened it up with their sugar-coated, girl-tastic electro-pop. We expect to be seeing and hearing a lot more of both groups this year.

See pics here


Photos from all the nights can be found here




Poetic rock n roll meets the new folk revolution in Foxface's weird, wild menagerie, Black International bring their brand of moody new wave and it's the rescheduled live debut of otherworldly electro-popstrel Dollskabeat in an extremely rare Limbo triple bill.


---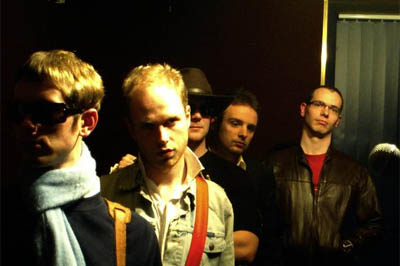 'Powerpop indie-rock' quintet with a bright future ahead of them.

THE FACTS:

"Gaz (vox), John (lead gtr), Tom (sex gtrs), O-Dog (led bass, vox), Savage (lead drums)"

"We Are The Fusiliers. An undisclosed number of years ago on a darkened night by the sea, three figures sat in a lonely caravan. Their only source of light was a small lamp run off the central power supply. As Ronnie Lane cooked bacon on the portable stove, Lee Mavers and Stuart Adamson took it in turns to feed their meagre coinage into the supply meter and butter the bread for the butties. As the sandwiches formed, so did an idea; their united ethos should form a cohesive whole, a musical force to entertain the hungry masses. They wrote this simple manifesto on the back of Mavers' fag packet, being sure to keep it away from the butter-knife. An undisclosed number of years later, this packet was found by a young man scrounging for dowds. His was the responsibility to pass on the message, to bring it to a group of lads who had formed a band. That band, a five-piece that had cut their teeth on the rougher edges of the Scottish gig circuit. A band that had recently recorded with legendary producer Robin Evans in T-Pot studios, following in the wake of such luminaries as The La's, The Manic Street Preachers, Dodgy and The View. We are that band. We Are The Fusiliers." (Band's myspace)

THE PRESS:

"Quality" (Jim Gellatly, XFM)
"There are so many influences filtering in here, it's difficult to pinpoint their sound exactly. Post-punk with an energetic twist and a knack for a melody, theirs is a sound which is trying to resolve the conflict between the obscure and the commercial, and it's a musical tightrope they tread well." (Heather Crumley, Scotcampus mag)
"Undoubtedly destined for better things." (www.bluesbunny.com)

myspace.com/wearethefusiliers


---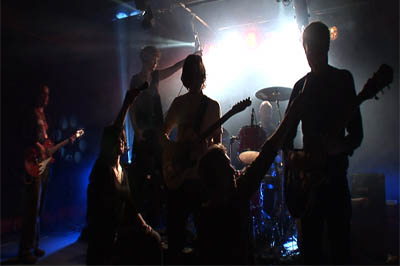 With the Boggon/Donnally writing partnership at its core (initially begun early 2004), Action Group describe their sound as 'like Magazine crossed with Pavement, with pounding rhythm and energy driven melodic oddities.'

THE FACTS

Debut Album Greed was recorded and produced by the band at their home studios and released through their own label (Pardon) in August 2007. Greed received favourable reviews in The Stool Pigeon, The List, The Scotsman, Is This Music and The Skinny. The band have recorded sessions for Radio 1 (Vic Galloway's Session In Scotland) and Leith FM, they were included in the BBC Scotland Best Of 2007 podcast, with regular plays of Breaking Windows on XFM as well as featuring in ECA's documentary film The Art School Dance recently as part of the up-and-coming scene in Edinburgh, while a new track Just Let Go was used on the the new Channel 4 series, Blowout.

Written by the two main songwriters Mark Donnelly and Peter Boggon, Greed represents 15 tracks which vary in influence and rhythm, from the fast pace of Breaking Windows to the slow sway of Swag. The album has been compared to Broken Social Scene, The Pixies and Jesus And Mary Chain but like all good albums it sits on its own island quite happily! Greed is available for download at itunes as well as new material being available through myspace.

Action Group played at Belladrum Festival earlier this year and have gigged heavily in Edinburgh and Glasgow over 2007 with festival dates and a new release on the cards for 2008.

THE PRESS

"...coming from an entirely different direction Action Group, a dance-punk sextet mixing Philly soul with fuzzy guitars to fleetingly brilliant effect" (Scotsman)
"What they're taking Action against isn't defined, but one can only hope it's the entourage of piss-weak bands who throw similar poses without a fraction of this lot's guile and knowing assurance... Wonderful."" (The List)
"The shuddering tempo of Action Group, full of looping basslines and vicious full-bodied riffs, this frantic performance expertly pays homage to the swelling sound of Canadian experimentalists Broken Social Scene." (The Skinnny)
"Specialising in back to basics indie with clever lyrics and inventive twists, Action Group is the perfect antidote to the three-chord wonders currently clogging the charts" (Scotcampus)

myspace.com/actiongroup


---




Foxface
"Foxface are a Glasgow three-piece with an ear for melodies that contrast shadows and light, and an eye for the fancifully surreal (their gigs are often riots of colour, with models and props adorning the stage, not to mention a drummer sporting a vulpine mask). The band have skirted the margins between genres for a few years and their sound is, by turns, spooked and stirring. An eldritch weirdness gives this album a sinister, nervous purpose, and makes it hard to avoid falling under it's spell." (Sunday Herald)
myspace.com/foxfacemusic
Black International
one says to the other "i've got some songs". the other says "i can play the drums". each had come to the conclusion that ripping up old magazines and scribbling on them was a bit old hat, and it was maybe time for something new. they find a third one in a room lined with analogue synthesisers and vintage tracksuits. a few dice are rolled, some choices made, and before long they've set off into the world together. a bit of noise here, some bleeding fingers there, a trail of muddy footprints behind them and black international are on their way.
myspace.com/blackinternational

Dollskabeat
DOLLSKABEAT was conceived from a formation of well designed cells which contained special genes - equal parts Belarusian, Scottish, melody and beats. Soon after her birth, armed only with the Dollska-suit on her back, DOLLSKABEAT began trawling the earth in search of magical melodies, rhythms and beats. She gathered elements of all the most pleasing sounds from alternative pop, electronic, r 'n' b, disco and classical music (discarding any unpleasant sounds) and soon had the ingredients for Dollska's beats.
myspace.com/dollskabeat




Found
Making waves nationally and internationally, following the release of their second album on the inspiring Fence label, Found are fast becoming a force to be reckoned with and bring as much of a show with their visuals as with their music when they perform live.
myspace.com/foundtheband
Jesus H. Foxx
Jesus H Foxx boast myriad influences all distilled in a gloriously lyrical way with some unusual instruments in the mix, all of which will perfectly complement Found's own idiosyncratic take on rock 'n' roll.
myspace.com/jesushfoxx




Fangs
Fangs (formerly electro indie upstarts Motormark) formed in Glasgow 2007 and are named after the villian in the 1977 chinese kung fu movie 'Fang Shi Yu da po mei hua zhuang'.
myspace.com/fangsfangsfangs
Damn Shames
Following the release last month of their second single, Fear Of Assault (XL/Abeano), Damn Shames have picked up airplay from the likes of Zane Lowe and Steve Lamacq and this polite young trio of pop punks are looking set to become Edinburgh's biggest stars since, err... Idlewild! Actually they'll probably be bigger than that. Word on the street is people are already going nuts for Damn Shames in New York and the NME is obviously all over them as well. Which is nice. We think they're quite good, too. Come see what all the fuss is about before their heads get too big to fit through Limbo's doorway. Fangs are possibly even more exciting and make the kind of racket that makes girls go WILD, which - obviously - we think is just GREAT.
myspace.com/damnshames




xvectors
We've been supporting xvectors since Day 1. They used to be called The Vectors. They were great then. They've been xvectors for a while now. And they're even better. A recent show at Fast demonstrated all the vim and vigour of their best performances and apparently that was pretty rugged! It's new wave and it's the kind of music that will set your pulse racing and your feet on fire. Newcomers Chutes have got all those attributes too, and then some, with a slightly different sound. Another killer double bill, then.
myspace.com/xvectors
Chutes
An Edinburgh five-piece who mix the cold heart of Editors with the warm guitar melody of Idlewild
myspace.com/chutesmusic

---