---



We welcome art college electro-popstrels Futuristic Retro Champions, six bright young things united by a common passion for collecting former Soviet memorabilia, and Dirty Summer, a trio who describe their sound as 'car crash pop': youthfully exuberant, energetic stuffs.

Tell your friends about it and come on down to D.A.N.C.E!

As a special bonus, the Limbo bar (the one accessed through the ballroom) will feature a discounted beer and glass of wine for all Limbo-goers feeling the New Year pinch. This is a special concession only available for people who come in to Limbo. No drinks will be discounted in the main bar.

Venue information:

Adress: The Voodoo Rooms, West Register Street, Edinburgh (formerly Cafe Royal upstairs, next to backpacker hostel, behind Burger King, east end of Princes Street)
Times: 8pm - 1am *
Entrance: £4 *
Ph: 0131 556 7060 (venue) / 0131 477 6916 (promoter)
Web: thevoodoorooms.com
* except where otherwise advertised.

Limbo is a new weekly night from the Black Spring DJs, located in the emerging zone between a straight-up gig and a club night where people go to DANCE. It takes place every Thursday at The Voodoo Rooms, Edinburgh from 8pm.

Each week sees some of the most exciting live acts on the circuit and great music for dancing.



Thanks to all those who came down to support The Alvas, Dominic Waxing Lyrical, DJ Kris Actual Size and the Black Spring DJ. Apologies to all those who wanted to see Dollskabeat, who was infected by a very virulent strain of alien flu a few days before the show and is still now recovering from the mysterious illness. The Dollskabeat live debut show is being re-scheduled. Watch this space for more info re that date and see here for pix of the wondrous Alvas and DWL (something of a super-group, involving Aberfeldy's Riley and Murray Briggs plus George McFall from Clean George IV).




Photos from all the nights can be found here




Currently suffering the loss of their drummer, Action Group play a rare acoustic set, while newcomers The Fusiliers show why they're fast becoming the talk of the town with their power-pop/indie-rock sound.


---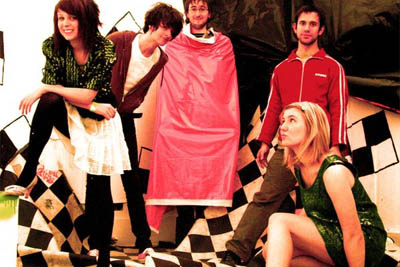 2 keyboards, 1 guitar, a bass, a drum machine, a trumpet and Sita... fighting.

THE FACTS:

Diminutive keyboardist Carla 'The Hitman' Easton began writing songs at the age of 4, penning early classics such as "Just 'cos I wanna be cool, yeah yeah, baby baby baby" before she had hit the big ONE ZERO. She recruited 5 willing and able volunteers through various methods including bribery, international espionage and telekinetic control. Those 5 were... 'Sexual Chocolate' Sita Pieraccini, an Oscar winning actress with such credits as Police Academy and House of 1000 Corpses to her name... 'Macho Man' Harry Weeks, who gained notoriety around the public toilets of Edinburgh for loitering underneath 'No Loitering' signs... 'Rainbow-Haired Warrior' Dan O'Neill, who finished 4th on the first series of Britain's Got Talent with his ventriloquist act... 'The American Dream' Adam Scott, who is in fact 2-dimensional and only visible from certain angles... And 'The Dirtiest Player in the Game' Ceal Stamp, editor of popular gossip mag 'Heat'. They are all Aquarians apart from Dan who doesn't have a star sign.

myspace.com/retrochamps


---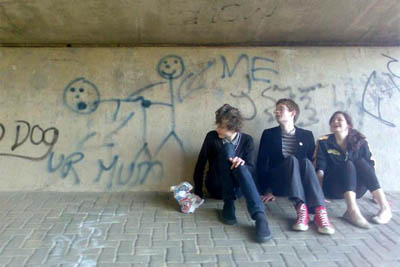 Bring bass, vox, keys and drums to the stage with a whole lotta noise and an ear for a catchy melody.

THE FACTS

Dirty Summer are a noisey young trio from Dunfermline. They mix turbo distortion bass with screeching keys and solitary drums to create a sound which they describe as "Car Crash Pop". Since forming in a local community centre in the autumnal season of 2006, the group have found themselves in supporting roles for the likes of Bis and Dan Deacon.

myspace.com/dirtysummer
youtube.com/watch?v=Aa_tZ3ENdks


---




Action Group
With the Boggon/Donnally writing partnership at its core (initially begun early 2004), Action Group sound like Magazine crossed with Pavement, with pounding rhythm and energy driven melodic oddities. Debut album 'Greed' is out now and available on iTunes. The band have also featured on the Edinburgh College of Art DVD project 'Art School Dance Goes on Forever' (hailing 20 Scottish bands of now).
myspace.com/actiongroup
The Fusiliers
"Powerpop indie is how they dub themselves, but there are so many influences filtering in here, it's difficult to pinpoint their sound exactly. Post-punk with an energetic twist and a knack for a melody. Theirs is a sound which is trying to resolve the conflict between the obscure and the commercial, and it's a musical tightrope they tread well. Check out 'The Way' and 'Beauty And The Grace' on their MySpace for a taste". (Heather Crumley, Scotcampus mag)
myspace.com/wearethefusiliers




Foxface
"Foxface are a Glasgow three-piece with an ear for melodies that contrast shadows and light, and an eye for the fancifully surreal (their gigs are often riots of colour, with models and props adorning the stage, not to mention a drummer sporting a vulpine mask). The band have skirted the margins between genres for a few years and their sound is, by turns, spooked and stirring. An eldritch weirdness gives this album a sinister, nervous purpose, and makes it hard to avoid falling under it's spell." (Sunday Herald)
myspace.com/foxfacemusic
Black International
one says to the other "i've got some songs". the other says "i can play the drums". each had come to the conclusion that ripping up old magazines and scribbling on them was a bit old hat, and it was maybe time for something new. they find a third one in a room lined with analogue synthesisers and vintage tracksuits. a few dice are rolled, some choices made, and before long they've set off into the world together. a bit of noise here, some bleeding fingers there, a trail of muddy footprints behind them and black international are on their way.
myspace.com/blackinternational




Found

myspace.com/foundtheband
Jesus H. Foxx

myspace.com/jesushfoxx




Fangs

myspace.com/fangsfangsfangs
Damn Shames

myspace.com/damnshames

---