---



Somebody call the fire brigade! The Vivians are coming to Limbo!! If you thought Frightened Rabbit created some heat, you haven't even walked past the furnace yet! Get out your glammest clobber and head to Limbo to make the floor BURN! David Johansen would be doing back-flips...

Limbo is a new weekly night from the Black Spring DJs, located in the emerging zone between a straight-up gig and a club night where people go to DANCE. It takes place every Thursday at The Voodoo Rooms, Edinburgh 8pm to 1am.

Each week sees a live double bill from some of the most exciting live acts on the circuit and some great music for dancing.



Thanks to everyone who made it down to witness the aces that were Frightened Rabbit and Y'all Is Fantasy Island. We'll certainly be hearing and seeing a lot more of both bands in 2008. See pics here


Photos from all the nights can be found here




Riotous Edinburgh quintet The Vivians will be resurrecting the spirit of the New York Dolls and showing why they're one of the most widely rated outfits from Edinburgh just now, alongside newcomers We Were Promised Jetpacks. It's impossible for The Vivians to play anywhere without inducing complete apoplexy, while the Jetpacks have bona fide rock 'n' roll blood coursing through their veins.

First act is on stage at 21.15 and the second at 22.15. The Black Spring DJs & friends provide support.

Tell your friends about it and come on down to D.A.N.C.E!

Venue information:

Adress: The Voodoo Rooms, West Register Street, Edinburgh (formerly Cafe Royal upstairs, next to backpacker hostel, behind Burger King, east end of Princes Street)
Times: 8pm - 1am *
Entrance: £4 *
Ph: 0131 556 7060 (venue) / 0131 477 6916 (promoter)
Web: thevoodoorooms.com
* except where otherwise advertised.




20 December No Limbo: exclusive Christmas live show by Aberfeldy.

On the 27th Dec we have a special 3am license and an even more special triple bill and guest DJ for your dancing pleasure. See biogs below.


---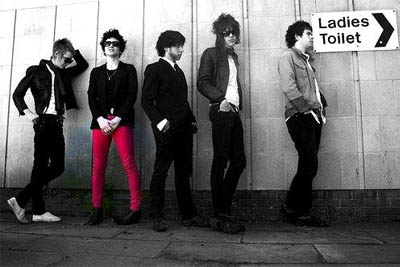 The local buzz around this band is now becoming a roar to match to their own when they perform live. The Vivians aren't taking any prisoners.

THE FACTS:

"The Vivians have never strived to be just another band that can't get a gig 20 miles outside their home town. With a strong following in Scotland and the north of England they seem pre-destined to go far. Having formed only a year ago they have already played T in the Park, playing a set which climaxed in a stage invasion, and graced the stages of The Bravery, Eagles of Death Metal and The Maccabees to name a few. With their "gives a fuck" attitude The Vivians do nothing by halves. This attitude may be reminiscent of "punk" although their music refreshingly takes influence from a broader musical spectrum. Twin guitars fighting one another for the rawest, catchiest riff over a disco beat and the impassioned vocals of Damon Deville, creating the perfect musical concoction for their exhausting live performances. Such performances have earned them the reputation as being one of the hottest live bands around. Catchy numbers such as 'Doctor Doctor' and 'Divided We Stand' are a regular feature on Scotland's radio stations. Both Vic Galloway (Radio 1) and Jim Gellatly (XFM) have championed the band, with Vic making them his unsigned heroes in August. In October 'Volumes' was featured on a compilation cd released in Japan with huge success. Look out soon for more Vivians releases in Japan and the band's debut UK single due February 2008. The Vivians posses it all: a style, substance and sexual tension for you to listen to, drink to, dance to, fuck and snort glue to in a kind of marvellous beautiful craze that has almost been forgotten today."

THE PRESS:

"Set for an explosion in 2008" (Jim Gellatly, XFM)
"The Vivians are the future. Divided We Stand is an anthem for us all. They already look like stars." (Daily Record)
"One of the best front-men of the minute, with one of the best bands around. 10/10" (Club NME)
"A must see" (The Sun)
"Punk Rockin' Genius" (Vic Galloway, BBC Radio 1)
"Essentially, The Vivians are all about attitude. Their live performances exude the platoon mentality of The Clash and the unhinged, intense presence of The Voidoids. To top it off, they have the smouldering tunes that make you want to dance, fuck and fight simultaneously." (The Skinny, 2007)
"This five-piece are as facetious as they come, and photogenic to boot (think Vivienne Westwood meets Salvador Dali). Shamelessly donning rock n' roll parody with pride, they've got the hair, now they want the groupies ("can we get all the sluts to the front please?")! The music is tight - invoking the spirit of punk but distilling it through the ennui of these cynical times. Frontman, the deliciously unhinged Damon Deville, cavorts with the delivery and appearance of what might happen if Robert Smith banged up Karen O. And so, The Vivians administer cliché with a well-timed enema. Dandy? Most definitely." (The Skinny, 2006)

myspace.com/theviviansdivided


---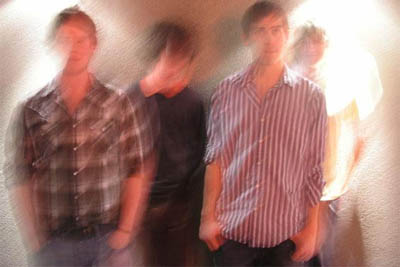 Fresh off the starting blocks, the Jetpacks have already turned a few heads, following select shows in Glasgow and Edinburgh and an appearance in ECA's Art School Dance documentary.

THE FACTS

"We met at school and all got together to make songs when we were about 17 and we are now about 20. We all went to Uni once school was finished with Adam, Michael and Sean moving to Glasgow to attend Glasgow Uni and Darren went to Stirling Uni. Just been playing gigs regularly and trying to write songs that we like more than the last ones we wrote and we hope to play in other cities and towns. We loved playing at The 13th Note with Frightened Rabbit in August cause we well fancy them and also enjoyed an Oxjam gig at Nice 'n' Sleazy's with Isosceles in October."

THE PRESS

"We Were Promised Jetpacks are astonishingly good... Quiet Little Voices for example (is) a frenzy of instruments... really exciting and springy, slightly mad vocals and all the joy of people possessed by a moment and barely able to contain the emotions in a few minutes of a pop tune." (The 13th Note)
"The phrase 'guitar band' covers a multitude of sinners in the pop battleground. We Were Promised Jetpacks, apart from having the best name in showbiz, meet all other requirements necessary to lift them above their peers. Their live sets rip along at breakneck pace but somehow deliver a mini-anthem in every tune, merging Postcard and C86 jangle with full-on alt.rock." (The List)

myspace.com/wewerepromisedjetpacks


---




Dollskabeat
DOLLSKABEAT was conceived from a formation of well designed cells which contained special genes - equal parts Belarusian, Scottish, melody and beats. Soon after her birth, armed only with the Dollska-suit on her back, DOLLSKABEAT began trawling the earth in search of magical melodies, rhythms and beats. She gathered elements of all the most pleasing sounds from alternative pop, electronic, r 'n' b, disco and classical music (discarding any unpleasant sounds) and soon had the ingredients for Dollska's beats.
myspace.com/dollskabeat

The Alvas
Tight as you like Edinburgh rock trio (bass, drums, guitar/piano) fronted by Austen George (ex-The Set Up), offering glorious three-part harmonies and citing Creedence Clearwater and Led Zeppelin among their influences.
myspace.com/thealvas

Dominic Waxing Lyrical
Charming, witty, theatrical, unique Edinburgh singer-songwriter outfit, currently comprising Dominic Harris (keys/vox/guitar/recorder) and Aberfeldy front-man Riley Briggs (guitar/vox).
myspace.com/dominicwaxinglyrical
DJ Kris Actual Size (Pandemic, Nice N sleazy's)
One of the Black Spring DJs is away to sunnier climes (bastard) so we've invited our mate Kris through from Glasgow to lend a hand on the decks. Former support DJ for xvectors, for their Workers Party club nights, and the Optimo DJs, for their residency at Ego, Kris is a video artist and DJ of no mean talent.
myspace.com/kris_actualsize

---




Futuristic Retro Chapions (TBC)
6 bright young things united by a common passion for collecting former Soviet memorabilia. 2 keyboards, 1 guitar, a bass, a drum machine, a trumpet and Sita... fighting.
myspace.com/retrochamps
Dirty Summer
Describing their sound as 'car crash pop', Dirty Summer have been causing a stir of late, with gigs at Fast, supporting Dan Deacon at Cabaret Voltaire and Bis at Oran Mor. The trio brings bass, vox, keys and drums to the stage with a whole lotta noise and an ear for a catchy melody. Youthfully exuberant, energetic stuff.
myspace.com/dirtysummer

---