---



So, we return, like Captain Ahab in Moby Dick, intrepid, like Bob Dylan after he went electric, or Johnny Cash after he played San Quentin jail-house, with renewed vigour, like Iggy Pop after Bowie got him clean, with a fresh LUST FOR LIFE, like Brian Eno after he left Roxy Music, with a brand new style, and like the Mighty Boosh in Series Three, with even more originality and innovation...

Limbo is a new weekly night from the Black Spring DJs, located in the emerging zone between a straight-up gig and a club night where people go to DANCE. It takes place every Thursday at The Voodoo Rooms, Edinburgh 8pm to 1am.

Each week sees a live double bill from some of the most exciting live acts on the circuit and some great music for dancing.



Many thanks to those who made it along to catch The Retrosexuals - last-minute stand-in for a cancelled Mother And The Addicts - and Isosceles, both of whom sounded great before the Black Spring DJs got all the girls in the room dancing, with the boys soon following suit... Look out for another date with Isosceles early next year; this band is destined to make it BIG.





This week we've got two of the most exciting bands in Scotland for you. Recently signed by Fat Cat Records, who introduced the world to the charms of Sigur Ros, and just back from their whistle-stop tour of the US, Glasgow's Frightened Rabbit is this week's special treat. But, that's not even the half of it, because, hold on to your hats, we've ALSO got Falkirk's finest new band, Y'All Is Fantasy Island, supporting - already a massive sensation in Scotland and now primed for much bigger things.

First act is on stage at 21.15 and the second at 22.15. The Black Spring DJs & friends provide support.

Tell your friends about it and come on down to D.A.N.C.E!

Venue information:

Adress: The Voodoo Rooms, West Register Street, Edinburgh (formerly Cafe Royal upstairs, next to backpacker hostel, behind Burger King, east end of Princes Street)
Times: 8pm - 1am *
Entrance: £4 *
Ph: 0131 556 7060 (venue) / 0131 477 6916 (promoter)
Web: thevoodoorooms.com
* except where otherwise advertised.




It's an Edinburgh double-bill with vivacious pop-punks The Vivians going head to head with hotly-tipped young upstarts We Were Promised Jetpacks. If you've not heard of The Vivians already, then you must have had your head in a hole. It's impossible for them to play anywhere without inducing complete aPOPlexy. While Jetpacks boast a veritable rock n' roll rock lineage, all being the sons of veteran Edinburgh punk outfit TV21. See biogs below.


---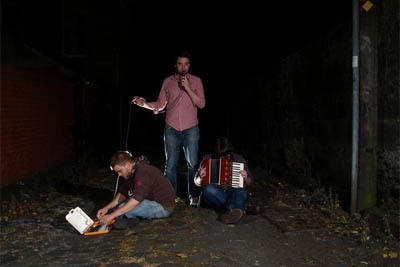 "An unconventional Glaswegian three-piece with a defined personality, and a gift for being able to nail a near perfect pop song, Frightened Rabbit convey candid tales of ordinary folk with a wry, acerbic wit via an eloquent, emotive, modern garage-pop aesthetic." (Fat Cat Records)

THE FACTS:

Scott (guitar, keyboards, vocals) began playing solo shows under the name Frightened Rabbit in 2003. In 2004, Scott's brother, Grant (drums, vocals, marimba), moved to Glasgow, contributing drums to certain recorded tracks, and playing live. They sent out some demos, resulting in three tracks being hosted on the Fat Cat MP3 website, and marking the beginning of a wonderful relationship. Billy (guitar, yamaha, accordion) then joined early in 2006, making the band in their own words 'a wee bit better and louder', and that February they booked into The Diving Bell Lounge with Glasgow based producer Marcus Mackay, intending to record some songs and service a better quality demo. The resultant recordings, however, ended up forming the crux of 'Sing The Greys'.

Earlier this year, they were writing, rehearsing, and preparing to record further tracks in New York with producer Peter Katis (Interpol, The Twilight Sad, Mercury Rev). And, with Sing The Greys recently revamped, expanded and remastered for its re-release on Nov 19th, the band is now stepping things up a gear, with a new single, It's Christmas So We'll Stop, also out in two weeks and a full UK tour to follow their recent whistle-stop circuit of the US.

THE PRESS:

"the future of Frightened Rabbit looks set to be a very mouth-watering one indeed." (Drowned In Sound)

myspace.com/frightenedrabbit / www.frightenedrabbit.com
Buy Frightened Rabbit - Sings the Greys on iTunes
---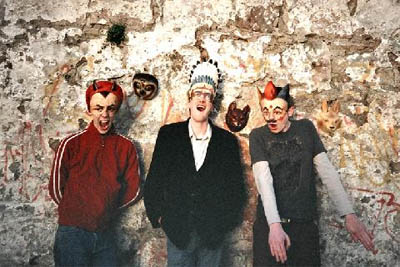 Falkirk quartet ploughing a similar (but different) folk/rock/indie furrow to the Rabbits and, also much like FR, igniting hearts and minds wherever they go... "Officially the best thing to come out of Falkirk since Arab Strap" (Is This Music)

THE FACTS

Adam Stafford (guitar/vox), Tommy Blair (guitar, engineering), Steven Tosh (drums, perc, clarinet), Jamie Macleod (bass)

Y'all is Fantasy Island's debut album, In Faceless Towns Forever, was recorded in a nineteen-hour session in an abandoned house late in August, 2005. Their live shows consist of favourites from this LP plus songs from upcoming albums Rescue Weekend and No Ceremony.

Adam Stafford and former YIFI drummer Jon McCall also have a side project, Size Of Kansas, and a debut album, Digital Is Dead From The Beginning (ultra limited edition CDR with hand-crafted sleeve).

THE PRESS

"Utterly mesmerising - 4 Stars" (The List)
"YiFI create a poignant outsider soundscape, full of hurt and longing... Folk rock, country and Americana are all brought into the mix on this powerfully moving album." - Scottish Daily Record (Rick Fulton)
"Falkirk's Y'all is Fantasy Island temper their knowing indie literacy with pretence-free presentation, their faded polaroid confessionals created from with bowed guitar and cold, sepulchral drone." - Plan B Magazine (Louis Pattison)
"A sombre collection of sparsely arranged melancholy... the atmospheric whole leaves goosebumps and settles the listener into staring blankly from the window for some time afterwards." 4/5 - The List Magazine (Mark Edmundson)
"Think King Creosote after a night on the fags with John Martyn... despite the sombre feel, you can't fail to be uplifted by the sheer majesty of the songs here. With the trio somehow marrying Leonard Cohen with famous fellow Bairns Arab Strap, the town may not be faceless for much longer." 5/5 - Isthismusic? Magazine (Donald Bush)

myspace.com/yifimusic / www.yifi.co.uk


---




The Vivians
Riotous Edinburgh pop-punk quintet, resurrecting the spirit of the New York Dolls and leaving crowds of baying converts wherever they go.
"The Vivians are the future." (Daily Record)
myspace.com/theviviansdivided

+ We Were Promised Jetpacks
Talented young bunch of Edinburgh upstarts.
"We Were Promised Jetpacks, apart from having the best name in showbiz, meet all other requirements necessary to lift them above their peers." (The List)
myspace.com/wewerepromisedjetpacks



Dollskabeat
Edinburgh electro-popstrel primed for bright lights and big cities.
myspace.com/dollskabeat

The Alvas
Edinburgh rock trio (bass, drums, guitar/piano) fronted by Austen George (ex-The Set Up), offering glorious three-part harmonies and citing Creedence Clearwater and Led Zeppelin among their influences.
myspace.com/thealvas

Dominic Waxing Lyrical
Charming, witty, theatrical, unique Edinburgh singer-songwriter outfit, currently comprising Dominic Harris (keys/vox/guitar/recorder) and Aberfeldy front-man Riley Briggs (guitar/vox).
myspace.com/dominicwaxinglyrical

---
---