---



Limbo is a new weekly night from the Black Spring DJs, located in the emerging zone between a straight-up gig and a club night where people go to DANCE. It takes place every Thursday at The Voodoo Rooms, Edinburgh 8pm to 1am.

Each week sees a live double bill from some of the most exciting live acts on the circuit and some great music for dancing.



Thanks to everyone who made it along to the Limbo launch last Thursday. The venue was looking great and the sound was exceptional. Swimmer One wowed the crowd with their heart-warming electro-pop, before Salon Boris grappled with electro-static ghosts in the system. Despite these technical difficulties (with the carpet!) Salon Boris still won the crowd round with their icy-cool style.





Unfortunately Mother & The Addicts have had to cancel due to illness but we'll be getting them back in the future. We're very happy to announce that Glasgow's The Retrosexuals have heroically agreed to stand in at a moment's notice. Together with Isosceles, who are joining us for their Edinburgh debut, it's going to be another great night.

First act is on stage at 21.15 and the second at 22.15. The Black Spring DJs & friends provide support.

Tell your friends about it and come on down to D.A.N.C.E!

Venue information:

Adress: The Voodoo Rooms, West Register Street, Edinburgh (formerly Cafe Royal upstairs, next to backpacker hostel, behind Burger King, east end of Princes Street)
Times: 8pm - 1am *
Entrance: £4 *
Ph: 0131 556 7060 (venue) / 0131 477 6916 (promoter)
Web: thevoodoorooms.com
* except where otherwise advertised.




Next week we have Frightend Rabbit who are causing a sensation internationally and Y'all Is Fantasy Island who are causing a stir in Scotland (see biogs below). This is sure to be stowed so make sure you tell your friends and get down early.


---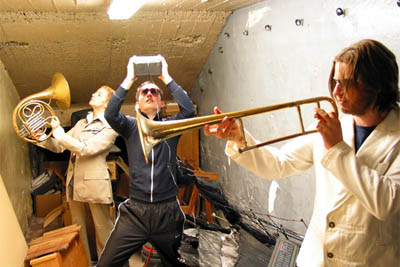 A tragi-funk electrorock trio from Glasgow, who specialise in collapsible grooves consisting of distorted low-end friction, angular guitar jack and strangulated synth lines, producing a sweating combination of electronewwavediscorock, or as it is increasingly known, contortopop.

THE FACTS:

Formed in 2004 by brothers Neck Doppler (one-string baritone guitar/vox) and The Render General (falsetto guitar/vox). Nina Nina (small keys/vox) joined later that year. Some of their music is appearing in the soundtrack to award winning American underground film maker Dave Surber's new film, 'Benders', a love story about circuit-bending and insanity.

THE PRESS:

"This skinny tied baby is darkly delicious...a viciously vibrant angulated animal ablaze with twisted riffs that sting and scar" (Losing Today)
"Sassy and feisty, an almighty band, who catch your eye simply because they do what they do with style, flair and in this age of electropop they are a little bit different." (Reverb Mag)
"If the Pixies were born twenty years later, if Head Automatica drank shots instead of snorting cocaine, if Bloc Party didn't feel so down about the sky falling, or whatever's troubling them this week, they'd sound like The Retrosexuals...music to sweat to, indie with allure rather than angles, pitched perfectly between bedroom dancing, playing at a disco, and rocking a dingy Camden dive, all at the same time. Pure drum-machine-driven guitar pop that's just begging to take over the world." (Moderate Rock Reviews)
"Messed-up electropunk encouraging the listener to don their dancing shoes and grin like a loon. 4/5" (Is This Music?)
"Like The Rapture, Shitdisco and The Klaxons, but sexier" (Indie Nation)
"Perfect noughties guitar pop that easily matches up to The Editors et al and knocks your Maximo Parks for six." (Jockrock)
"It's sexy music... it makes you want to dance... to bounce... to fling yourself around." (Scotcampus)

www.theretrosexuals.com / www.myspace.com/theretrosexuals


---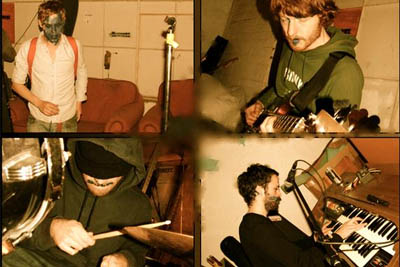 Firing Glasgow quartet fusing myriad styles, describing their sound as R&B/soul/rockabilly on myspace. This is their Edinburgh debut.

THE FACTS:

'Isosceles the band' were formed in spring 2006 as a sort of joke. No one really laughed, so the band carried on out of embarrassment more than anything else. Supported new fans Franz Ferdinand on tour in Autumn 2007. Their influences include Jean Jacques Perry, The Zombies, Bis, Orange Juice, Alan Hawkshaw, Serge Gainsbourg and Donovan.

THE PRESS:

"Through their set they played one great song after another, demonstrating a pop sensibility not a million miles from Franz Ferdinand, and using their old-school keyboard prominently in every song to define their carefully structured sound." STV

myspace.com/isoscelestheband


---




Frightened Rabbit
Glaswegian duo just back from a US tour, after incendiary debut Sing The Greys was re-issued by Fat Cat. Riffs like The Wedding Present, bombast like the Arcade Fire, lyricism like Dylan, plaintiveness like The Kings Of Leon. Will set your pulse racing while your mind wanders to some far off land you've always wanted to visit. Err..... Fucking great!
myspace.com/frightenedrabbit
www.frightenedrabbit.com
+ Y'all Is Fantasy Island
Falkirk quartet ploughing a similar (but different) folk/rock/indie furrow to the Rabbits and, also much like FR, igniting hearts and minds wherever they go...
myspace.com/yifimusic



The Vivians
Riotous Edinburgh pop-punk quintet, resurrecting the spirit of the New York Dolls and leaving crowds of baying converts wherever they go.
"The Vivians are the future." (Daily Record)
myspace.com/theviviansdivided

+ We Were Promised Jetpacks
Talented young bunch of Edinburgh upstarts.
"We Were Promised Jetpacks, apart from having the best name in showbiz, meet all other requirements necessary to lift them above their peers." (The List)
myspace.com/wewerepromisedjetpacks

---
---