---



So, now that The Voodoo Rooms has successfully opened, its time for the dancing to begin. With that in mind, we're pleased to announce the launch of Limbo at The Voodoo Rooms on Thursday 22nd November.

Limbo is a new weekly night from the Black Spring DJs, located in the new zone emerging between a straight-up gig and a club night where people go to DANCE, a club with live entertainment as well as DJs and dancing - a live music dance party, if you will.

Each week sees a live double bill from some of the most exciting live acts on the circuit and we kick off on THURSDAY 22ND NOVEMBER with a great double bill from Salon Boris and Swimmer One (see biogs below).

First act is on stage at 21.15 and the second at 22.15. The Black Spring DJs & friends provide support.

Tell your friends about it and come on down to D.A.N.C.E!

Venue information:

Adress: The Voodoo Rooms, West Register Street, Edinburgh (formerly Cafe Royal upstairs, next to backpacker hostel, behind Burger King, east end of Princes Street)
Times: 8PM-1AM*
Entrance: £4*
Ph: 0131 556 7060 (venue) / 0131 477 6916 (promoter)
Web: thevoodoorooms.com
* except where otherwise advertised.


---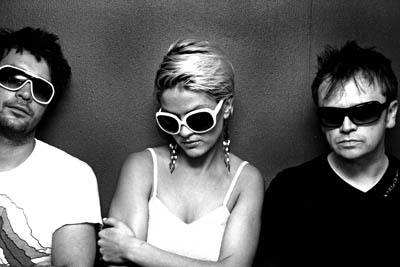 Ace Glaswegian-Russian trio doing icy cool electro-pop for the twenty-first century.

THE FACTS:

Guitar-playing, nob-twiddling Glaswegian duo, Tom McGarrigle and Paul Bryan, fronted by Russian immigrant Tatyana Bugayeva.

Released debut album I Am The Drug (UDiscs) at the end of last year, have had a Friday-night club residency at Electroball (Karbon) in Glasgow throughout 2007, were picked as one of the bands to watch in 2007 by the All Saints fashion brand, recently remixed Transvision Vamp's I Want Your Love and release new single Picture Of You in January.

Have previously appeared live in the SLAM tent at T In The Park, headlined gigs around the country, appeared on the BBC TV 'music show', recorded a Radio Scotland session for Vic Galloway, received Radio One airplay and 4 weeks of radio play listing on XFM and Beat 106 among others.

THE PRESS:

"Think Goldfrapp reconfigured as the house band for an Estonian strip-club." (Tim Barr, News Of The World, Jan 2007)
"Salon Boris deal in quirky, very catchy electro pop with a very welcome dark edge. Tatyana Bugayeva's eastern-accented, sub-zero vocal delivery just adds to the atmosphere." Top 20 Album Of The Year (M8 Magazine, 2006 chart)
"Art-house grooves and slick irony make this an album you can only enjoy more with each listen. 5/5." (The Skinny)
"Heavily influenced by euro-disco, their glamourous electro-pop/hi-nrg sound and soaring synths will sweep you away." (S-Xpress's DJ Mark Moore, DJ Mag, Jan 2007)
"Salon Boris, updating the Human League for a new generation" (4Kiks Magazine)

www.salonboris.com / www.myspace.com/salonborisuk


---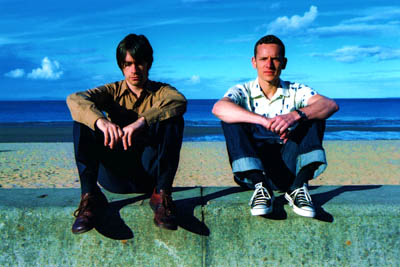 Ace Edinburgh trio doing heart-warming, thoughtful electro-pop for the twenty-first century.

THE FACTS:

Guitar and keyboard-playing Edinburgh duo, Hamish Brown and Andrew Eaton, plus new recruit Laura Cameron Lewis on keys and backing vox.

To date Swimmer One have released one album, The Regional Variations, and three limited edition singles - two on the Edinburgh label Biphonic (We Just Make Music For Ourselves and Come On, Let's Go!) and one on London's Dogbox Records (Largs Hum/Cloudbusting-Lovesong).

DJs who have championed Swimmer One include Rob Da Bank, Steve Lamacq, Mark Radcliffe, Vic Galloway, Gill Mills (BBC Radio One), Jim Gellatly and John Kennedy (XFM) and Gideon Coe (BBC 6 Music). All of the duo's releases have received enthusiastic reviews at home and abroad.

They spend most of their time together writing pop music in a tiny attic room on the Scottish coastline. Difficult to categorise, and not fitting into any 'scene', the duo's music has been compared to everyone from the Pet Shop Boys and the Associates to the Blue Nile and the Who.

THE PRESS:

"They give intelligence a good name, are more windswept than worthy and very, very good" (The Guardian)
"Sublime electronic chamber pop." (The Herald)
"One of the country's most exciting bands." (The List)
"We want more. More. More of their wily words, their tender synth fare, their surprisingly colossal pop." (Plan B)
"Electropop marvels." (Metro)

www.swimmerone.co.uk / www.myspace.com/swimmerone


---




Mother And The Addicts
Firing Glasgow quintet fusing myriad styles, whose very fine second album Science Fiction Illustrated (Chemikal Underground) sets the dance floor ablaze.
www.motherandtheaddicts.com
myspace.com/motherandtheaddicts
"Fans of Pulp and Franz Ferdinand, meet your dream narcoctic... top notch post-Franz indie-rock with a murky sexual undertow." 4/5 (Mojo)
+ Isosceles - Edinburgh debut
Firing Glasgow quartet fusing myriad styles, whose myspace name-checks Jean Jacques Perry, The Zombies, Bis, Orange Juice, Alan Hawkshaw and Serge Gainsbourg as influences and describes their sound as R&B/soul/rockabilly.
myspace.com/isoscelestheband

---




Frightened Rabbit
Glaswegian duo just back from a US tour, after incendiary debut Sing The Greys was re-issued by Fat Cat. Riffs like The Wedding Present, bombast like the Arcade Fire, lyricism like Dylan, plaintiveness like The Kings Of Leon. Will set your pulse racing while your mind wanders to some far off land you've always wanted to visit. Err..... Fucking great!
myspace.com/frightenedrabbit
www.frightenedrabbit.com
+ Y'all Is Fantasy Island
Falkirk quartet ploughing a similar (but different) folk/rock/indie furrow to the Rabbits and, also much like FR, igniting hearts and minds wherever they go...
myspace.com/yifimusic
---